Free Rehab Consult for Rosie
Tripawds Community member kflores is recipient #12 of the Maggie Moo Fund for Tripawd Rehab. Read about how Rosie benefited from her free evaluation below, and see all Tripawds who have received free rehab sessions thanks to your support.
Reimbursement from the Maggie Moo Fund is only possible with your support.
Rehabilitation Review for Tripawd Rottie Rosie
On July 1st, we took our gentle giant Rottweiler, Rosie, to Michigan State University Veterinary Medical Center for her first rehabilitation evaluation with Dr. Sarah Shull. Rosie is 6 years old and was diagnosed in May with osteosarcoma in the distal radius of her front leg. Her leg was amputated on May 26th, 2016, and she started chemotherapy three weeks ago. Rosie has been a member of our family since she was one and a half.
We had a very positive experience with Dr. Shull, who took time and care to get to know us and Rosie. After the veterinary student took our medical history, Dr. Shull came to evaluate Rosie and teach us what kind of exercises and stretches will support Rosie as she moves forward on her journey as a Tripawd.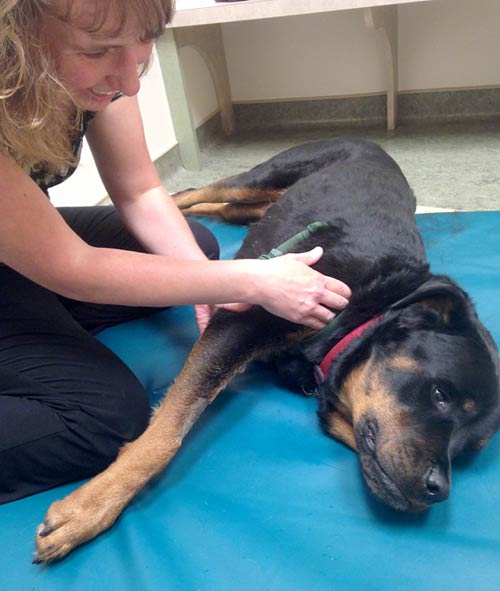 Dr. Shull emphasized that Rosie needs to build and maintain strength in her core and back legs, with a goal of protecting her remaining front leg. She gave us several exercises to do with Rosie, including sitting/standing and standing up on a stair to allow weight to fall on her back legs and holding this for up to a minute at a time. We are also to have her turn her head from side to side stretching back as far as she will go. She recommended these be done at least once on a daily basis, making them fun by offering treats and praise.
Dr. Shull also recommended massage. She scanned Rosie's body and found several areas of tension, including her neck and several muscles stretching from her side down her legs. She recommended regularly massaging these areas, as well as taking Rosie for regular massages at a local therapist. She also recommended regular stretching (by extension) of Rosie's legs, and flexion of her front elbow.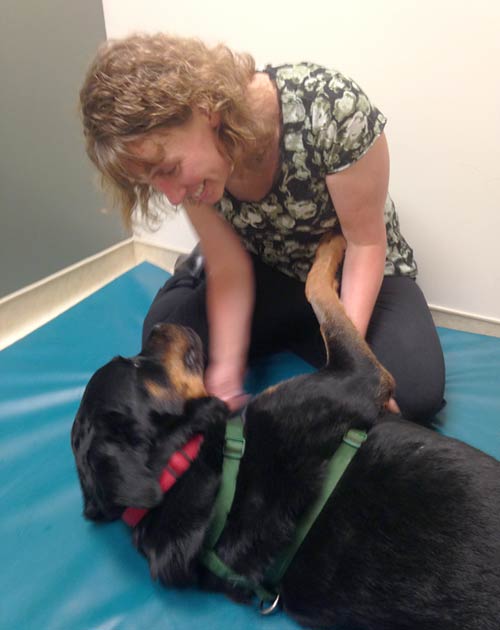 In addition, we talked about teaching Rosie how to use stairs again, her recommendations for exercise and swimming, and generally avoiding certain activities in order to protect Rosie's front leg. She gave us a recommendation for a new harness. She also advised us to watch Rosie's front paw to make sure it does not "bow" more over time (Rosie's front legs are bow-legged; the amputated leg was the worst). She recommended that if we see her paw lowering more that we should come see her again so we could begin using a brace.
I am incredibly grateful for the experience of seeing Dr. Shull. She did a level of review and evaluation of Rosie that none of our other veterinarians have done to date. I learned specific information about Rosie's muscles and tension points, and clear advice on how I can support her well-being on a daily basis. I greatly appreciate the preventative orientation.
Thank you very much for the opportunity of this reimbursement program. As you are fully aware, it's an expensive journey taking care of a dog with cancer. Every bit truly counts, and this helps us be able to support our sweet baby to the fullest. Our deepest and most sincere gratitude.
Help Keep The Maggie Moo Fund Going!
Save
Save