First Tripawds Auction Items Listed!
The first items for the 2016 Tripawds Foundation fundraiser auction are now available to preview.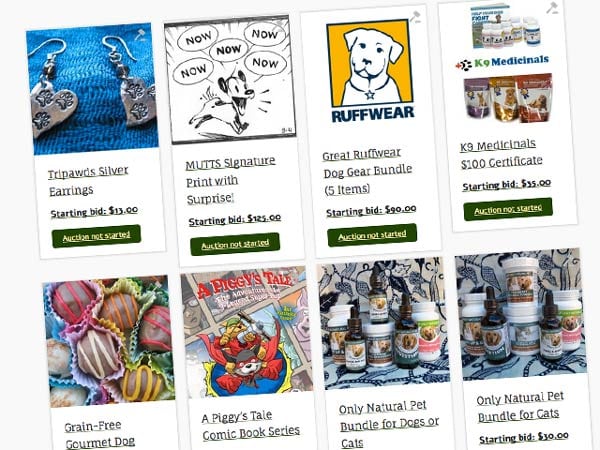 Thanks to the generous support of our contributors and help from our volunteers, we are happy to announce the first selection of items available in the upcoming 2016 Tripawds Auction. More items will be listed soon, so stay tuned and mark your calendars for the Saturday, October 15 when the bidding will begin.
Items for this first-ever Tripawds auction include artwork, jewelry, supplements, treats and all sorts of pawesome pet products for dogs and cats! Preview all items here.
Special Thanks to Major Contributors:
MUTTS Creator Patrick McDonnell has donated a signed Signature Print of the enlightening NOW! Strip made famous by Tripawds founders Jim & Rene in Nature: Why We Love Cats and Dogs. AND: Patrick will include an original drawing with his signature!
Ruffwear has supplied a generous bundle of  Performance Dog Gear including a travel bed, bowl, toy, and more!
K9 Medicinals has added a $100 Gift Certificate to the mix, good toward immunity supplements for pets or people.
Only Natural Pet has provided healthy supplement bundles for dogs and cats.
Additional items so far include a selection of yummy grain free dog treats from Paw Patch Pastries, a complete set of A Piggy's Tale — the first comic book featuring a three legged superhero, a custom pet caricature from Erika Chan. We'll be busy listing more items over the coming weeks. You can start bidding at 6:00 a.m. (PST) on Saturday, October 15, so stay tuned here and on the Tripawds Facebook page!

Auction Logistics
Check out all the items and check back often! Find your favorites and make sure you can log in to the auction site. If not, register so you are ready to bid when the auction goes live on Saturday, October 15. As soon as the auction starts, users will be able to place bids, add items to their Watchlist and follow progress of the bidding.
The 2016 auction will last one week. Proxy bidding will be used (just like eBay) so you can just enter your maximum bid. Registration is required since users will receive email notifications of their auction activity. Already a Tripawds member? Just use your existing log-in!
Any questions?