The March 9, 2017 Tripawds News featured a few photos from the Tripawds Foundation exhibit at the recent WVC 2017 conference.  In case you missed it, subscribe here and check out some of these highlights…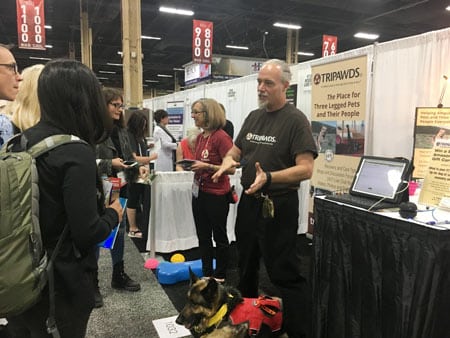 WVC Attendees Appreciate Tripawds Programs
The Western Veterinary Conference is one of the largest annual gatherings of veterinarians, vet techs, practice managers, and students. Since pet parents receive the news that their dog or cat may need an amputation at their vet's office, this conference was an ideal place to spread the word about the many free Tripawds resources and assistance programs available from the Tripawds Foundation.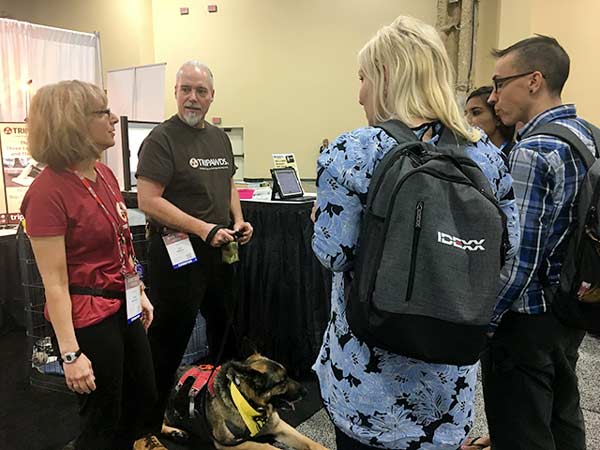 The WVC 2017 conference was a huge success. Every vet we talked to was happy to learn we exist—or, they already know about us refer their amputation clients to Tripawds for help and support from members. Most of the vets we talked too requested the free patient education materials we were offering. That's why we'll be sending out a few thousand more Free Pet Amputation Brochures to vet clinics and pet hospitals all over the country in the coming weeks!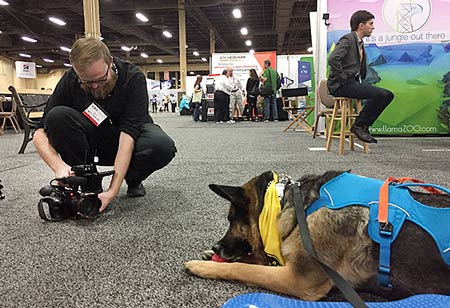 Wyatt was the star of the show. For three days, a steady stream of attendees stopped to meet the Tripawds spokesdog and learn more. A few representatives from the press even came by. The editor from DVM360 even visited with her team for a while. They were the first to share news from the WVC Press Release we prepared for the show in an article titled Three Legs, Big Heart which featured this video of Wyatt.
Our big news at WVC was announcement of the two newest Tripawds Foundation assistance programs—the Tripawds ASAP veterinary financial aid fund, and the Tripawds Gear Fund harness donation program.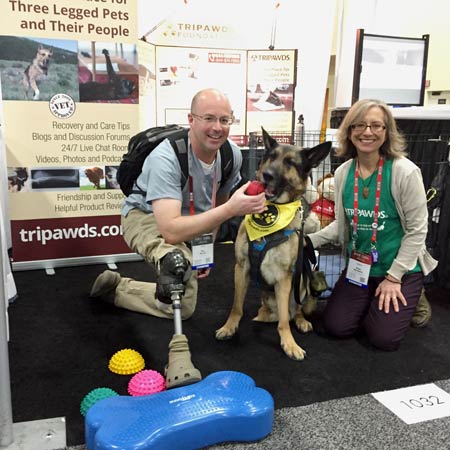 We met some new friends too, and hope to be announcing new program sponsorship partners and additional items available through the Gear Fund soon.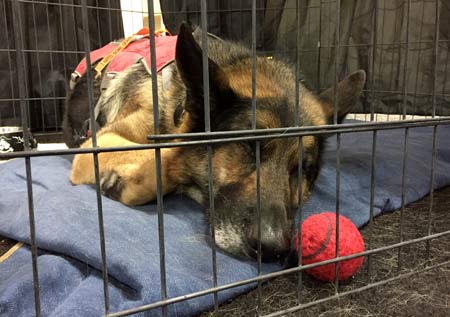 Team Tripawds worked very hard all week, especially Wyatt. That's why he was very excited to meet his new friend Lori—the founder of Komfy K9—who was kind enough to give him a new bed.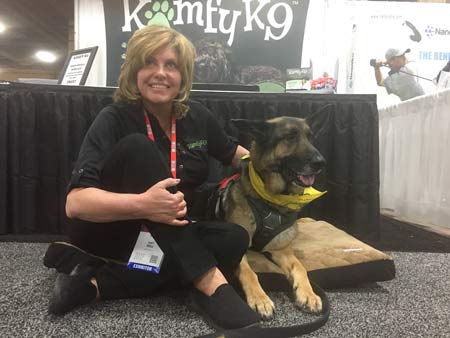 More Exposure Means More Work!
We'll also be producing lots of great content from WVC—including videos of vets telling their top tips for amputation recovery and care. We even met some of our veterinary heroes too, like Dr Sue Cancer Vet. So stay tuned to the Tripawds News Blog for these and more informative articles about the latest advances in surgery, rehab oncology and much more!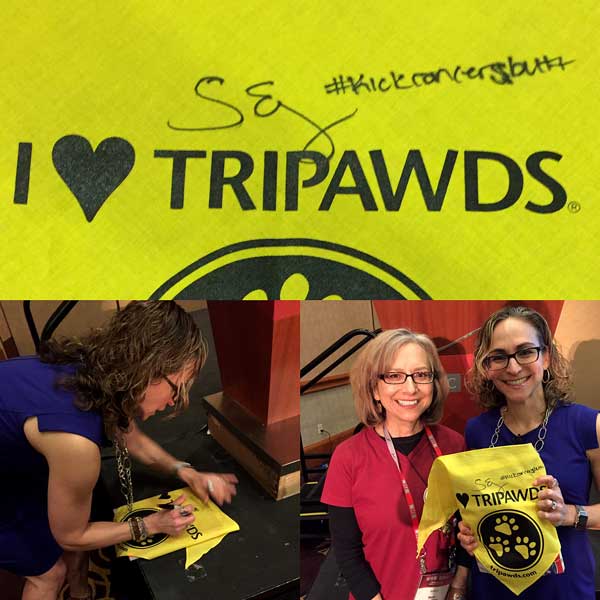 We can't do this without your help!
With nearly 200 vet clinics getting sent free Tripawds brochures, we have our work cut out for us. We'll be busy assembling packets and stuffing envelopes. We hope to be working with some corporate sponsors to help pay for brochure printing costs. When sending out so many brochures, however, postage becomes a major expense!
You can help by chipping in a small amount to help pay for postage below. Consider making a charitable contribution of any size here. Or, pay tribute to your Three Legged Heroes and Angels on the Tripawds Honor Roll. Together, we can help more amputee pets and their people everywhere!