MUTTS Signature Print with Surprise!
Description
Enjoy this Mutts Signature Strip signed by Patrick McDonnell plus an additional original drawing just for the winner by Patrick!
Suggested Value: $300+

The classic "NOW! NOW! NOW!" Mutts strip features Ozzie wondering what time it is, and Earl the dog answering with a resounding Now! Now! Now! Now! Now!
Long time Tripawds fans and viewers of Nature's Why We Love Cats and Dogs should remember the scene where Jim and René mention the same comic strip taped to the back of their medicine cabinet door. They put it there shortly after learning Jerry's cancer had returned as a reminder of how he lives every moment to the fullest in the ever present Now.
Now you can own this signed print of the strip suitable for framing, and an original illustration by Patrick McDonnell!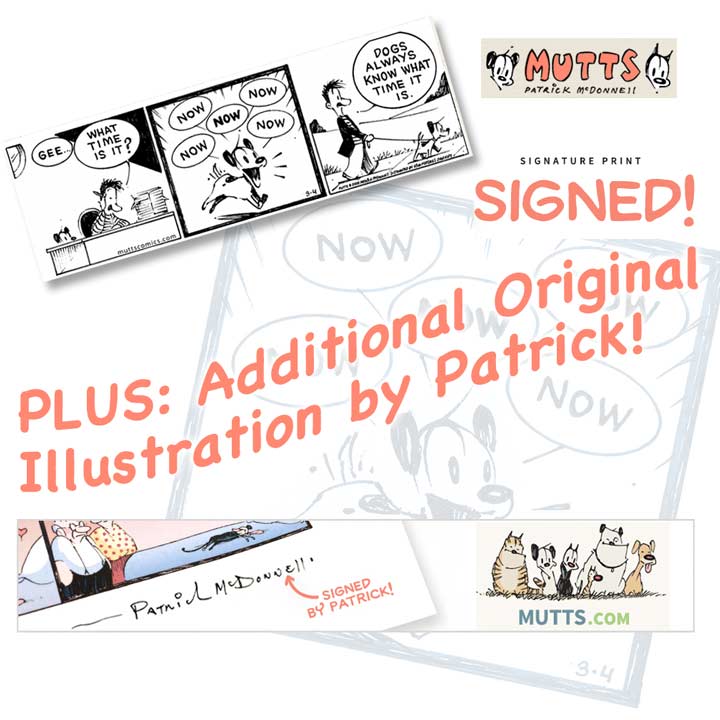 NOTE: This item is only available for delivery within the United States.
Mutts Signature Strips measure 17″ x 11″ printed on 80 lb, acid-free Re-Forested Paper and feature an embossed seal and Patrick's signature. The original illustration will be a surprise, drawn just for the winner with the highest bid!
Save
Save
Save
Save
Save
Save
Save
Save