Only Natural Pet Bundle for Cats
Description
Enjoy this gift box from Only Natural Pet with healthy supplements and homeopathic remedies for cats.
Suggested Value: $55.00
Only Natural Pet's mission is to support your pet's health and well-being with natural products designed to help keep your pet fit and happy. This package is for cats and includes the following natural supplements and homeopathic remedies:
Only Natural Pet Get Up and Go: a holistically formulated supplement featuring a collection of herbs that work synergistically to support your pet's joints and mobility while also supporting a healthy inflammation response (chewable tablets).
Only Natural Pet Immune Strengthener: a blend of natural vitamins, herbs, antioxidants and mushrooms can provide immune system support to help your dog or cat fight chronic health issues while supporting organ function.
Only Natural Pet Cranberry Wellness: this powder contains a unique set of ingredients that work together to support a healthy urinary tract in cats and dogs.
Only Natural Pet Stress & Anxiety Homeopathic Remedy: a safe, effective remedy for use with pets exhibiting nervousness and anxious behavior.
Only Natural Pet Chinese Herbal Blends Digestion: based on Chinese Traditional Medicine and formulated to help calm the stomach, support the spleen, eliminate dampness and disperse stagnation.
Only Natural Pet Ultimate Daily Feline Vitamins Plus: balanced formula has a full spectrum of ingredients, offering your cat the nutritional support he needs for peak health and performance throughout his life.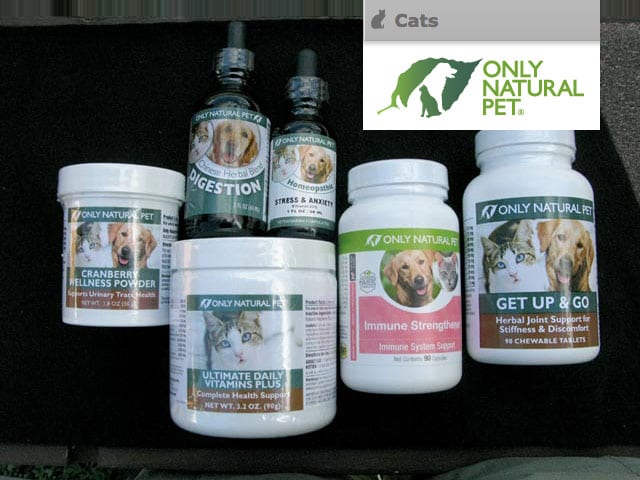 NOTE: One supplement in this bundle is specifically intended for cats. All the remaining supplements may be used for dogs or cats. Domestic (U.S.) shipping included in minimum bid, international winners will be notified regarding any applicable additional fees required for delivery.
Save
Save