The Tripawds Gear Fund is here to make free assistive devices for amputee dogs available to financially distressed pet parents. With your help, we can provide these items for free to help three legged dogs and their people.

What is the Tripawds Gear Fund?
Various harnesses, slings and other devices available for assisting three legged dogs. These items are useful for helping amputee dogs into vehicles, up and down stairs, across slick floors, or during rehab and balance exercises. Sadly, these products are often unaffordable for many faced with the financial burden of amputation surgery. To ensure that dogs in financially distressed households have a chance at this kind of assistance, Tripawds Foundation is proud to announce our new trial program, the Tripawds Gear Fund!
To help as many three legged pets and their people as possible, Tripawds Foundation is gifting two free assistive devices each month. Two individual applicants will each receive one Ruffwear Flagline harness or GingerLead dog sling at no charge as long as they meet program income requirements and submit the necessary documentation within the required time frame.

Support Harness Donation Program Overview
The Tripawds Gear Fund is specifically intended to help families faced with the financial hardship of unexpected veterinary expenses related to amputation for their dogs. This trial program is available thanks to the generous support of donors who believe every three legged animal deserves the best support available to love life on three legs.
Support Tripawds to Keep This Fund Going!
As the Tripawds Gear Fund grows, we hope to increase the number of donations available. We also want to offer additional helpful items free of charge. At this point in time, no comparable support device exists for Tripawd cats. If and when we discover such a product, we'll consider including it in this program. But we can't do any of this without your help!

Program Details:
Two assistive devices will be donated each month, one item each to two different grant recipients. (12 month trial program)
Currently this grant is limited to registered Tripawds members living in the United States. (Not a member? Start here.) Tripawds community participation is encouraged to get and share the best amputation recovery and care tips.
Applicant must be the individual who is financially responsible for the Tripawd in need of a harness or sling.
No representatives of animal rescue organizations, for-profit business or other organizations may apply.
Grant requests must be submitted before the 1st or 15th of each month.
All applications and supporting documentation must be received no later than 8:00 a.m. Pacific time on the 1st or 15th of the month.
Recipients will be selected based solely on financial need, with required proof of income qualification. See below for details.
No essay is required, and there is no judging process. The applicant with the lowest income will receive the donation.
Recipients will be notified by email on or before the 10th or 20th of the month, only upon receipt of all required documentation.
The harness will be shipped via standard ground delivery only.
Please measure carefully to select correct size. No returns or exchanges will be allowed.
Only grant recipients will be notified. If you did not receive a notification by the 14th or 30th of the month, your application was not selected.
Final Documentation: Each selected grant recipient must submit at least one photo of their dog using the donated device and a brief story (200± words) to be published on the Tripawd Foundation News blog.
Grant recipient may not have received funds from any other Tripawds Foundation programs within the past 90 days.
Applicants may re-apply one time, by re-submitting the original application during the following submission period. Supporting documents do not need to be re-sent.
All applications from the previous submission period will be discarded.
Any falsified information provided will be grounds for immediate dismissal of the application.
When recipients no longer need the harness, we encourage them to offer it for somebody else in the Tripawds Angel Exchange.
How to Apply for a Free Harness or Sling
Please Note: The Tripawds Gear Fund grants are for a donation of one support harness only. Currently, a Ruffwear Flagline or GingerLead harness will be donated. Harness brand, color or style may be substituted without notice. If your initial application is not selected, you may reapply once in the next application period. You may only apply twice.
APPLICATIONS WILL BE REVIEWED ON THE 1ST AND 15TH OF EACH MONTH.
1. Read this entire page first.
Please review all details, requirements, restrictions and instructions carefully to improve your chance of being selected!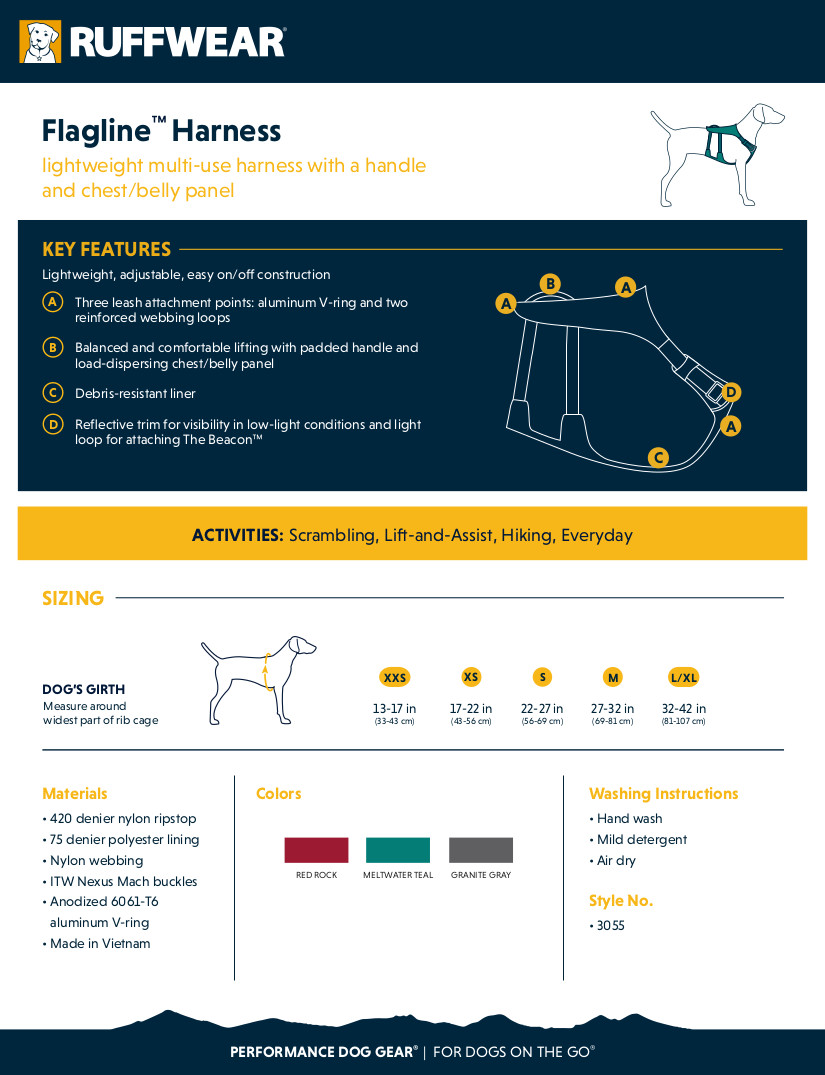 2. Measure your dog.
Your dog's girth measurement while standing up determines the correct size for the Flagline harness. (See Ruffwear Sizing Details) Measure the waist and pad width to determine proper Gingerlead size. (See GingerLead Sizing Details) Use a flexible measuring tape around your dog's chest or waist. Or, stretch a piece of string around your dog, mark where it meets, and measure the string.
3. Complete Your Application
To Apply: Complete online application here.
Links to share:
Important:
Be sure to complete all required fields.
Select desired item (Flagline harness OR GingerLead)
Enter the correct size based on the measurement charts above.
Indicate preferred color (Flagline only). Substitution may occur based on availability.
No returns or exchanges will be allowed.
NOTE: After application is received by the Tripawds Foundation, you will receive a PDF of your completed form at the email address you entered on the application. Keep this for your records and include it when submitting your supporting documentation or when re-applying.
3. Submit Supporting Documentation
Submit all your supporting documentation in one email to: foundation@tripawds.org with the subject "Gear Fund Application".
Requirement #1: Submit a photo of your dog post-amputation and/or itemized veterinary clinic receipt indicating date of amputation.
Requirement #2: Submit an essay of at least 200 words describing your amputation recovery and care experience so far, and why you believe a harness will help you help your dog. This must include a statement that you agree to submit your article for publication with photo of your dog wearing the harness. (See "Share Your Story" below.)
Requirement #3: After receiving the harness, submit a photo of your dog wearing the harness along with a description of at least 100 words stating how using the harness helps your dog.
You will need to include…
Need Qualification:
Attach proof of enrollment in state or federal entitlement program, including: WIC, welfare, food stamps, Medicaid, VA Disability Compensation, Social Security Disability or Supplemental Security Income

(e.g.; award letter from current year, or recent payment stub). Disability insurance alone does not qualify as proof of need according to U.S. DHHS Poverty Guidelines.


OR
Attach proof of current total annual household income (e.g.; IRS Form 1040A, Line 15) at or below 200% of federal or state poverty guidelines. See Table 1 below for details.* Proof of income can be provided in the form of:

a) current pay stub(s) indicating at least six months of income, or
b) your most recent income tax forms.

All documentation must show the same name and address as indicated on grant application.
NOTE: We do not need your social security number. Please omit from all documents.
Identification Verification

Attach a copy of your Photo ID (Drivers License, Passport, etc.)
Name and address on ID must match that indicated on your application.
Email Supporting Documentation
4. Await Notification
You will be notified within 48 hours upon receipt of your application and all supporting documentation. You will receive no further notices unless you have been selected as that application period's award recipient. Do not send additional emails regarding the status of your application, you will not receive a reply. If your application is selected, you will be notified by email on or before the 10th or 20th of that month. Upon grant approval you will be shipped your harness via USPS delivery.
*Maximum Income Qualifications
Please refer to the far right column in the table below for maximum qualifying total income levels to receive Tripawds ASAP funding. This U.S. Department of Health & Human Services Poverty Guidelines has more information.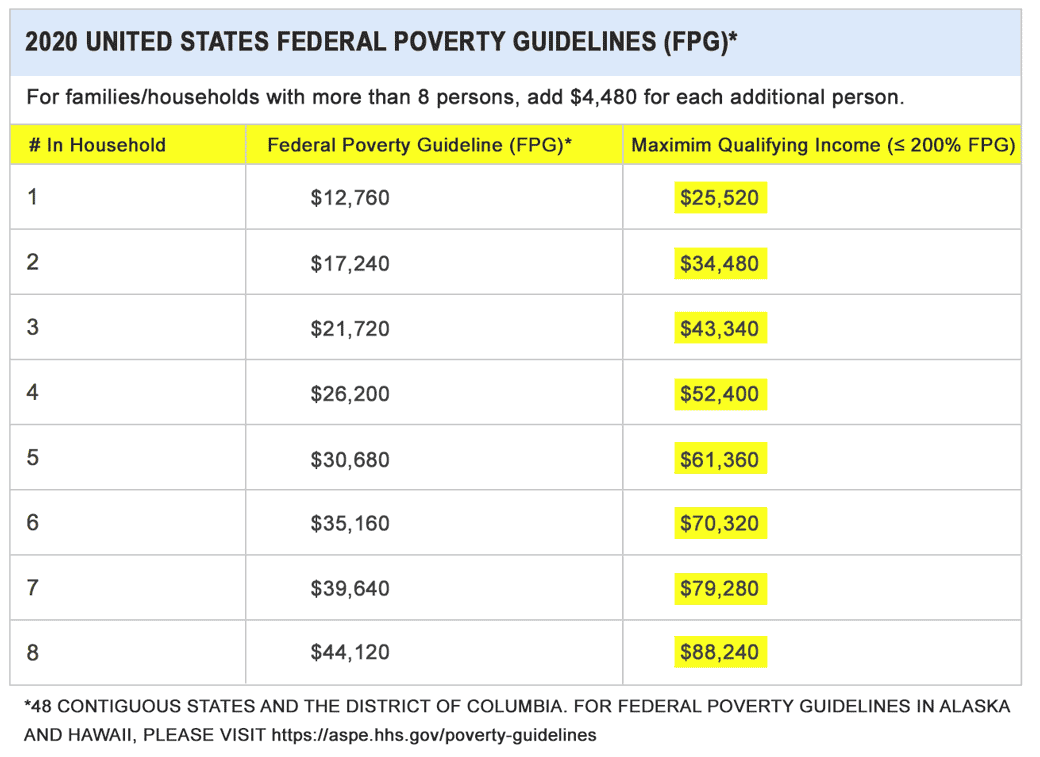 NOTE: Number of people in household indicated on application must match that on tax return when providing documented income as proof of need verification, OR proof of enrollment in state or federal entitlement program must be provided for all adult household occupants.
*48 CONTIGUOUS STATES AND THE DISTRICT OF COLUMBIA. FOR FEDERAL POVERTY GUIDELINES IN ALASKA AND HAWAII, PLEASE VISIT https://aspe.hhs.gov/poverty-guidelines
5. Share Your Story
All Tripawds Gear Fund grant recipients will be required to submit a photo of their three legged dog wearing the harness along with a brief article about their dog's amputation recovery and/or ongoing care for publication in the Tripawds Foundation News blog. A 200+ word essay is required upon submission of your application.
If selected, please provide an additional 100± word statement for publication by Tripawds, along with at least one photo of your dog wearing the harness. The combined article should detail your experience during the amputation surgery and recovery process if applicable, or describe your dog's mobility before and after using the harness. Include anything else you want to share with readers. This must be submitted within 7 days after receiving the harness, or as soon as possible after your dog is able to comfortably wear the harness.
PLEASE NOTE:
We recommend
not
using a harness until the surgery has completely healed and stitches or staples are removed. We have heard of no specific cases where any harness has hampered healing, but we believe direct pressure from the straps may irritate the wound. Please consult your veterinarian with any concerns.
We suggest using a soft towel slung under the belly if additional support is required in the meantime. A reusable canvas shopping bag slit down the sides also makes a handy temporary sling. Find instructions for DIY Tripawd sling here.
Any Questions?
Please leave a comment below with any general inquiries. Do not comment with questions about your application. You may also call the Tripawds Helpline at 844-874-7293 for support. If nobody is available, or the host is unable to answer your question, please leave a message with your phone number and email address to receive a response within 48 hours. For fastest response, please email the Tripawds Foundation.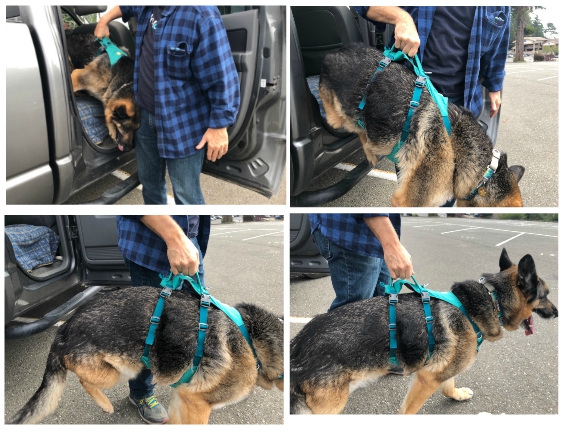 Tell a friend! Use the social media buttons below to share the news about this program, or consider a charitable contribution to support this and other Tripawds Foundation programs.