The best gift for a dog with cancer, or anyone whose cat has cancer, is the Kaiserin Pet Cancer Care Package. Thanks to generous support from Kaiserin's mom, starting February 1, 2021, anyone can get these free gifts for their cat or dog with cancer. Read all about Kaiserin's legacy and look below to learn how to apply for these helpful goodies!

Free Kaiserin Care Package is Best Gift for Dog with Cancer, and Cats too!
The Tripawds Foundation is giving away virtual gift baskets of helpful, free gifts for Tripawd dogs and cats with cancer. Each month two care packages go to applicants on a first-come first-served basis.
Any pet parent of an amputee dog or cat with cancer can apply for a Free Kaiserin Pet Cancer Care for Tripawds Package. These virtual baskets are filled with goodies worth about $175. Everything inside is free! Right now, the program is only for pets in the U.S. or Canada.
Check out the contents of our virtual gift baskets gifts for dogs and cats with cancer, below.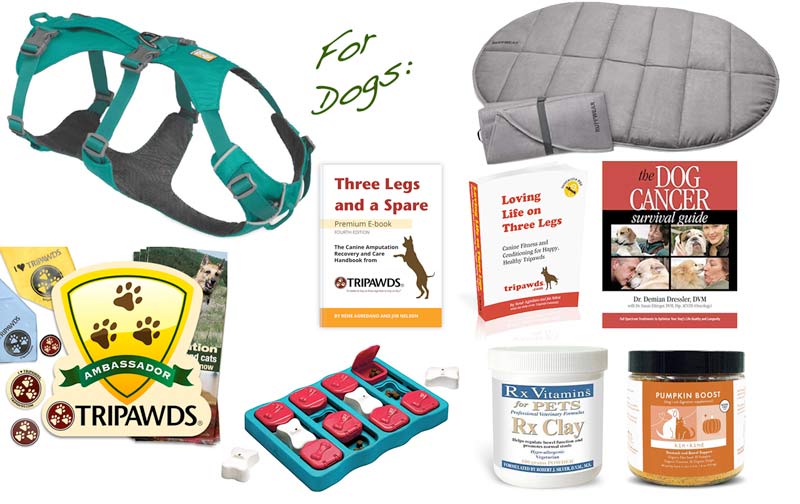 Cancer Care Package for Dogs:
• Ruffwear Flagline Harness
• The Tripawds e-books library
• The Dog Cancer Survival Guide e-book
• Ruffwear Highlands Dog Pad
• Pumpkin Fiber Supplement
• Nina Ottoson Interactive Game
• RX Clay for GI health
• Tripawds Ambassador Kit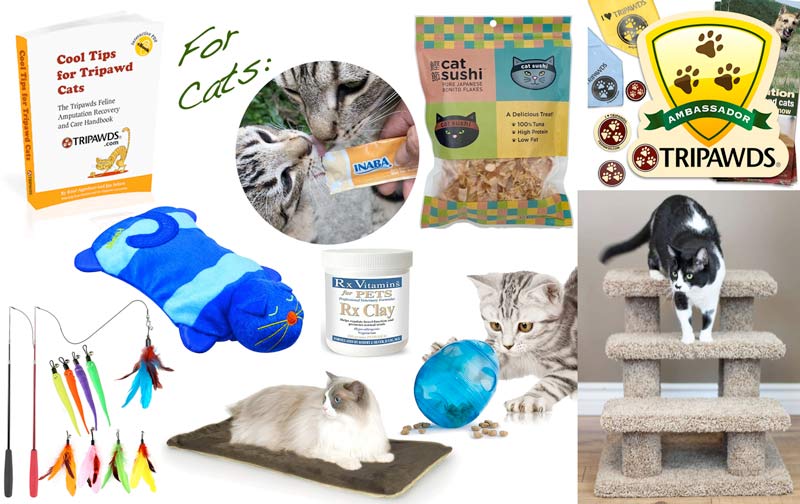 Cancer Care Package for Cats:
• New Cat Condos Indoor Pet Steps
• Heated Thermo-Kitty Mat Reversible Cat Bed
• Cool Tips for Tripawd Cats e-book
• Petstages Cat Pillow
• Retractable Cat Feather Toy Set
• Bonito Flakes
• INABA Churu Lickable Creamy Purée Cat Treats
• PetSafe FUNKitty Egg Cersizer
• RX Clay for GI health
• Tripawds Ambassador Kit
Some items arrive right away, because they are digital. Online retailers ship the rest. These surprises may come to the winner all at once, or arrive over a couple of weeks to help you stay pawsitive!
All we ask in return of each recipient is to help Tripawds Foundation spread the word about about this program. Share your goodies in at least social media one post and it's that easy to make your Tripawd's day with a Kaiserin Pet Cancer Care Package.
Program Guidelines and Requirements:
Two (2) gift packages are available each month on a first-come, first-served basis.
Grant applications are accepted starting on the first of each month.
Applicants must submit completed application requesting care package for a dog or cat.
Only Tripawds missing a limb because of cancer are eligible.
Proof of amputation and cancer diagnosis is required.
Sorry, no returns for any package items. Dog parents, be sure to give accurate girth measurement for harness.
You will only be notified if your application was one of the first two received in the current month.
There is no cost to apply, all items are shipped free of charge.
Items of comparable value may be substituted based on availability.
Only the pet parent of the Tripawd can apply.*
If you don't hear back, you can re-apply but please, no more than one time within ninety days.
Grant recipient may not have received funds from any other Tripawds Foundation programs within the past 90 days.
Recipients are encouraged to create at least one social media post celebrating the Kaiserin Pet Cancer Care Package and Tripawds Foundation program.
This program is currently for USA and Canadian Tripawds only.
(Google account required for document upload.)