The Tripawds Amputation Surgery Assistance Program is now available to people in need of financial help with veterinary expenses related to amputation for their dog or cat.

Sponsor the ASAP fund to help more Tripawds!
What is Tripawds ASAP?
This veterinary financial assistance fund is a program of the Tripawds Foundation, and it is only made possible with your help. Our goal is to help financially distressed individuals with the unexpected financial burden of amputation surgery for a dog or cat. We understand that an unexpected, major veterinary procedure like amputation can create financial hardship for families. For those with limited financial means, amputation surgery costs can be out of reach. An inability to pay can mean the premature death of a beloved family pet.
That's why we created the Tripawds Amputation Surgery Assistance Program (ASAP). When faced with unexpected expensive vet bills on a limited income, we understand that every little bit helps. We also want to assist as many three legged pets and their people as possible. So we are currently offering up to $500 in financial aid to applicants who meet program income requirements, and submit the necessary documentation within the required time frame.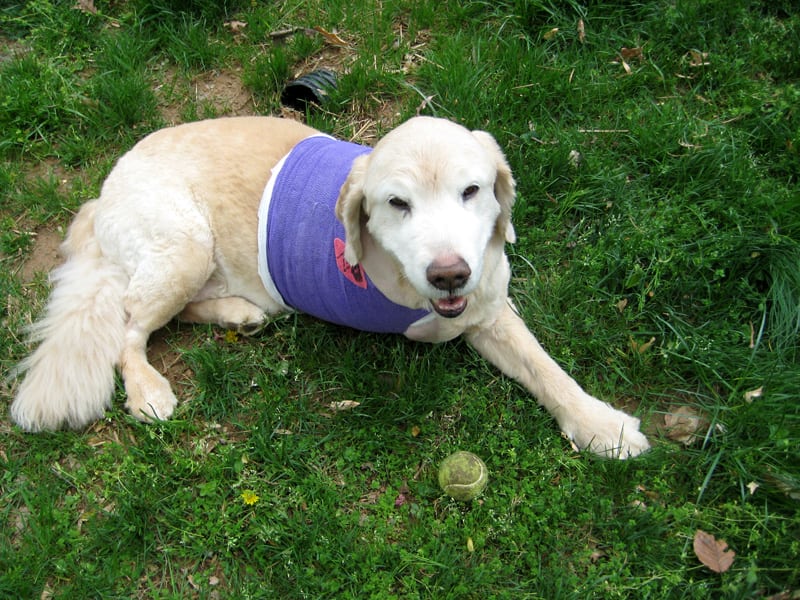 Vet Bill Assistance Program Overview
The Tripawds Foundation understands that in the vast majority of cases $500 will not fully reimburse people for amputation surgery veterinary bills. Tripawds ASAP funds are intended to help as many people as possible with at least some sort of compensation.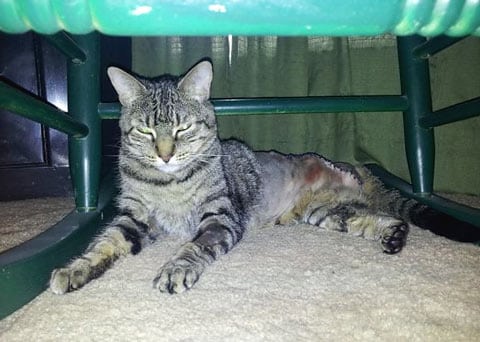 This program is available thanks to the generous support of donors who believe every amputee cat or dog deserves a fighting chance to thrive on three legs.
Support Tripawds to Keep This Fund Going!
As the Tripawds ASAP fund grows, we hope to increase both the maximum amount reimbursed and the number of grants available. But we can't do that without your help!
Program Details:
Application is currently limited to registered Tripawds members living in the United States or Canada. (Not a member? Start here.) Tripawds community participation is encouraged to get and share the best amputation recovery and care tips.
Applicant must be an individual person, not an animal rescue or any other organization.
Twice each month, one grant recipient will be rewarded up to $500 USD. (Terms and availability subject to change.)
Reimbursement is only available for initial amputation surgery for dogs or cats, or for costs directly related to required follow-up visits within 6 months resulting from amputation surgery.
Applicants must apply within 60 days of the surgery date.
Additional Documentation: Each grant applicant must submit a 300+ word story and at least two photos about their pet's diagnosis and/or amputation recovery and care experience to be published on the Tripawds website.
Deadlines: All applications and supporting documentation for the current grant period must be received no later than 9:00 a.m. Pacific time on the 1st or 15th of the month.
Recipients will be selected based solely on financial need, with required proof of income qualification. See below for details.
Application essays will not be evaluated, and there is no judging process. The applicant with the lowest income that month will receive the award. In the event of a tie, recipients will be selected on a first-come first-served basis.
Selected recipients will be notified by email on or before the 20th of the month and receive payment via Paypal, check mailed to address on application, or disbursement directly to veterinary office.
Canadian grant recipients will only be reimbursed via Paypal in U.S. funds. Payment by check is not available for Canada residents.
When identifying Number of People in Household, only include self, spouse and dependent children. (Roommates, Significant Others, and Parents Do Not Apply) Total number of occupants must match that indicated on proof of need qualification.
Link to any crowdfunding page (e.g.; gofundme.com) raising funds for the pet must be provided when applicable. NOTE: If funds have been raised to cover surgery expense at time of documentation review, application will be disqualified.
Only grant winners will be notified. If you did not receive a notification with five days of the deadline, your application was not selected.
Grant recipient may not have received funds from any other Tripawds Foundation programs within the past 90 days. Previous ASAP grant recipients are not eligible.
Applicants may re-apply one time, by re-submitting the original application in the following month. Supporting documents do not need to be re-sent.
All applications from the previous grant period will be discarded.
Provision of any altered documentation or falsified information will be grounds for immediate dismissal of your application without notice.
How to Apply for Surgery Assistance
Please Note: Grants are only for reimbursement of completed amputation surgeries. Your initial application must be submitted within 60 days of surgery date. If your initial application is not selected, you may reapply once in the next application period. You may only apply twice.
COMPLETE SUPPORTING DOCUMENTATION MUST ACCOMPANY ALL APPLICATIONS.
1. Read this entire page first.
Please review all details, requirements, restrictions and instructions carefully to improve your chance of being selected!
2. Complete Your Application
Preferred Method: Complete online application here.
Links to share:
NOTE: After online application is received by Tripawds Foundation, you will receive a PDF of your completed form at the email address you entered on the application. Keep this for your records and include it when submitting your supporting documentation or when re-applying.
Submit ASAP Application Online
3. Submit Supporting Documentation
Email all your supporting documentation in one message to: foundation@tripawds.org with the subject "ASAP Grant Application".
You will need to include…
Need Qualification:
Attach proof of enrollment in state or federal entitlement program, including: WIC, welfare, food stamps, Medicaid, VA Disability Compensation, Social Security Disability (Not Retirement Benefits) or Supplemental Security Income (e.g.; award letter from current year, or recent payment stub). Neither Social Security Retirement Benefits nor Disability Insurance alone qualify as proof of need according to U.S. DHHS Poverty Guidelines.* (See 2 below.) Proof of enrollment can be provided in the form of:

a) current valid enrollment/membership card, AND
b) recent statement or disbursement check stubs indicating at least one month of financial assistance from state or federal agency.
c) NOTE: When reporting any more than one individual in household, a copy of the most recent tax return clearly indicating number of dependents is required.

OR

Attach proof of current total annual household income (e.g.; IRS Form 1040A, Line 15) at or below 200% of federal or state poverty guidelines. Any 1099 statement(s) do not constitute verification of total income. See Table 1 below for details.* Proof of income can be provided in the form of:

a) your most recent income tax forms, or
b) current pay stub(s) indicating at least six months of income.
c) NOTE: Student loan statements alone will not suffice as income verification.
d) NOTE: If providing Social Security (Retirement, Survivor, or Disability Insurance) Benefits as your sole source of need verification, you must also provide a copy of most recent tax return.
e) NOTE: When reporting any more than one individual in household, a copy of the most recent tax return clearly indicating number of dependents is required.

All documentation must show the same name and address as indicated on the vet clinic receipt for amputation surgery and grant application.
We do not need your social security number. Please omit from all documents.
AND
Additional Documentation:
To complete your application you must provide an original 300+ word written summary (email or text document) and at least 2 photos describing your pet's diagnosis and/or amputation recovery experience prior to the application deadline. This article will be published on the Tripawds Foundation website. The essay will not be evaluated or judged in any way affecting your eligibility.
Veterinary Receipts
Attach a copy of final itemized receipt from veterinary clinic indicating date of surgery and all costs associated with amputation surgery.
NOTE: The name and address of the Client (person) and Patient (pet) names listed on receipt must be the same as those indicated on the Tripawds ASAP Grant Application.
Do NOT submit any additional unnecessary documentation. Bloodwork results, discharge instructions, case summaries, receipts for any veterinary care prior to amputation, personal pleas for assistance or anything else not specifically requested above should not be included with your application.
NOTE: For direct payment to a veterinary clinic, please inform case manager prior to application and provide appropriate contact information when submitting documentation.
Identification Verification

Attach a copy of your Photo ID (Drivers License, Passport, etc.)
Name and address on ID must match that indicated on your application.
Email Supporting Documentation
4. Await Notification
You will be notified within 48 hours upon receipt of your application and all supporting documentation. You will receive no further notices unless you have been selected as that grant period's award recipient. Do not send additional emails regarding the status of your application, you will not receive a reply. If your application is selected, you will be notified by email within five business days of the submission deadline for that grant period. Upon confirming receipt of this notification, your grant will be issued via Paypal or check.

*Maximum Income Qualifications
Please refer to the far right column in the table below for maximum qualifying total income levels to receive Tripawds ASAP funding. This U.S. Department of Health & Human Services Poverty Guidelines has more information.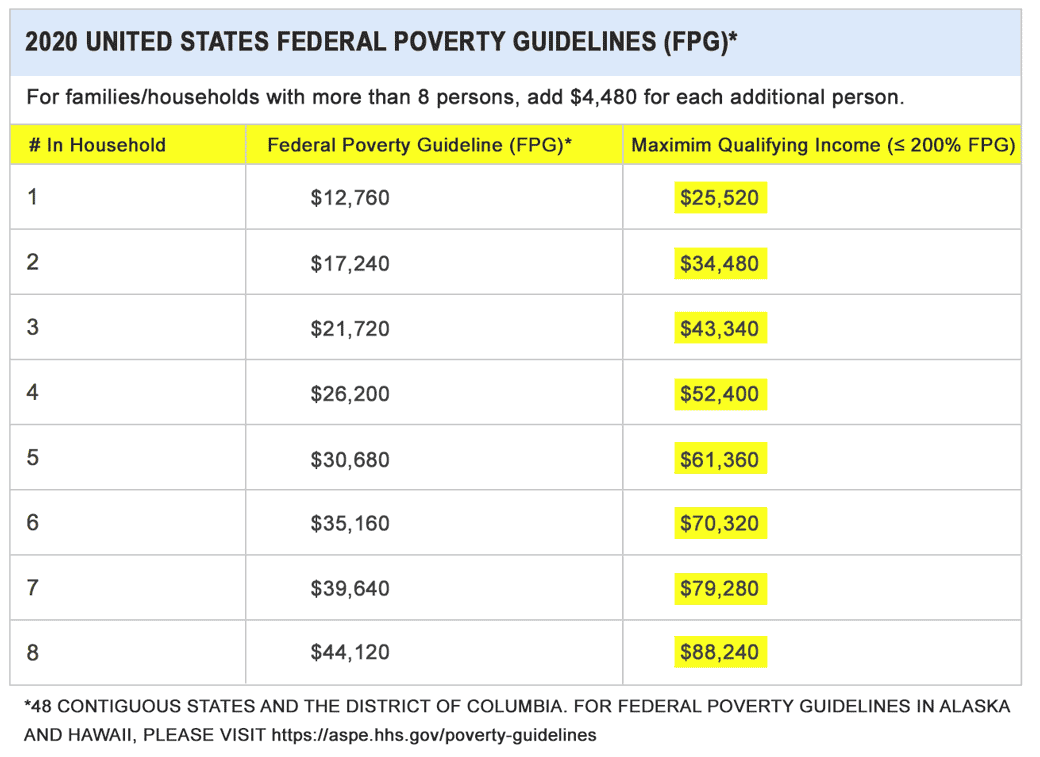 NOTE: Number of people in household indicated on application must match that on tax return when providing documented income as proof of need verification, OR proof of enrollment in state or federal entitlement program must be provided for all adult household occupants.

*48 CONTIGUOUS STATES AND THE DISTRICT OF COLUMBIA. FOR FEDERAL POVERTY GUIDELINES IN ALASKA AND HAWAII, PLEASE VISIT https://aspe.hhs.gov/poverty-guidelines
5. Share Your Story
If selected as a Tripawds ASAP grant recipient, you will be provided a link to your article published in the Tripawds Foundation News blog. You are encouraged to share this link with others to help spread the word about the fund availability. Do not share news of your grant award until directed to do so by the Tripawds Foundation.
Any Questions?
Please leave a comment below with any general inquiries. Do not comment with questions about your application. You may also call the Tripawds Helpline at 844-874-7293 for support. If nobody is available, or the host is unable to answer your question, please leave a message with your phone number and email address to receive a response within 48 hours. For fastest response, please email the Tripawds Foundation.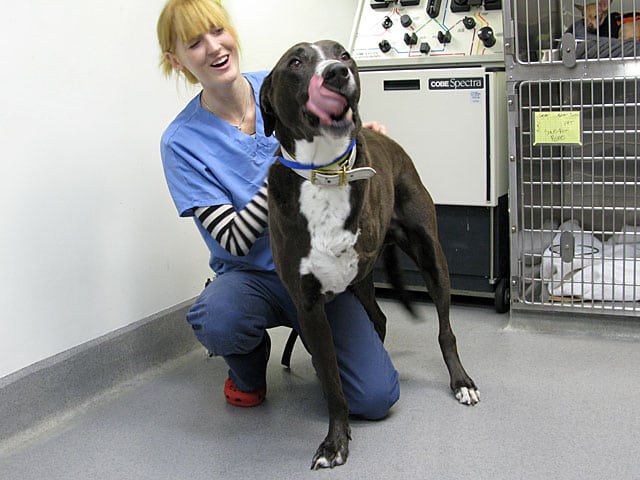 Tell a friend! Use the social media buttons below to share the news about this program, or consider a charitable contribution to support this and other Tripawds Foundation programs.
Support Tripawds to Keep This Fund Going!
Additional Veterinary Financial Assistance Programs
Please also see the following posts for updated lists of other veterinary financial aid programs.