The Tripawds Rescue Fund helps public shelters and nonprofit rescue organizations raise funds for animals in need of amputation while waiting for adoption. To help prevent economic euthanasia of animals with life threatening limb injuries or limb differences, the Tripawds Foundation is now matching up to $500 in funds raised by organizations that meet the requirements.

Applications for veterinary financial assistance toward amputation surgery for dogs and cats in the care of a 501c3 Rescue or public animal shelter are accepted anytime on a first-come, first-served basis. Currently two grants are awarded each month.
Please review all guidelines below prior to applying. This page will be updated as necessary with any changes. Read program announcement here.
The Tripawd Rescue Problem:
Ever year, numerous animals in need of an amputation due to accident, injury, neglect, or other reasons will enter the shelter / rescue system. These financially stressed organizations are challenged to pay for such unexpected surgeries. Some dogs and cats are helped if funds can be quickly raised via crowd-funding and social media campaigns. But many remain untreated for extended periods. Lack of funding and limited shelter space cause many animals to be euthanized.
Tripawds Rescue Fund Program Guidelines
The Tripawds Foundation Rescue program is a matching grant. It can pay $500 toward the cost of amputation surgery for dogs and cats. The animals must be in the care of a public animal shelter or 501c3 charitable animal rescue that is actively fundraising for the animal's care on social media.
Who Qualifies:
This program is open to all public animal shelters or 501c3 charitable animal rescues in the U.S. facilitating medical care to an animal in need of amputation surgery. Any eligible organization can apply regardless of location, size or annual revenues, including non-profit "Friends of" organizations supporting public shelters.
Applicants must maintain an active presence on social media platform(s): Facebook, Instagram, Pinterest, YouTube, or Twitter.
Any animal rescue organization who participates in a crowd-funding campaign on social media and promotes the matching funds available from the Tripawds Foundation is eligible. The campaign should incorporate specific messaging about this Tripawds Foundation program, and tag the Tripawds account(s). See below for social media handles and suggested post content.
How it Works:
STEP 1: Two applications each month are accepted on a first-come, first-served basis. Each completed application form must include:
Proof of 501c3 status or public shelter eligibility.
Written description of the animal needing surgery, or which has had a limb surgery within the last 30 days. Include name, age, breed, reason for amputation, and location.
Link to adoption info page for animal including photos and/or link to YouTube video(s) of the animal when available.
Link to public online fundraiser indicating status of current donation total. (See below for eligible fundraising campaign options.)
Link to at least one social media post (on Facebook, Instagram, Twitter, Pinterest, etc.) promoting the animal's fundraising campaign.
Estimate of amputation surgery costs from the veterinary clinic performing the surgery* OR invoice for surgery performed within the last 30 days.
STEP 2: If accepted, applicant agrees to conduct an ongoing social media campaign to last through the remainder of the month or until sufficient funds are raised. The campaign must raise at least $500 toward the cost of surgery for the injured cat or dog. Social posts should include a fundraising form (e.g.; Facebook/Instagram Fundraiser) or link to online fundraising platform (e.g.; GoFundMe, etc.). The campaign content (i.e., Facebook posts) should mention availability of the Tripawds Foundation matching grant and tag our organization. See below for examples. Campaign should include or direct fans/followers to active fundraising campaign indicating status of total current donations. (Review Fundraising Campaign Requirements below for details.)
STEP 3: If applicant meets the $500 matching fund goal within the campaign timeline (last day of month), Tripawds Foundation will grant $500 to the organization. Grant will be issued immediately upon receipt of proof indicating $500 fundraising goal has been met. Upon receipt of payment via Paypal or donation form, the applicant agrees to conclude social media campaign with at least one post detailing the animal's pending or completed amputation surgery and acknowledging the Tripawds Foundation's role in the fundraising process. Social media campaign shall continue at least until photo of animal post-amputation can be shared.
Complete Tripawds Rescue Fund Application Here
NOTE: Google account required since documents must be uploaded during application process.
Fundraising Campaign Requirements
Providing a link to your fundraiser is required, and allows us to share your fundraising efforts!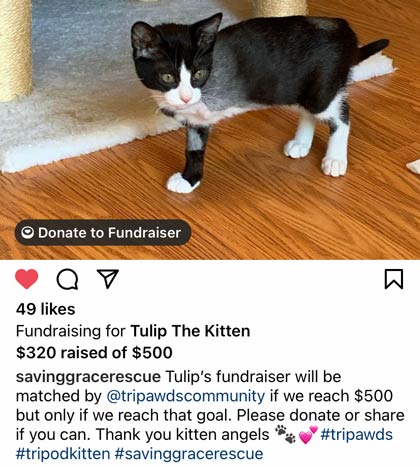 Eligible social media campaigns should direct fans and followers to active fundraiser with running sum or status bar indicating current total donations. For "Fundraiser Link" on the grant application, provide complete URL to the online form collecting donations specified for the animal requiring amputation. If organization does not manage its own fundraising platform (e.g.; Network For Good, Kindful, etc.) crowdfunding and social media fundraiser links are acceptable (e.g; GoFundMe, Facebook Fundraiser, etc.).
Crowdfunding Resources:
OPTIONAL: If no public online donation form with current total status is available, organization may submit Paypal or Stripe report indicating donations received specifically for animal requiring amputation prior to the last day of the month. NOTE: Since only two grants are awarded each month on a first come, first served basis, this may reduce the chance of receiving a grant.
Social Media Accounts and Suggested Content
The official "Tripawds" account must be tagged when posting on social media:
@Tripawds – Facebook, Twitter, Pinterest, LinkedIn
@TripawdsCommunity – Instagram
NOTE: Tag Tripawds using the "@" symbol (required). Using these hashtags is optional but highly encouraged: #tripawds #tripawdrescue #threeleggeddog #threeleggedcat #tripawdsofinstagram #tripawd #tripod #amputeepets #tripawdawareness
Complete Tripawds Rescue Fund Application Here
Example Fundraising Post Content
Social media posts soliciting funds for amputation must promote fundraising for the animal in need of an amputation, and include information about the potential matching funds available from the Tripawds Foundation.
All posts should include direct links for accepting donations (e.g.; Facebook Fundraiser), or links to the organization's crowd-funding campaign page (e.g.; gofundme, fundly, spotfund, etc.†) or other method of fundraising. The following are only suggestions for example content.
DURING Fundraising Campaign
Facebook, Twitter, Pinterest:
(NAME OF ANIMAL) urgently needs a leg amputation, but we need your help to pay for it! @Tripawds will grant $500 in matching funds IF we raise $500 soon. Your donation can help us get there! Donate now at (FUNDRAISING LINK) #tripawds #tripawdrescue
Instagram:
Poor (NAME OF ANIMAL). Her leg needs amputation to save her life! @TripawdsCommunity can grant $500 to help pay for the surgery, IF we raise $500 first. Your gift can help us get there! (FUNDRAISING LINK) #tripawdsofinstagram #tripawdrescue
AFTER Campaign Match:
Facebook, Twitter, Pinterest:
You Did it! Thanks to supporters like you and a matching grant from the @Tripawds Foundation, (NAME OF ANIMAL) will live a happy life on three legs and is ready for adoption.
Instagram:
(NAME OF ANIMAL) is so hoppy without that bad leg! You pawesome donors and the @jerryawdsCommunity #TripawdRescue Fund saved (his/her) life! Thank you!
Tripawds Social Media Accounts:
*The Fine Print:
The application period is open on a first-come, first-served basis every month, from the 1st to through the 15th.
To guarantee delivery of matching funds, only the first two applicants will be accepted each month.
Submission deadline may be extended if two applications are not received by the 15th.
Organizations may not apply if they received any Tripawds grant within the past 90 days.
Program is currently only open to U.S.-based organizations.
Applicants agree to engage in fundraising campaign via social media on Facebook, Twitter, Instagram, and/or Pinterest.
Campaign must promote availability of potential matching funds from the Tripawds Foundation and tag the Tripawds account.
Applicants lacking a 501c3 designation can apply if they represent a public shelter, or if they have a current fiscal-sponsorship umbrella agreement with an existing 501c3 charity.
Only limb amputation surgeries on cats or dogs are eligible for this program.
If $500 minimum is not raised, applicant may re-apply once for the same animal one time during the following month.
A private or public licensed veterinary clinic must conduct the amputation surgery.
Retroactive grants are only available for amputation surgery within the last 30 days.
Itemized surgery estimate or invoice cannot be older than 30 days.
†Find more GoFundMe alternatives:
Please Help The Tripawds Rescue Fund
The Tripawds Rescue Fund matches up to $500 in funds raised by an organization specifically for limb amputation of an animal in their care. If your organization is able, please consider supporting this fund to help more animals get the urgent care they need!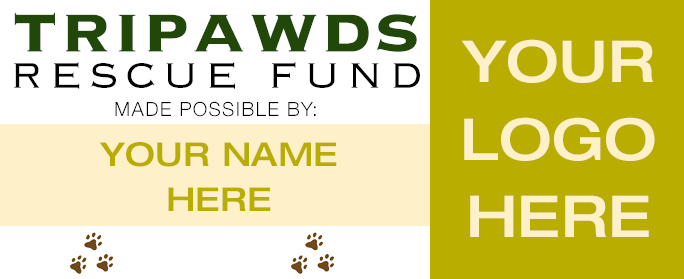 Post any questions below. Please review all comments for answers first.