Get Your Tripawd Fit, on Us!
The Tripawds Foundation will reimburse those who meet all the requirements outlined below for visiting a certified rehab practitioner for an initial consultation with their Tripawds. Have you scheduled your free Tripawd rehab appointment yet? Read about Maggie here.

One year after the Tripawds Foundation became an official 501c3 charity, we are thrilled to announce an exciting new program. This is only possible because everyone in this generous community—including YOU!—has helped us exceed our fundraising goals for this first year…
The Tripawds Foundation is pleased to announce our first Direct Assistance Program one whole year ahead of schedule!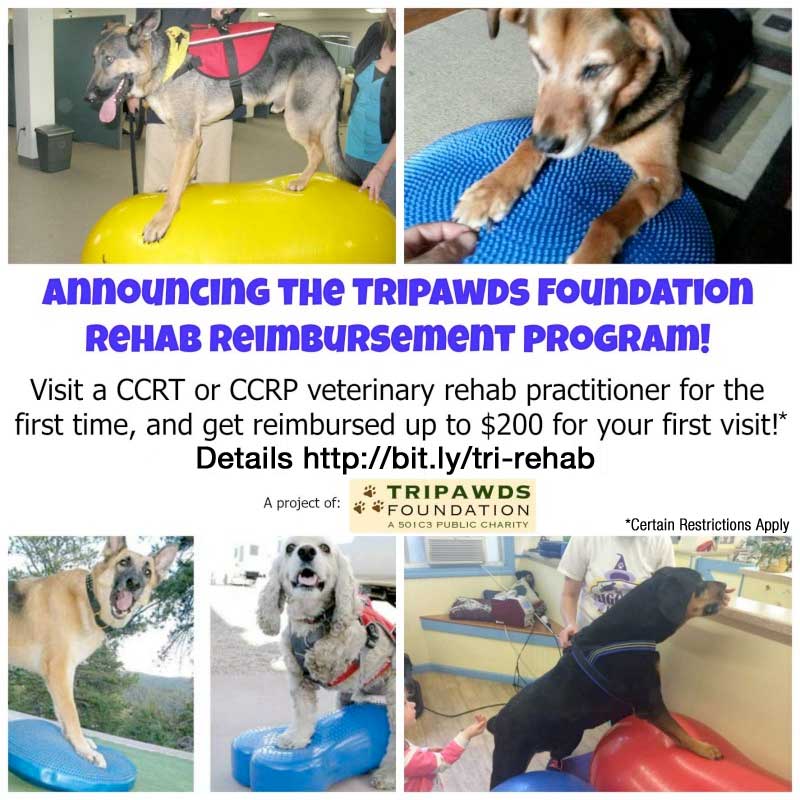 The Tripawds Rehab Reimbursement Program
Maintaining fitness and conditioning is critical to keep three-legged animals in top shape, no matter what their age or health condition. If you've reviewed the Tripawds Downloads or Tripawds Gear blogs, you know there are many Tripawd fitness exercises you can do at home.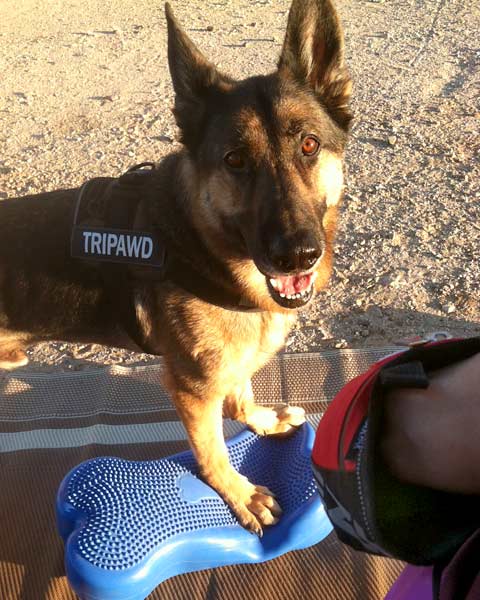 But there's nothing like the guidance of a trained, certified animal rehabilitation specialist to ensure you're on the right track to great health. Even one consultation and evaluation can make a huge difference in your Tripawd's life.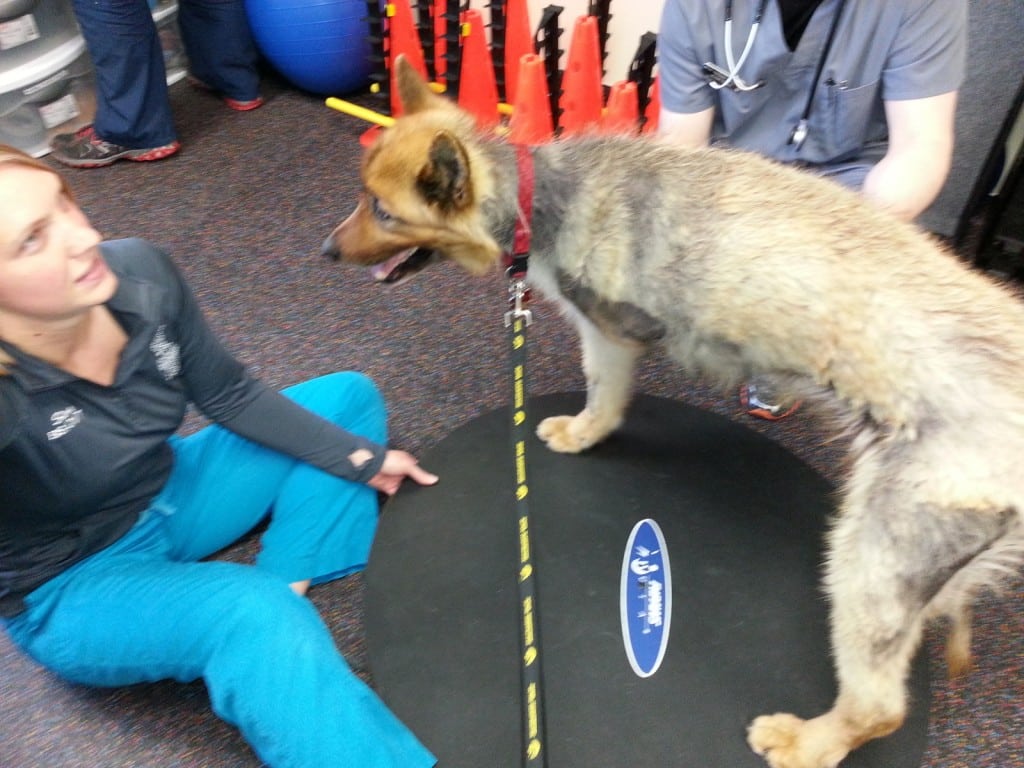 So starting today, the Tripawds Foundation is granting up to $200 in reimbursement to individuals with a three legged dog or cat who visit a certified animal rehabilitation therapist for a first time evaluation.
How to Apply for the Free Tripawd Rehab Reimbursement Program
The Tripawds Rehab program is for any three-legged dog or cat, due to amputation or limb deformity resulting in loss of limb use. The grant is only available to individual pet owners, not organizations.
Applicants Must:
Visit a certified Certified Practitioner* for an initial evaluation. See below for information about finding one near you.
Submit the receipt to us via email within 30 days of the visit, for reimbursement only of the total amount of the first consultation (up to $200). Any cost of medications, supplements, x-rays/scans, conditioning equipment, medical devices and/or follow-up appointments are not reimbursable.
Provide a 300-500 word written report for publication by Tripawds, along with at least two photos of prescribed exercises being performed. Essay should detail the experience of visiting a certified rehabilitation therapist, and any exercises performed in the clinic or at home. This must be completed within 30 days of their initial consultation.
Submit at least 3 photos of your Tripawd performing any prescribed exercises, either at the clinic or at home. (Optional: If you wish to submit video, send public Youtube link. Do not send video files.)
All documentation must be submitted in one email with the subject "Rehab Reimbursement Application", and must be received within 30 days of first certified rehab visit.
Indicate preferred payment method: Provide a valid Paypal account email address, or allow up to two weeks for check delivery, if providing mailing address.
Be the individual owner/guardian of a three-legged dog or cat. This grant is not available for rescue organizations, or pets in foster care.
Your essay must include the following: Please paint a vivid picture of your experience for readers. Within the framework of your essay, answer these questions:
What is your Tripawd's age and breed type.
Why is your Tripawd an amputee?
Did you adopt your animal as a Tripawd? If so, when and where did you adopt?
Describe in detail the exercises you were given by the rehab team and how often you're supposed to do them?
Why were you given those specific exercises? How do they benefit your Tripawd?
What one thing did you learn most from this experience?
Include a link to rehab clinic website and full name of therapist visited.
How did you hear about Tripawds?
Provide link to Tripawds blog, if applicable.
Essay must be submitted as a text document, editable PDF, or email. All of the above must be submitted in one email to Tripawds in order to qualify for reimbursement. Only applicants submitting all documentation will be reimbursed. Receipt must be submitted in the form of a legible unaltered photo, scan or PDF with clinic name and services rendered clearly indicated.

Maggie Moo Fund rehab grants are available worldwide. Registration for Tripawds community membership is strongly encouraged, but not required. Tripawds community participation is encouraged to get and share the best amputation recovery and care tips.
The Tripawds Foundation will reimburse individual applicants via Paypal or bank-issued check within 30 days of meeting these conditions. Please provide Paypal account email address or mailing address with your application. Payment is only available via Paypal for anyone residing outside the U.S.A.
*Veterinarians with the designations of CCRT, CCRP, CERP, and VMRT have received certification in veterinary rehabilitation training. Diplomates of the American College of Veterinary Sports Medicine and Rehabilitation also have received board certification in sports medicine and rehabilitation. Pet parents seeking rehab services for cats are encouraged to apply. Since there is no current certification program for feline rehab, please consult with a qualified practitioner. Many CCRT/CCRP offices also offer services for cats. Approval of qualifying practitioners without rehab certification is at the discretion of the Tripawds Foundation.

Support Tripawds To Keep This Program Going!
What This Program Does
Not

Cover:

The purpose of this free Tripawd rehab program is to encourage new members to seek professional guidance for developing an exercise and therapy program to keep their amputee pets fit and strong. Only initial consultations and first evaluations with a certified practitioner will be reimbursed. Veterinary services such as wellness exams, acupuncture, chiropractic, injections, or any other recommended treatments will not be reimbursed, nor will any prescribed medications, supplements or orthotic devices.
Free Tripawd Rehab Application Requirements Checklist:
Registered Tripawds username (if applicable), or email address used to register.
Receipt from clinic for first consultation with certified rehab tech(s).
350± word essay about your experience (text document), with 2-5 photos of prescribed exercises being performed.
Submit all documentation within 30 days of rehab appointment.
Email to Tripawds Foundation with Subject: "Rehab Reimbursement Application"
Include Paypal account email address for reimbursement* (if check is preferred, provide U.S. mailing address and allow up to two weeks for delivery).
Applicant must be an individual person, not an animal rescue or any other organization. Treatment for animals under foster care or in residence at a shelter are not eligible for reimbursement.
NOTE: Grant recipients outside the United States will only be reimbursed via Paypal at the current USD exchange rate. Payment by check is not available for recipients residing outside the United States.
Recommended Reading:
How to Find Rehab Therapy for Three Legged Dogs and Cats
At-Home Canine Rehab on Demand for Tripawds
Search the Canine Rehab Institute Certified Canine Rehab Therapist (CCRT) Global Directory
Search the Univ. of Tennessee Certified Canine Rehab Practitioner (CCRP) Global Directory
Search the American Association of Rehab Veterinarians and Vet Techs Global Directory
In Canada: Check the Animal Rehab Division of the Canadian Physiotherapy Association.
In the UK: Find a physio therapist from The Institute of Registered Veterinary and Animal Physiotherapists.
In Australia: Find certified practitioners in the Australian Canine Rehabilitation Association Directory.
Learn About the Benefits of Canine Rehabilitation Therapy
Tripawds News Rehab Articles, Videos & Interviews
Support Tripawds To Keep This Program Going!
Save
Save
Save
Save
Save
Save