Rescue Fund Sponsorship
$3,000.00
The Tripawds Rescue Fund helps prevent economic euthanasia of animals awaiting adoption with life threatening limb injuries. Sponsor this fund for six months to help save more three legged dogs and cats. NOTE: Add two to cart and sponsor this fund for a full year!
Description
Help save more amputee dogs and cats!
The Tripawds Rescue Fund helps public shelters and rescue organizations raise funds for animals in need of amputation while waiting for adoption. To help prevent economic euthanasia of animals with life threatening limb injuries or deformities, the Tripawds Foundation is now matching up to $500 in funds raised by organizations which meet the requirements. Read complete Tripawds Rescue Fund details here.
Promote your brand or pay tribute to your three legged hero or angel.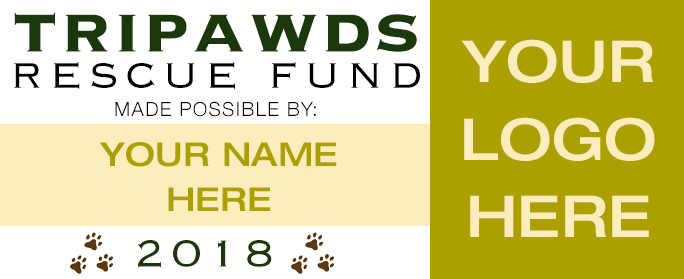 Keep the Tripawds Rescue fund going to help more amputee pets and their people by sponsoring this program for six months. Purchase multiple sponsorships to extend your partnership period.

In exchange for your charitable contribution you will receive a detailed announcement and ongoing promotion of your support for the Tripawds Foundation throughout the year.
Exclusive partnership opportunity! Only one Rescue Fund sponsor per each six month sponsorship period.*
Each month, we grant two awards of up to $500 in matching funds to any public animal shelters or 501c3 rescue organizations actively raising money for amputation surgery of a dog or cat in their care. Every time this grant is awarded we publish an article about the recipient in the Foundation News blog. This post is shared throughout the Tripawds community and to 20,000+ Tripawds fans and followers via social media. And every time, we highlight our partnership with the current program sponsor.
Partnership Benefits:
In-depth interview and announcement in the Tripawds Foundation News blog with links to your website.
Your branding message on the Tripawds Rescue Fund application page.
Ongoing promotion of your support in every rescue reimbursement award announcement.
Ongoing publicity of your partnership in the Tripawds News email newsletter and in social media.
NOTE: Please contact us about other charitable giving partnership opportunities!
*Your 12 month sponsorship will begin upon publication of our partnership announcement.
$3,000.00Purchase
Save
Save
Save
Save
Save
Save
Save
Save