Rescue Fund Sponsorship
$1,200.00
The Tripawds Rescue Fund  is currently on hold. Sponsor this fund for one year to help save more three legged dogs and cats. 
1 in stock
Description
Help rescue more amputee dogs and cats!
The Tripawds Rescue Fund encourages adoption of three legged dogs and cats by reimbursing the adoption fee for anyone who adopts an amputee pet! Read complete Tripawds Rescue Fund details here.
Promote your brand or pay tribute to your three legged hero or angel.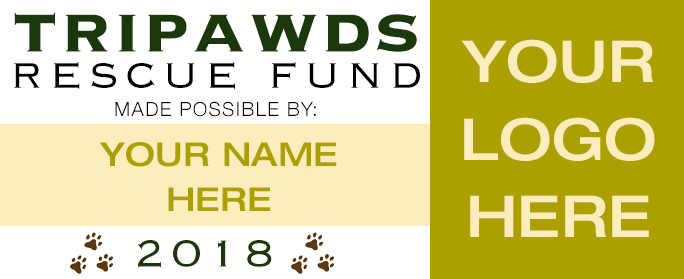 Keep the Tripawds Rescue fund going to help more amputee pets and their people by sponsoring this program for one year.
In exchange for your charitable contribution you will receive a detailed announcement and ongoing promotion of your support for the Tripawds Foundation throughout the year.
Exclusive partnership opportunity! Only one Rescue Fund sponsor per year.*
We grant an award of up to $100 to anyone who adopts a Tripawd from a verifiable animal shelter. Every time this grant is awarded we publish an article about the recipient in the Foundation News blog. This post is shared throughout the Tripawds community and to 20,000+ Tripawds fans and followers via social media. And every time, we highlight our partnership with the current program sponsor.
Partnership Benefits:
In-depth interview and announcement in the Tripawds Foundation News blog with links to your website.
Your branding message on the Tripawds Rescue Fund application page.
Ongoing promotion of your support in every rescue reimbursement award announcement.
Ongoing publicity of your partnership in the Tripawds News email newsletter and in social media.
Includes 100 co-branded Tripawds Outreach Brochures.
Consider sponsoring and additional print run of brochures to get your message into more vet clinics, animal hospitals and rehab centers!
NOTE: Please contact us about other charitable giving partnership opportunities!
*Your 12 month sponsorship will begin upon publication of our partnership announcement.
$1,200.00Add to Cart
Save
Save
Save
Save
Save
Save
Save
Save