Adopt a Tripawd. For Free!
In our continuing efforts to raise awareness about three legged dogs and cats loving life on three legs, The Tripawds Foundation is proud to announce the new Tripawds Rescue Fund!
Amputee animals are often overlooked at shelters as being handicapped, and frequently remain in rescue programs for extended periods, or worse yet, euthanized because potential adopters look the other way.
As an incentive to encourage adoption of three legged pets, the Tripawds Rescue Fund will reimburse the adoption or processing fee!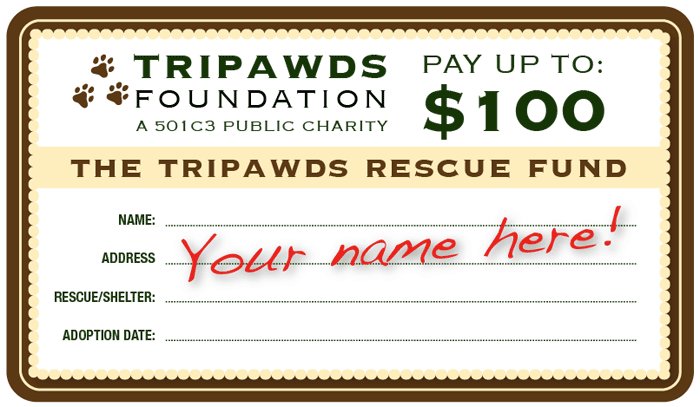 Tripawds Adoption Fee Reimbursement Program
The Tripawds Foundation will reimburse the adoption fee (up to $100) for any registered Tripawds member who rescues an amputee dog or cat from a verifiable animal shelter after February 02, 2016.
It's this easy:
Adopt a Tripawd.
Submit itemized receipt for adoption fee from shelter.
Send a brief story and a few photos about your three legged friend.
Provide mailing address or Paypal account email address for payment.
Get up to $100 back!*
Simply email us all of the above information within 60 days of adopting your new three legged friend. A limited number of reimbursements will be offered during this trial program, so act now!
Help Spread the Word!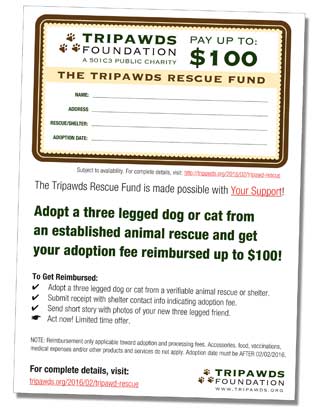 You can help  three legged rescue dogs and cats everywhere find their furever homes!
Use the share buttons below to help spread the word about this Tripawds Rescue Fund or post the images above to your local shelter's Facebook page with a link to this post.
Print this Tripawds Rescue Fund Flier and take it to your local rescue.
Together we can find homes for all three legged cats and dogs!
Submit your Reimbursement Application
PS: Assistance projects like this are only available with your support!