Molly came to us as a shelter dog.  Her owner, a man who raised sheep, thought she was not a good sheep dog and so he shot her we were told but didn't​do a very good job of it.  She escaped and the neighbor took her in.  After the death of a previous Australian Shepherd, we went to the local shelter looking for a similar dog who could get along with our aging German Shorthair.  Molly had been there two days and looked forlorn and when we came by the kennel she literally tried to squeeze through it.  We made arrangements to pick her up the next week and during the weekend, my father became very ill and I had to leave. My wife picked her up and headed south to join me.  Molly's first "home" was my sister's place and three other dogs.  Molly was justifiably frightened of men and it took nearly a year before she let me pet her.  She was my wife's dog in every sense of the word.  My wife's brother, a veterinarian, said Molly won the shelter lottery and we guess she did.  Like many great dogs, she became part of our family and when we lost our old dog, Truffle, Molly took over to help us grieve.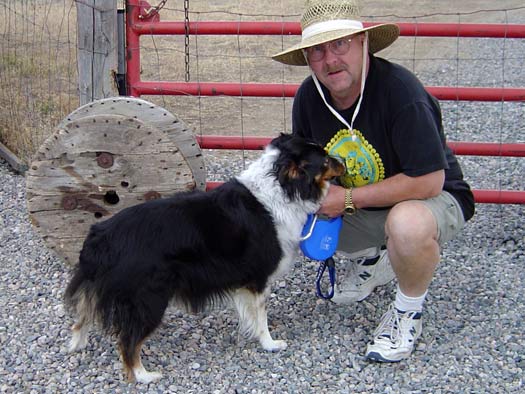 After two more years we added another GSP to our pack and Molly trained Amber very quickly to use the dog door, go outside for her business, not jump on people etc.  Herders like Molly need a job and she certainly took that to heart with Amber.
At the age of 10, Molly developed a small lump on her right leg.  Our veterinarian tested it and said it was benign so we didn't worry.  Unfortunately, we failed in our duty because the lump grew and we just ignored it since it had passed the needle biopsy.  At 13 years old, while on a trip away from home, the now golf ball sized lump burst and we took her to a pet hospital.  The surgeon said the lump was too big to remove as no skin would be available to close it and so he tested it in their lab and told us it was cancer.  He recommended the leg be removed.  A short note here, we have since that time learned through Tripawds that sometimes the leg need not be removed, we wish we had known about this beforehand.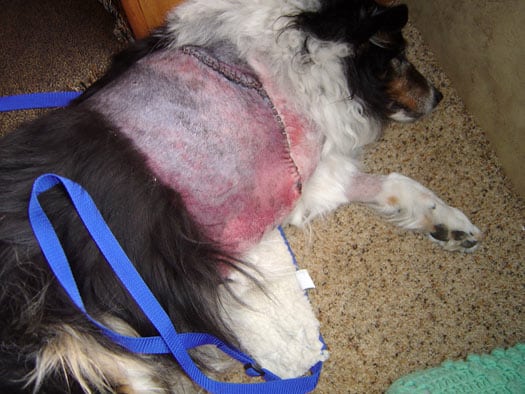 Molly's right front leg was removed and we took her home after 3 days.  She had trouble with everything and the wound and surrounding area all the way to her tail was bruised.  In trying to research more about her issues, we came across Tripawds.com.   In desperation late one evening from our fifth-wheel trailer, I called the number for help at Tripawds.  I do not remember the man's name but just that he was very calm and reassuring.  He gave us wonderful attention and advice and sir, I thank you to this day.  As healthcare professionals both my wife and I have seen devastating injuries and problems but with people we could explain things and with Molly, we felt helpless.  Tripawds made us better custodians of Molly's health.
Molly came home and because she already had some arthritis, her activity level was greatly diminished.  We built ramps everywhere to help her and celebrated when she used her dog door alone.  She continued to be capable of going out on her own for over a year but slowly we noticed she had to struggle greatly and stop often.  We did what we could to keep the family outings normal for her.  Ultimately we bought a folding cart and Molly loved her outings in her wagon.  She attracted crowds and children and loved everyone.  Her happy smile and soft fur invited friendly pets and she adored the attention.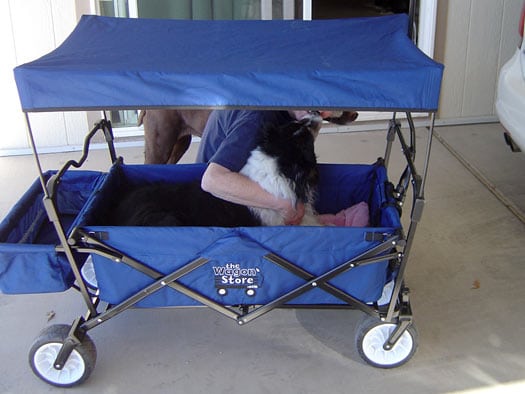 As with all things in life, we must accept the end.  Molly's end came softly in our large lawn under her favorite tree on a soft windless November day.  We miss her but love the lessons we learned from her and the memories of a very special friend.  Tears come as I write this but they are simply tears of pleasant memories missed.  God blesses us with these gentle companions and friends who help them like Tripawds.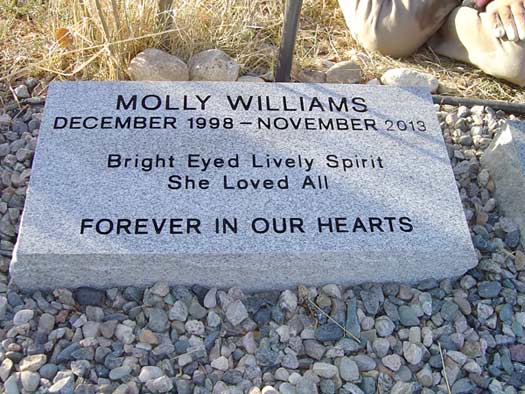 As Molly's parents we will continue to support Tripawds until we join her on different fields to make more memories together.
—Sincerely,   Bob & Kris W.