Our boy Riley Gilmore Rubin—11 yr old Golden Retriever born 9/10/03—pretty much used up his pet-savings account last year. He's been the healthiest boy ever until the unforeseen occurred. In April 2014 he had a seizure – a shock to both my husband Wayne & I.
It was determined he had a tumor on the front of his brain. So he underwent surgery for its removal. Pretty rapid recovery however he will always need to have daily anti-seizure drugs. A month after surgery, one of the medications he was on Prednisone, made him food CRAZY! He's always been good about not getting in to things he's not supposed to. I caught him eating something out in our work warehouse. I thought one of the guys left a chip-bag out and he was going to town. I went to see what it was and it was a box of D-Con!!! AAAAAAAAAAHHHHHH!!!! I raced him to the vet (less than 2 mins away) and they were able to do what they know to do best and saved his life.
When we took him back to the vet for follow-up to eating that poison a month later, we had noticed him limping on his back right leg. After x-rays it was highly noticeable cancer was having it's way with his right-rear leg bone. Dang, it didn't seem he was catching a break. So July 2nd 2014 we made the tough but right decision to have his leg removed at the hip.
His (animals in general) resilience is amazing to me! On his worst days, he never complained!!! Through Aug & Sept '14 he endured 4 total chemo treatments (Thank goodness dogs don't lose their hair from chemo). Since then, we've all learned to adapt to his new way of life. Sure, there's things we aren't able to do like before, but we make adjustments and find all the things we can do now! He's my hero!!! I say …
He kicked cancer's butt so hard, he gave up a leg!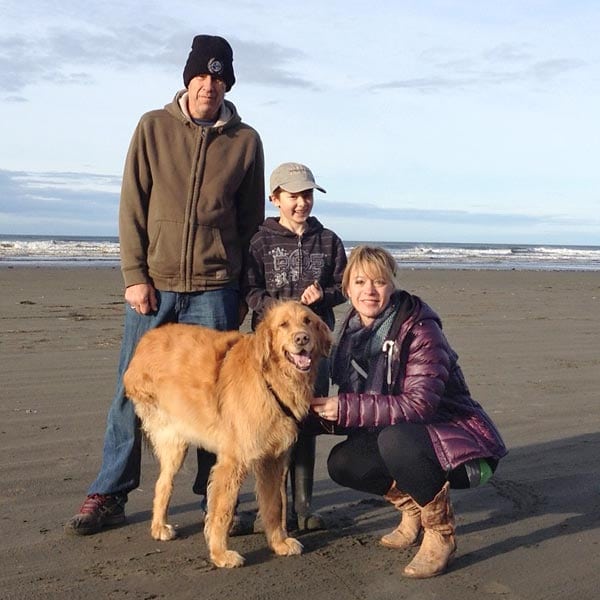 Odd thing about some people, is that they ask how much all of this cost? I always answer, it cost just enough for our Riley "Red Dog" to still be here with us happy and healthy!
Riley's oncology re-check was yesterday and he currently is in full remission at 6 months post-surgery. He is our Tripawd Hero 3 Times over!
(Photo was taken early December '14 in Pacific Beach, WA with our grandson)