It has been about a month or so now that our old Golden Buddy unexpectedly passed on. We put him to bed a happy jumpy boy and in the morning he was gone. In July we had removed his front leg for cancer and thought we would have a few more years with him. It turned out to be only six months, but they were a really wonderful extra six months.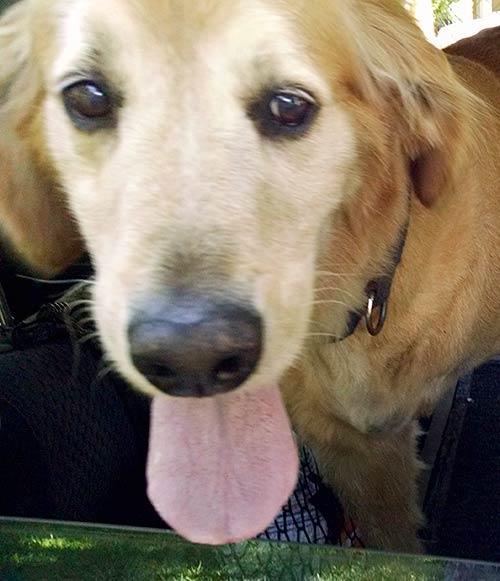 Buddy came to us as a huge exuberant year-and-a-half goofy puppy – a 75 pound puppy who could put his front paws on your shoulders! He was left in our neighborhood, along with two other dogs, when his people moved out of their house. We tried to find homes for the dogs and when we couldn't find them a place we decided we had a large fenced yard and our dog liked having them around. So they stayed. When we got them out of the house where they had been left, there was a softball with "Buddy" marked on it with felt marker, and a towel knotted into a pull toy. The towel has disintegrated in the nine years since then, but he still loved to carry his softball around. We buried it with him.
The dogs got lots of other toys at our house – real toys like tennis balls and hard rubber pull toys and squeaky toys – and toys he liked such as squashed gallon water bottles and random sticks. Buddy loved to carry his toys around in his mouth and play with us with his pull toys.
At the dog park Buddy loved to run around and get all the people to pet him. He was tall enough that he could just stand next to people and his head was right there where their hand was and they would just pet his head as they talked with each other. He loved to swim in the lake. Even after his leg was removed he hopped around to all the people he could see at the park and even swam in the lake still.
We knew that Goldens were prone to cancer and that their life expectancy was usually around 11 years. We were happy that he continued to be in good health and a happy goofy boy at 9 years old. Even when he got a cancer lump we had it removed and the vet said it wouldn't spread but it could recur. So we were really hopeful for more years. The next year he began limping; the cancer had come up on his front elbow and we had to have his leg removed. It was much more difficult this time. But we also felt it would mean more time with him.
It turned out we only had another six moths to be with him, but we were so grateful for those six months. We knew we couldn't have him forever and really enjoyed our time with him. He was a really bright spot in our lives. And this community here at Tripawds has been such a wonderful family for us, helping us to have the best time with Buddy in the time we had with him. Thank you all so much.