Have you been using the Wooftrax app when walking your Tripawds?
Each time you use the Walk for a Dog app, you are helping support the Tripawds Foundation. The more people actively walking for Tripawds, the more donations we will receive, it's that simple.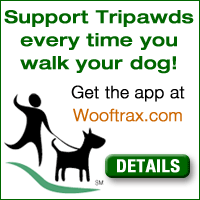 The amount is not dependent upon distance walked. What matters is how many people are tracking their walks, so spread the word!
Share the Walk for A Dog app with your friends on Facebook, Twitter, and Instagram. Then, ask them to select the Tripawds Foundation as their charity in the app settings. (Search for "Tripawds" or browse Texas organizations.)
Here are some of the many benefits of using Walk for a Dog:
More frequent shorter walks are best for Tripawds.
You can track your daily walks with your dogs.
Monitor walk length and set your own personal fitness goals.
Walking is fun and healthy for both you and your dog.
The time spent together provides quality bonding time.
Using the app helps keep the Tripawds community online!
If you haven't used the app in awhile, make sure you are using the most recent version of the app for the best user experience.
Get the App & Start Walking for Tripawds!
Download Walk For A Dog App and get walking to support Tripawds!
Remember to use the Walk for a Dog app every time—it's a win-win-win for you, your dog, and the Tripawds Foundation!