The Tripawds Foundation strives to provide the best possible information, resources and support to everyone facing a cancer diagnosis and/or amputation for their pets. One way we strive to achieve this goal is how we always recommend concerned pet parents seek veterinary care at AAHA accredited clinics to get the best possible care.
Tripawds was recently acknowledged as the reputable and respected source for pet amputation information and support when the American Animal Hospital Association published our guest article in their November, 2015 edition of Trends magazine.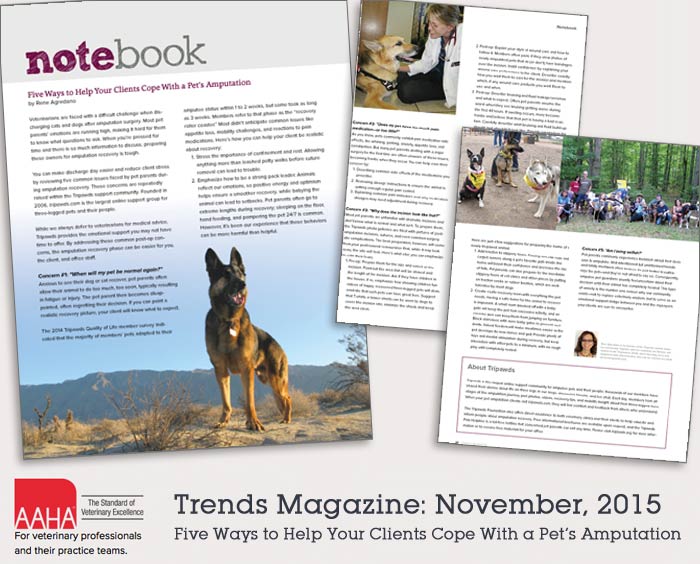 Trends is the premier business and practice management magazine for veterinary professionals, distributed to more than 33,000 subscribers. Being selected as a contributor was an honor, and an effective way to reach veterinarians with details about how we can help them educate their amputation clients.
Why Tripawds is Exhibiting at AAHA 2016
Many new Tripawds members often discover the blogs, forums and other free helpful resources we have to offer while sitting in their vet's office. And an increasing number of veterinarians and oncologists are referring their clients to the Tripawds community for information and support.
Veterinary offices, pet cancer centers and animal rehab clinics are where our help is needed most. This is where we can help concerned pet parents feel more comfortable about the decisions they face. And it is where we can help vet professionals save time by answering the emotional questions clients have.
In our continuing efforts to reach every person facing amputation for their dogs and cats, The Tripawds Foundation plans to attend, exhibit and present at as many veterinary conferences as possible in the future. Our exhibit at AAHA 2016 in Austin, Texas is the first step.

From March 31 through April 3, 2016, Team Tripawds—including spokesdog Wyatt Ray—will be attending the annual AAHA conference and staffing the Tripawds Foundation booth in the exhibit hall. We will be demonstrating the support resources Tripawds has to offer, and distributing free vet patient outreach materials to every clinic that wants them.
Stay tuned for more information as the conference draws near, and read on to learn how you can help us make a pawsitive impression at the show!
New Foundation Exhibit Required
The vinyl Tripawds banner and laminated poster we've been sending around to cancer walks and local pet events simply isn't going to cut it for our first professional appearance at a leading veterinary industry event. In fact, the Tripawds Foundation has none of its own presentation materials.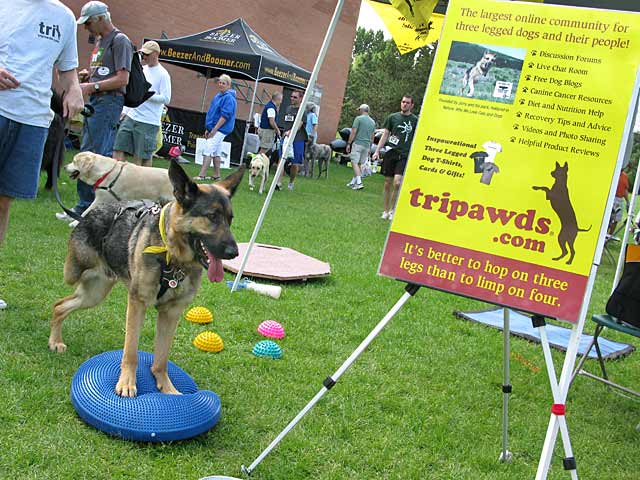 Thanks to your charitable contributions, and with the unexpected funding from Leo's Bar Mitzvah Fund, we will soon be able to purchase some quality display products for the Foundation. A portable display will allow us to make a professional appearance at future conferences, and replace the banner we currently send to local events. But it's not cheap.
Please consider making a contribution to help cover the cost of the display and additional Tripawds brochures we will need for the AAHA 2016 conference.
Help Tripawds Make A Good impression!
Together, we can help amputee pets and their people everywhere!