We were fortunate enough to get Sadie as a rescue when she was 8 months old. Boy was she a handful (and still is).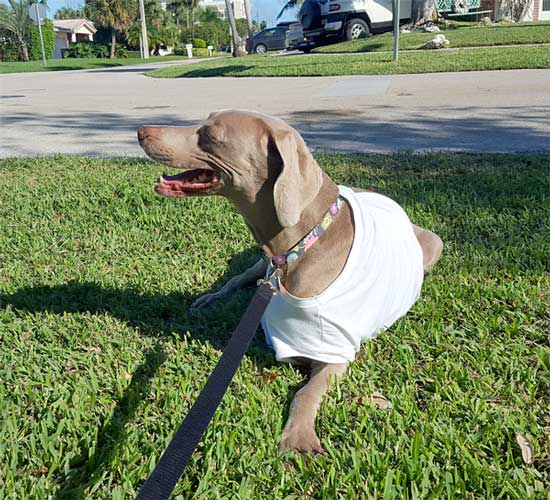 We introduced her to our then 3 year old weim Sophia and it was not love at first sight. 🙂 They butted heads for months, but have learned to be best friends. Sadie is a rambunctious girl that loves to run and play and bark and clown around. We love her so much for that. She has always been a mommy's girl! Almost all of our best memories include our girls! Unfortunately, Sadie was diagnosed with osteosarcoma in November 2015.
Now she is a proud member of the Tripawd Nation and is under going chemo to extend her life. We are one of the fortunate families that had a smooth transition to 3 legs, in a matter of fact she ran out of the vets office like a racehorse 1 day after amp. She is adjusting well and fighting like the brave girl she is. We love her and her sister Sophia so much and want her to enjoy every day. We are starting to extend her walks and build her back up and she is doing great! Hopefully she can fight and live the pain free, happy life she deserves!
Thank you Tripawds.com and all your members for the support, info and kind words.
Yours in the fight,
Sadie, Sophia, Brian and Ashley!!
Tripawds Forum Topics about Sadie