What if you could improve your tripawd's health and earn money for the Tripawds Foundation by doing what you do every day—simply taking your tripawd (or any dogs) for a walk around the block? Now you can, by downloading the Walk for a Dog app by Wooftrax!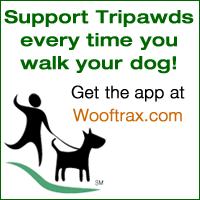 The Walk for a Dog program donates money to an animal shelter, rescue, or other charitable organization of your choosing every time you walk your dog—or cat! Donations are funded through sponsors, advertisers, and investors and vary from 11 to 25 cents per mile, depending on the number of people who have signed up to walk for a specific animal organization.
Get the App & Start Walking for Tripawds!
Download Walk For A Dog App and get walking to support Tripawds!
The number of people walking for any given organization and the number of walks they take are the primary factors Wooftrax uses in calculating their donations. Distance is also factored in but is not as important, a walk with your tripawd around the block or a 2-mile hike—if she is up for it—all count. To date, over 800,000 miles have been walked to benefit more than 4,000 organizations who are signed up to receive donations. And now, you can walk for the Tripawds Foundation!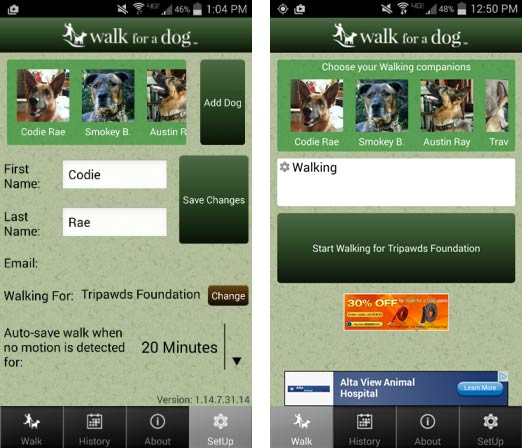 How Does the Walk For a Dog App Work?
Walk for A Dog is a really fun app. It is intuitive to use and easy to get started. Once you download the program to your cell phone, go to the Set Up page, where you can add your walking companion(s) and choose the organization you'd like to walk for. Organizations are listed by state and you will find the Tripawds Foundation listed under Texas. You can enter Tripawds in the search box at the top of the Texas page to find us quickly. If you don't have a pet you can still participate by choosing Tripawds and the "Walk for Cassie" option.
Download App
Add Dog Details
Search Texas for Tripawds Foundation
Select Charity
Walk and Earn!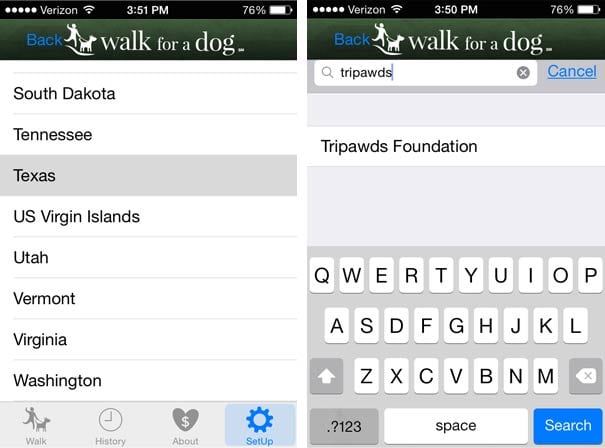 When you are ready to take a walk go to the Walk page, select a dog or dogs to walk with, hit the "Start Walking" button, and you are ready to go! The app tracks your distance walked, the time it takes, and generates your speed (mph) for each walk. The app also maps each walk using your phone's GPS and any available cell service and stores a walk history that you can look at any time on the History page.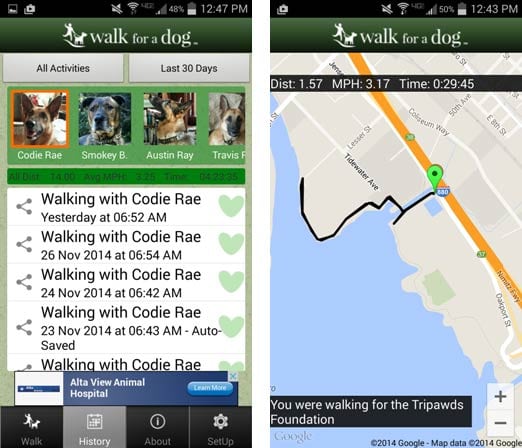 These features are really valuable for any tripawd pawrent. While it is vitally important to get your tripawds sufficient exercise to help keep them fit, it is equally important not to overdo it and risk potential injuries when your tripawd gets overly tired. Ralph of the Oaktown Pack, who has been using the app for four months, says…
"Paws on the ground experience shows our estimation of how far we walk can be wildly inaccurate! Using the Walk for a Dog app can help you fine tune your tripawd's exercise regime by making sure she is getting just the right amount of walking she needs."
Download Walk For A Dog App and get walking to support Tripawds!
So get ready to have even more fun than you already do walking with your tripawd! Download Walk for a Dog today, ask all your friends to join you, and start walking for the Tripawds Foundation! Every walk counts!