The Tripawds Rescue Fund has been suspended indefinitely due to lack of funding.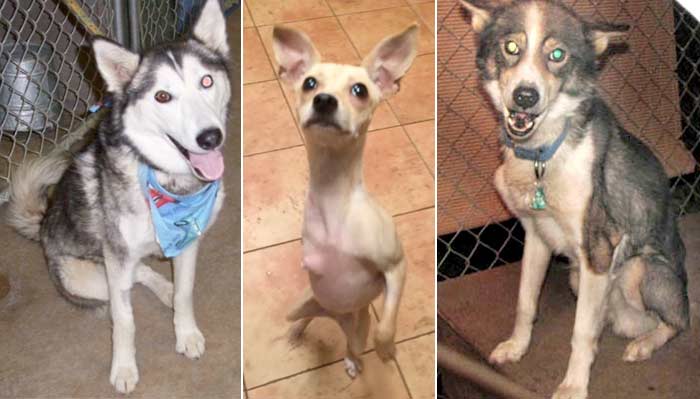 Amputee animals are often overlooked at shelters as being handicapped, and frequently remain in rescue programs for extended periods, or worse yet, euthanized because potential adopters look the other way.

As an incentive to encourage adoption of three legged pets, the Tripawds Rescue Fund will reimburse the adoption or processing fee!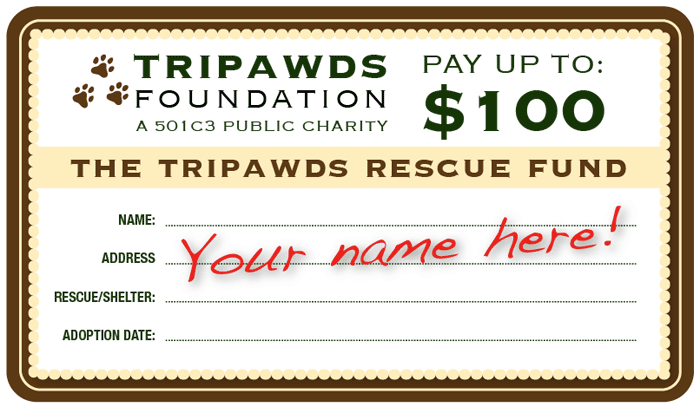 Tripawds Adoption Fee Reimbursement Program
The Tripawds Foundation will reimburse the adoption fee (up to $100) for any registered Tripawds member who 1) rescues an amputee dog or cat from a verifiable animal shelter, and 2) submits a brief written essay (see below).
The Tripawds Rescue Fund is temporarily on hold.
PLEASE NOTE: No rescue reimbursement applications are currently being accepted while we adjust program requirements to better serve amputee pets in shelters everywhere, and the people who adopt them. Please stay tuned for an announcement when grants will once again be available.
It's this easy:
Adopt a Tripawd.
Submit itemized receipt for adoption fee from shelter. Name on receipt must match that of the applicant.
Send Tripawds Foundation a written story and a few photos about your three legged friend. To encourage others to adopt Tripawds, please submit a minimum of 350 words that answers questions such as:

Was there a special person or animal who made you want to adopt a Tripawd?
Have you ever had a "special needs" animal before?
How will you help your Tripawd live longer, healthier and injury-free on three-legs?
Has your perception of "special" needs changed since you adopted your Tripawd? If so, how?
What would you say to someone who is thinking of adopting a Tripawd cat or dog?

Include your Tripawds username. Tripawds community participation is encouraged to get and share the best amputation recovery and care tips.
Answer this question: How did you hear about the Tripawds Rescue Fund?
Provide Paypal account email address for prompt payment. If a check is preferred, please indicate so and provide a mailing address. (All 2-3 weeks for check delivery.)
Get up to $100 back!*
Provision of any altered documentation or falsified information will be grounds for immediate dismissal of your application without notice.
Simply email us all of the above information within 60 days of adopting your new three legged friend. This post will be updated upon any changes to or cancellation of this program.

Reimbursement Application Checklist:
Registered Tripawds username, or email address used to register.
Receipt from verifiable animal rescue organization or shelter with same name for client as applicant.
350± word essay about your experience, with 2-5 photos. (See story notes above)
Submit within 60 days of adoption.
Email to Tripawds Foundation with Subject: "Rescue Reimbursement Application"
Include Paypal account email address for reimbursement* (or mailing address if check is preferred).
*Payment is only available via Paypal for recipients residing outside the United States.
Help Spread the Word!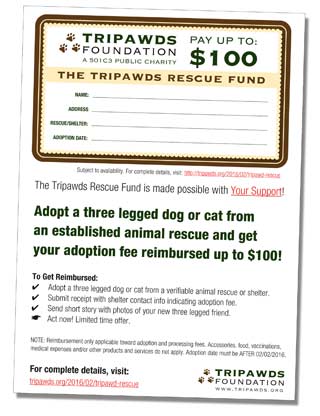 You can help  three legged rescue dogs and cats everywhere find their furever homes!
Use the share buttons below to help spread the word about this Tripawds Rescue Fund or post the images above to your local shelter's Facebook page with a link to this post.
Print this Tripawds Rescue Fund Flier and take it to your local rescue.
Together we can find homes for all three legged cats and dogs!
Submit your Reimbursement Application
PS: Assistance projects like this are only available with your support!
Save
Save
Save