Tripawds Community member molliemoo took advantage of the Maggie Moo Fund for Tripawd Rehab. Read on for details about Lena's experience with rehab for Mollie, and please consider a small contribution to help keep this program going!


Learn about the importance of rehab and how to get reimbursed!
Hello, Tripawds!!
It is Miss Mollie Moo here. My mom and I went to my first rehabilitation appointment on March 1st. I must say; I had a good time. I was showing some signs of struggle with my front shoulder. My endurance has been low. My mom made an appointment because she knew the Tripawds Foundation provided a rehab reimbursement program. We went to Dr. Shulte at Blue Pearl. She was fantastic. The Dr. measured my range of motion particularly my hip movement because I have hip arthritis. I didn't like it when she pushed on my hip. I had a soft bite 😊 But they knew I wouldn't harm a soul. We measured the weight of my stance on each foot. My front leg I have 40 lbs. of weight I am carrying. My back legs were 19 and 23.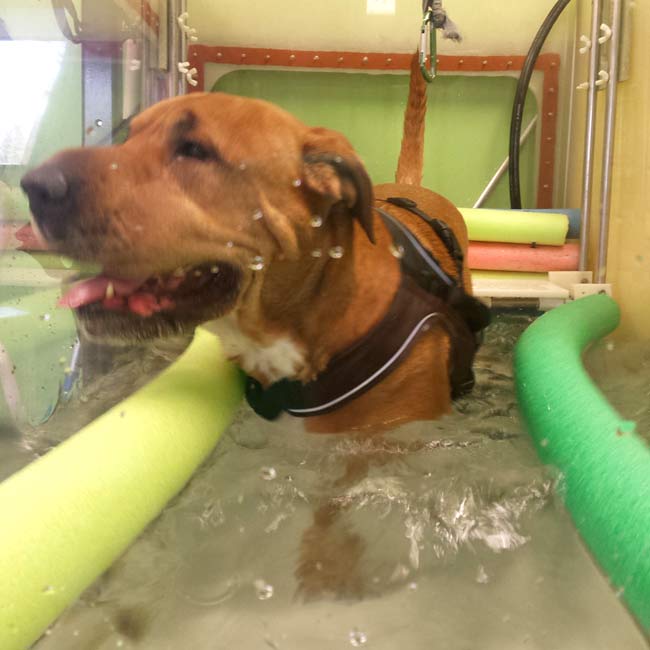 I did exercises on a wobble board. And we were shown how to do exercises at home (which is nice!). I had laser therapy on my hips. Next, I went to the BIGGGG Tank to go swimming with a treadmill! My mom said I had a nervous look on my face. Who wouldn't be nervous! Water started to fill up in the BIGGG Tank…scary! Then the treadmill started. I knew to place my paws on the side, where there was no moving floor! The girls said I was a smart girl😊 Then the treadmill started to move fast. That is what helped me out.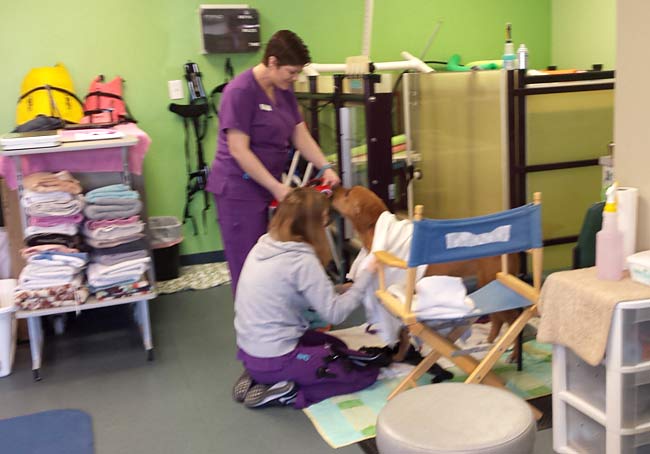 Tripawds need to move a little faster with 3 legs. I did well! I did 5 minutes with one small break. The girls said I do need to work on my endurance. My goal is 20 minutes. Holy moly that will be a big workout. So, my mom booked more appointments. My mom saw a difference in just one treatment. I have more of a hop in my step…and that is a great thing. I just celebrated my 8th~month ampuversary on Feb 22nd. My family and I are living life one day at a time and making the most of every second we have together.
I have been doing very well, and I believe with rehabilitation I will do even better. I am already looking forward to seeing my new friends at rehab again! I am excited to continue on my journey with rehab. Thank you Tripawds for your support! It is so important to keep tripawds bodies in shape.
Love ~ Mollie Moo and Family
* Some pics of me at Rehab. Then a picture when we were driving home. I was beat. Then I pepped up when my mom said she was getting me a treat!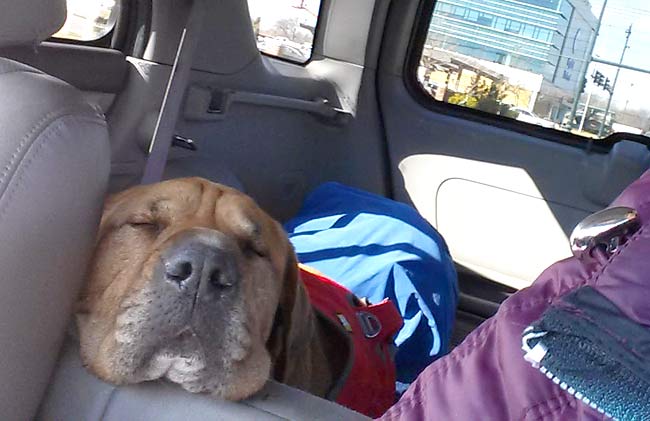 Help Keep The Maggie Moo Fund Going!