Tripawds member cglenn19 is the tenth recipient of the Maggie Moo Fund for Tripawd Rehab. Read about how Charlie benefited from this free rehab evaluation below, and see all Tripawds who have received free rehab sessions thanks to your support.
Rehab Evaluation and Treatment for Tripawd Charley
Charley is a 12-year-old Springer Spaniel who recently became a Tripawd – he lost his front left leg due to a possible osteosarcoma (one vet think it was, the other thinks it was something else, and I never got the amputated leg tested, though the fine needles aspirate showed no cancer cells and after almost year with the "tumor," his lungs are still clear). Charley also has arthritis in his rear left leg, and has been having more problems with it now that he only has three legs, so that was the main focus of our first appointments at GA Veterinary Rehab. But of course, Dr. Bailey also checked his other legs as well to make sure there are no problems (and there aren't, thankfully!)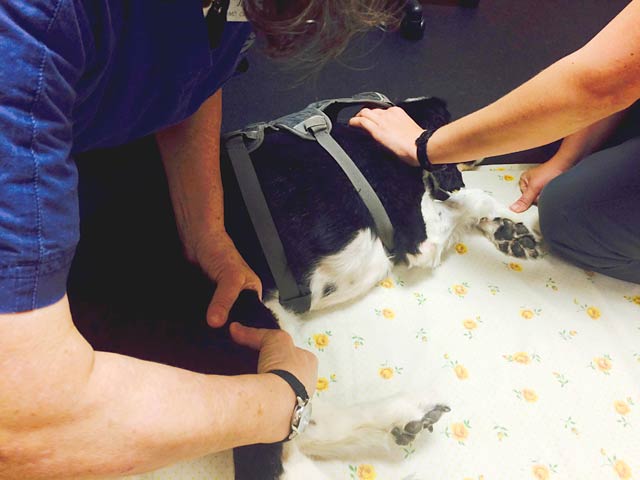 Dr. Bailey did the first hour-long assessment, which mainly included checking Charley's joints and muscles. She also massaged his legs, back, and neck muscles. She spent more time on his arthritic leg than the others and laid out several options. Our first step was getting new x-rays of that leg to rule out the possibility of another tumor before doing acupuncture, which could actually cause cancer to spread.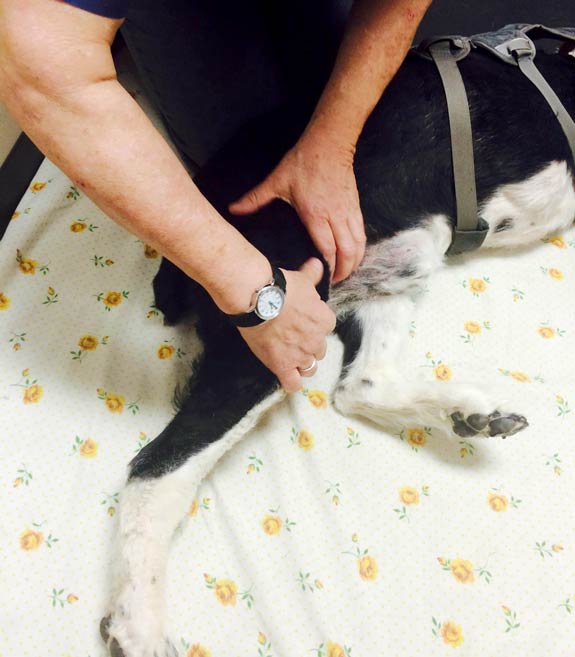 The x-rays didn't show a tumor, but led Dr. Bailey to think he might also have a small cruciate tear in his knee on that leg, so she recommended laser treatment to help the tear heal faster, instead of the acupuncture which would have been mainly focused on pain management.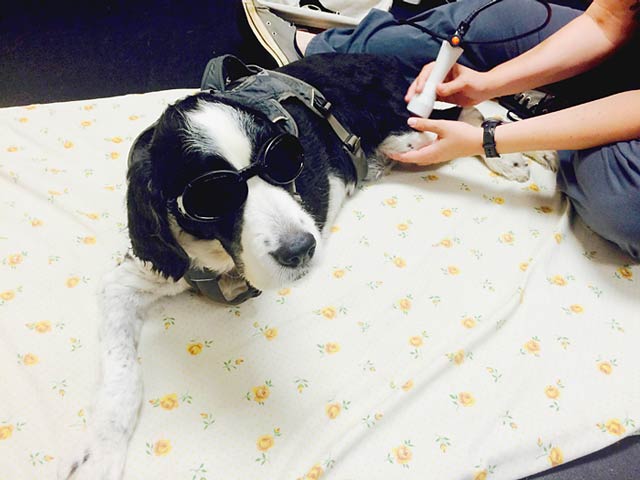 We did our first laser treatment at their office, then she sent me home with the Assisi Loop, which we've been doing three times a day, coupled with increased meds for pain management. We're also doing stretches several times a day, and after a month, we're going to have a follow up appointment to reassess and discuss next steps.
For now, we're focusing on the basics and trying to address the rear leg problems and get it feeling better because he certainly can't get around well on 2 legs! Charley certainly can't afford to tear the cruciate completely, so we're trying to manage that and get that healed before more fitness-focused treatment. All-in-all, he's doing a lot better than he was before I went to Dr. Bailey, so I feel good about the path forward.
Support Tripawds to Keep Maggie Moo Fund Going!

Save