Tripawds Members Make Beautiful Items for Foundation Auction
Various items in the upcoming 2016 Tripawds Foundation Auction were made with love by long time members and supporters. Preview all items here, and get ready to start bidding when the first-ever Tripawds Charity Auction goes live at 7:00 a.m. (PDT) on Saturday, October 9th!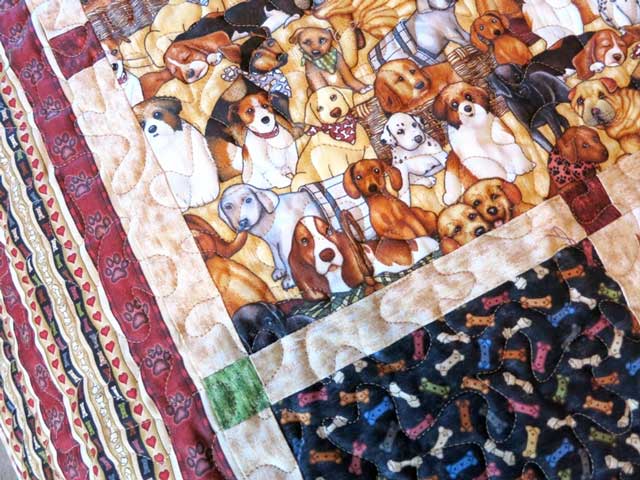 Handmade Quilts To Be Popular Items!
This set of Matching Handmade Quilts for you and your dog or cat are guaranteed to be one of the most in-demand items during this year's auction. These gorgeous matching handmade quilts are made with love (and a lot of skill!) by long time Tripawds member Kathi (murphsmom). This unique quilt package is priceless!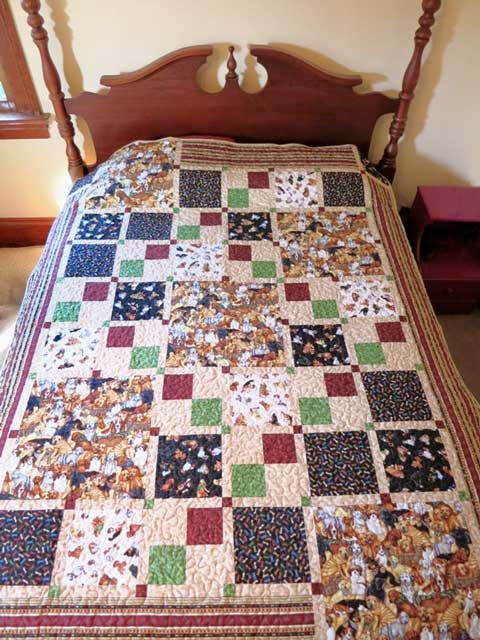 The fabric on the front is 100% cotton in a variety of dog-themed patterns. The back is a cozy dog print flannel. The smaller quilt measures 34″ square and, at 63″ x 79″. Don't miss out on this one! You will enjoy these quality quilts for years to come.
Handmade Support Sling and Leash
Two sets of these comfy Quilted Support Slings and Leashes are available for big dogs needing a little help getting around.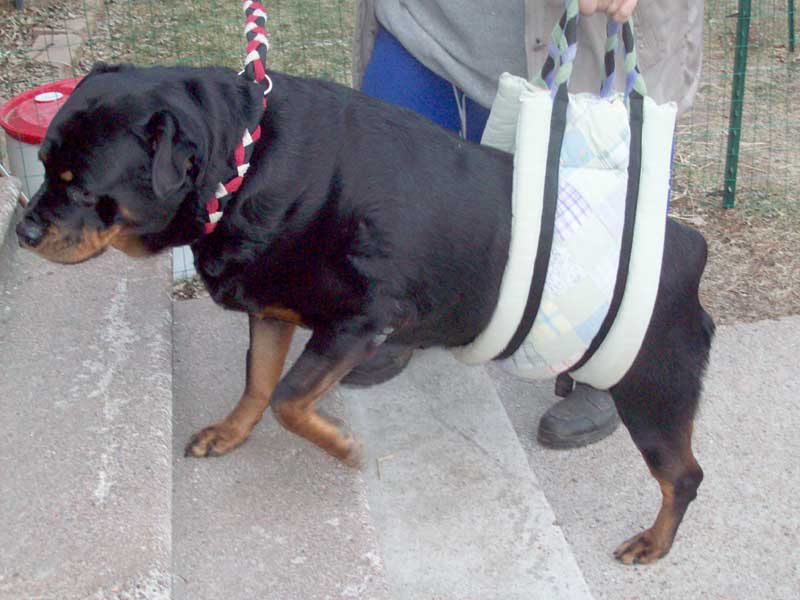 Each sling and leash set is handmade with love and donated by the very generous Kris Olson. unique sling is made from a super cushy baby crib bumper pad to provide extra comfort for your dog when lifting, is reinforced with harness webbing, and the handles are braided harness webbing/fleece.
Tripawd Pride Sterling Silver Pawprint Earrings
Looking for some Tripawds bling to liven up any outfit or give to your BFF? These hand-stamped Sterling Silver Three Paw Earrings will do the trick!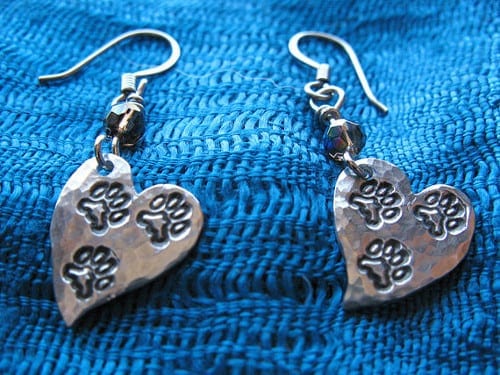 Hand stamped and crafted with love by Rene, from the Tripawds Etsy Shop. The hearts measure 1/2″ across and are made with heavyweight 18 gauge sterling silver.
More Beaded Jewelry and Wine Charms
Long time Tripawds supporter Megan made both this colorful Beaded Bracelet and Earrings set and these adorable Beaded Wine Glass Charms.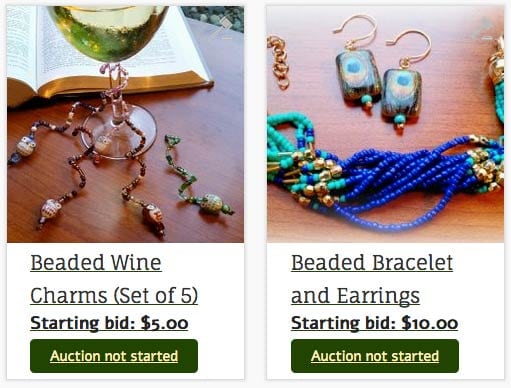 These unique and whimsy wine charms are made with beaded wire that wraps around the stem of the glass. Both items are beautiful and affordable with low starting bids.
Hand-Crafted Scrapbook Pages
Make a fun tribute photo album with these pre-made, Hand-crafted Scrapbook Pages for pet lovers!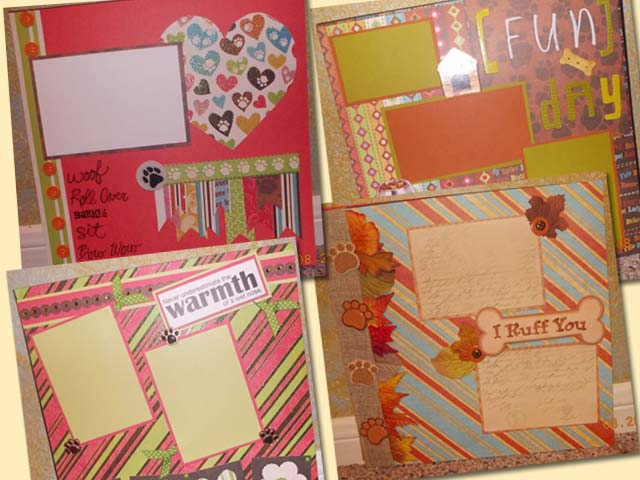 Get a cover and ten 12″ x 12″ two-sided scrapbook pages, for a total of 20 pages. Adorable and perfect to show off your favorite pet photos! Handmade by Dawn, mom to Baby Bandit and the pack.
And that's not all…
More Items Being Added Daily
Stay tuned as we announce new auction items all week…we have some big announcements!
Mark you calendars for Saturday Morning, October 15 when the bidding will start at 7:00 a.m. Bidding closes at 7:00 p.m. on Saturday, October 22nd. With your very own Auction Watchlist and Proxy Bidding, there is no need to worry about missing your favorite items. As soon as the auction is live, you can add items to your Watchlist or simply enter your maximum desired bid and incremental bidding will occur on your behalf.