The first Tripawds Foundation Online Auction is going great!
2016 Tripawds Foundation Auction Ends Saturday, October 22
With just a couple days left in the auction, we are happy to report that all of the donated products have received a minimum bid. A few lucky folks will clearly be walking away with some great deals on many pawesome products!
Place your bid now for super savings on a huge selection of items, while supporting the Tripawds Foundation mission to help amputee pets and their people everywhere! All of these items will be sold to the highest bidder with average savings of at least 30 percent.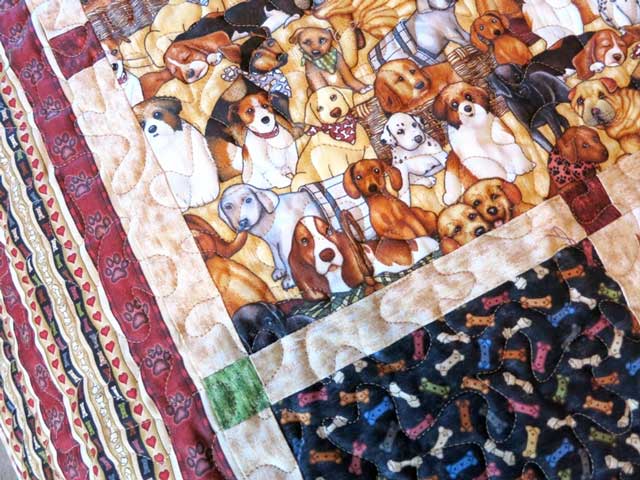 Handmade Items Earning Top Bids
The most popular item in the auction so far—by far—is this pair of Matching Pet & People Quilts. Handmade with love by long-time Tripawds member Kathi (murphsmom), this beautiful set of quilts is perfect to bring warmth and beauty to any home with furry friends running around. With all the work that went in to creating these quilts, there is no way to put a retail value on this item. Tripawds members are proving that with a current bid of more than $500!
Other popular handmade items include:

Add items you like to Your Watchlist, or enter your maximum desired bid and the auction system will bid incrementally on your behalf. Users must be logged in to place bids and receive auction notification.

Original Artwork, Signed Comics and More
The NOW! Signature Strip with a surprise original drawing by MUTTS creator Patrick McDonnell is another popular auction item getting lots of interest. But who can resist a complete set of A Piggy's Tale—the only comic book featuring a three-legged superhero?
Other popular artwork items:

Save on Great Gear and Gift Baskets!
Everypawdy loves Ruffwear Performance Dog Gear! There are a couple different auction items with Ruffwear gear including a dog bed, Float Coat life jacket, boots, toys, and more. All are currently going for much less than their retail value. The salon style John Paul Pet Grooming Package includes eight products and is also generating a lot of interest.
Other popular pet gear:

Premium Food, Treats, and Supplements
One of the highest-valued items in this auction is the TruDog Raw Feeding Bonus Pack. This has a retail value of more than $360, and the last time we checked it was going for less than a hundred dollars! And what dog could resist the Gourmet Grain Free Treats from Paw Patch Pastries?
Other popular nutritional items:
Review this auction announcement for details about bidding and answers to common questions. Then place your bids today—time is running out!