Tripawds Community member traceym is recipient #15 of the Maggie Moo Fund for Tripawd Rehab. Read on for details about Tai's free session with the renowned canine rehab expert, Wizard of Paws* in Colchester, CT.

See all Tripawds who have received free rehab sessions thanks to your support.
Free Rehab Evaluation for Tai

Tai is a fourteen year old Cairn Terrier. I adopted her from a breed rescue in 2010. The first years of her life were spent as a "mill momma" – bred to produce puppies for sale. I was living in Arizona and she flew from her foster home in Texas to me. She is now pretty well traveled; in 2012 we drove from Arizona to Connecticut to relocate. She has always done well in the car and was very well mannered in the hotels.
Within the last year she was diagnosed with arthritis and slowed down a bit – she still loves to walk, just not as far as we used to. She was already on arthritis medication and supplements before her accident.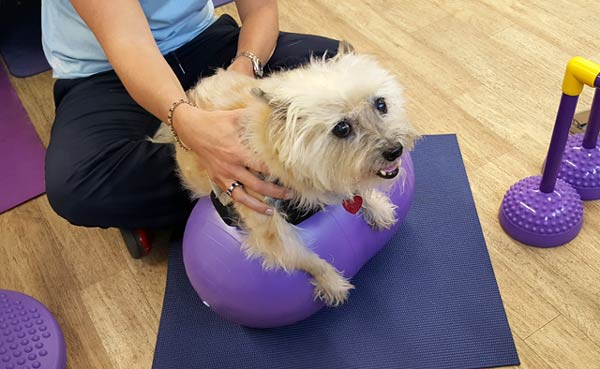 The accident happened in October while we were in Maine. She broke her right hind leg in the hotel when I was out – I think she tried to jump on a table to look out the window. We went to a local vet who x-rayed and medicated her and set us up for the drive to the surgical center. It was there (Ocean State Vet in RI) her leg was assessed as too damaged for repair, that the bone was weakened probably due to cancer; a biopsy would be done. I was an emotional mess and the vet assured me that Tai was still comfortable – this was the day after the accident, she had stayed there overnight – and that she was a good candidate for the amp, so I gave the OK.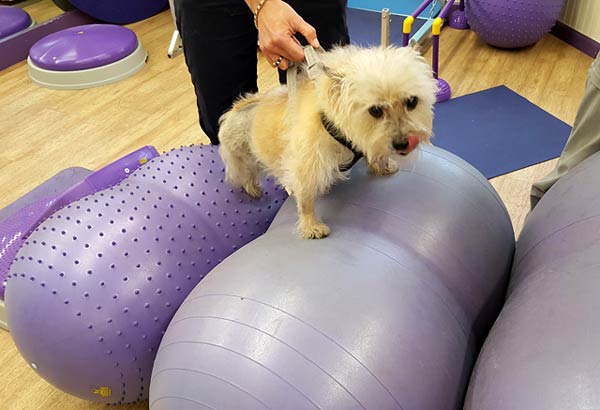 We are now about six weeks past surgery and though she has slowed down she is still her stubborn terrier self, wanting to walk and see people and she still comes to work with me two days a week. November 29 was her first therapy session – she was worked on the "Infinity" ball, balanced on some bigger balls and spent a couple of minutes in the water treadmill. The doc sent us home with the Infinity ball and two exercises – balancing her lengthwise for a few minutes (for her core) and the other to work on her back leg (balancing on her hind leg with her front legs over the ball).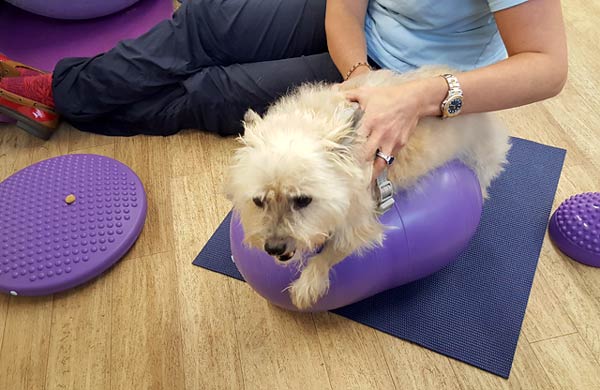 In three weeks we return for a recheck. Our first session at home together was not as disciplined as with the doctor but I'll keep trying! She has done so well with all of this and she deserves every chance. I wasn't sure when I made the decision to amputate that I was doing the right thing…the only other choice was euthanasia…but now I see amputation was right for her. She eats, plays, walks and now works out…she goes to work and visits family…she is happy. Her bone did test positive for cancer but her lungs are clear – I've decided against chemo, we'll enjoy life together and recheck in the spring.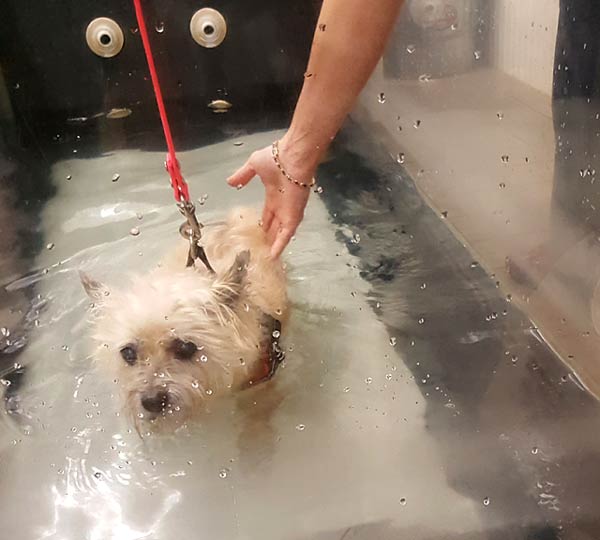 *Learn more about Canine Rehab for Tripawds with the Wizard of Paws.