Tripawds Community member cheesecat is recipient #18 of the Maggie Moo Fund for Tripawd Rehab. Read on for details about Feta's feline rehab evaluation at Westfield Veterinary Group in Westfield, NJ.

See all Tripawds who have received free rehab sessions thanks to your support.
Feline Rehab Evaluation for Feta
Feta the cat is a beautiful young adult cat (estimated between 3 and 5 years old) who has had a difficult life so far.
In summer 2016, Feta was found by Jersey City Animal Control along the side of the road, sickly, injured, presumably having been hit by a car, with a badly broken leg and a litter of nursing kittens at her side. As she appeared to be very friendly, and therefore potentially adoptable, the decision was made to go ahead and try to save her, even though it would be an expensive undertaking.
The broken leg also became badly infected and the veterinary team decided that her best chance at a healthy life was to amputate. Thus, Feta joined the esteemed ranks of the Tripawds!
Over time, the site of the amputated leg and the recurring infections she faced were taken care of, and healed up nicely. However, at the time of this letter – January, 2017 – Feta was not only not regaining strength in her remaining hind leg, she was actually getting worse. Concerned that she would be neither adoptable nor happy as a "bipawd," her foster mother (the author!) decided to pay for her to have a physical therapy consult.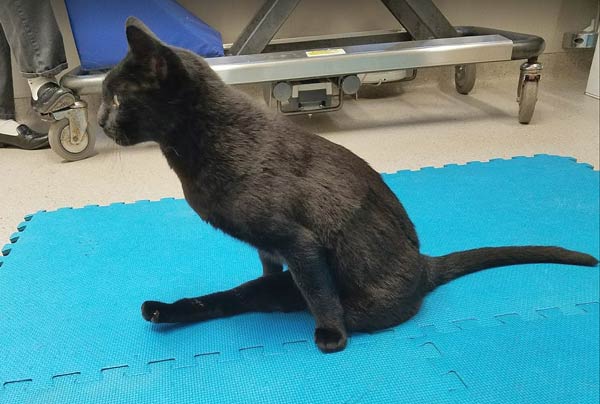 The shelter in charge of Feta's care, Liberty Humane Society in Jersey City, reached out to a veterinary office and rehab team that had assisted with a previous case, a dog named Feather who had surgery on a badly-shattered leg. The fabulous team at Westfield Veterinary Group in Westfield, NJ again enthusiastically agreed to help, and so off we went to get Feta Cat some PT!
With the help of Dr. Fellen and rehab nursing manager Jenn Stollery, Feta (and an arsenal of treats, toys, and other motivating tools) came in for her evaluation and treatment.
Dr. Fellen started by pinching Feta's foot and toes, trying to gauge how much sensation she had in the foot. While she did not seem to have much reflex to pull the foot away from pinching, she did seem to be able to feel (and disapprove of) what the doctor was doing. This is a good sign!
Next, the doctor tested her range of motion, which was significantly less good. For whatever reason (and certainly compounded by months without use), the muscles in Feta's back leg were extremely tight, leading to very little movement possible in the hock and, in particular, the stifle joint (the one between the hip and the "knee"). Watch video here.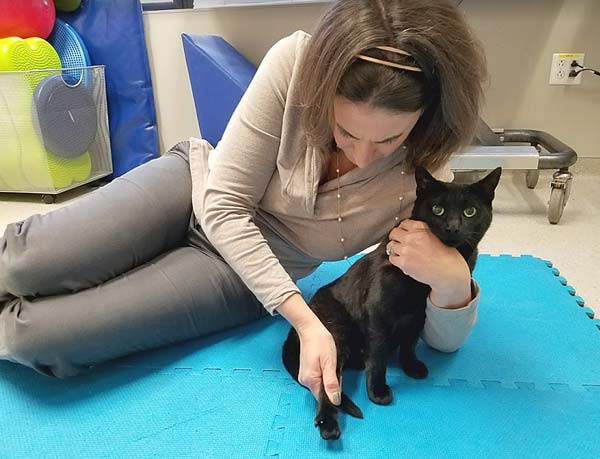 Next, Dr. Fellen used laser therapy to work on relaxing some of Feta's tense muscles and, hopefully, reduce some of the pain she detected in Feta's leg and back. (Animals are very stoic, and cats especially so, so it can be very difficult to detect pain if you don't know exactly what you are looking for. And I didn't! But by feeling particular areas around Feta's spine, Dr. Fellen was able to figure out areas of discomfort. This is another reason that evaluation by a professional is so important – wouldn't it be awful to know that your pet had been in pain and you didn't even know?)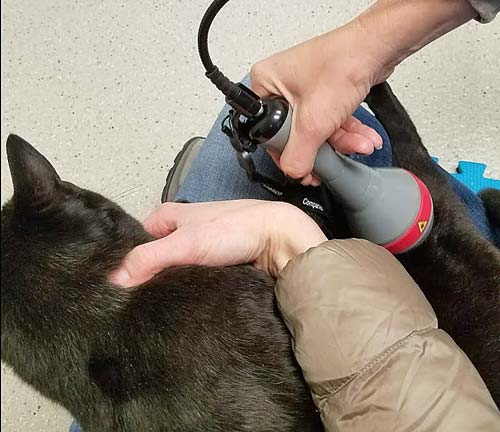 Although she didn't like the pressure of the laser wand, the warmth of the laser treatment must have began feeling pretty good to Feta, as she relaxed and started happy-purring while Dr. Fellen worked. (Note: cats can also purr when under stress, but her body language suggested that in this moment, they were happy purrs.)
Next we moved on to exercises and massage, which poor Feta liked significantly less. As I was holding her and being instructed how to do the exercises myself, I didn't get a lot of photos, but it was great having individual, customized instruction on what she specifically needed for exercise and what would best address her particular problems.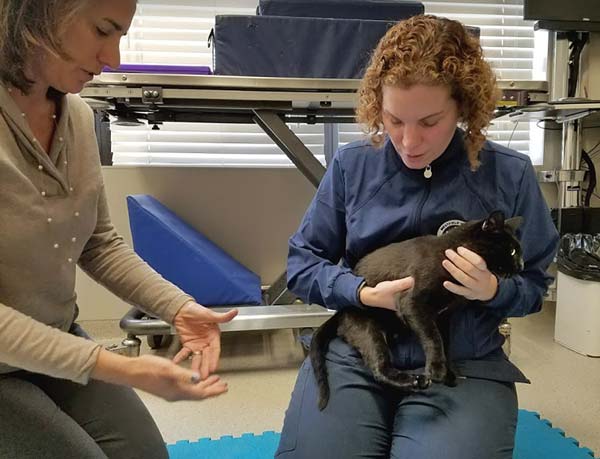 Finally, we were sent home with an Assisi Loop (to simulate the action of the laser, from the comfort of home!) and a bunch of homework exercises. Our long term goal is to see if we can get Feta up for hydrotherapy – yes, that's right, we want to teach the cat to swim! – but to not give the poor thing a total heart attack, we will be starting positive reinforcement conditioning to water and taking it SLOWLY.
For Feta, the most important things for her right now are stretching and exercising that leg, to get the muscles looser and more relaxed, and getting her re-used to the sensation of weight bearing on the leg, even if it's not done in perfect form. Towards both of those aims, we are to start every "workout session" with 5-10 minutes of gentle massage, "passive range of motion" (PROM) stretches, and heat (if possible) to loosen the muscles, coupled with forcing her to walk actually using that hind leg (rather than jutting it out stiffly in front of her as she crawls). To do this, I am GENTLY holding her tail and encouraging her to walk. Since she doesn't like to have pressure on her tail, she is motivated to keep her rear end up in the air, and the easiest way to do that is to keep her leg underneath her.
I also encourage her to hold this position while eating, and since she's very food-motivated, that works fairly well: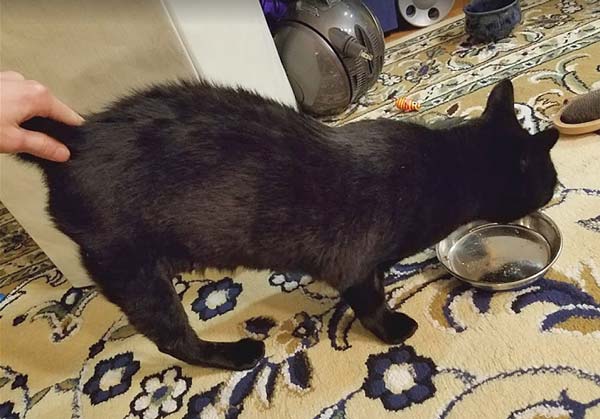 You can see there's still a lot of stiffness in her stifle, but at least we're getting weight-bearing and hock flexion, so that's a great start! We just have to be careful not to strain or sprain her tail, so I am only holding it at the very base and with the least amount of pressure possible to get her to stand up properly.
Finally, as you can see in the above picture, her unusual ways of getting around have been putting a lot of unnatural strain on her back, so she is very tight and sore. Our homework therefore is to work on stretching her spine out straight and long, hopefully relieving some of the tension and pressure that have built up. We were shown how to do a "back traction" exercise, which unfortunately requires 2 people to get Feta to do correctly, but basically involves one person gently supporting her front end (and even encouraging her to grab and pull at something) while something else gently stretches her hips straight back. Also, my personal favorite, the "lion king stretch" which is better shown than explained: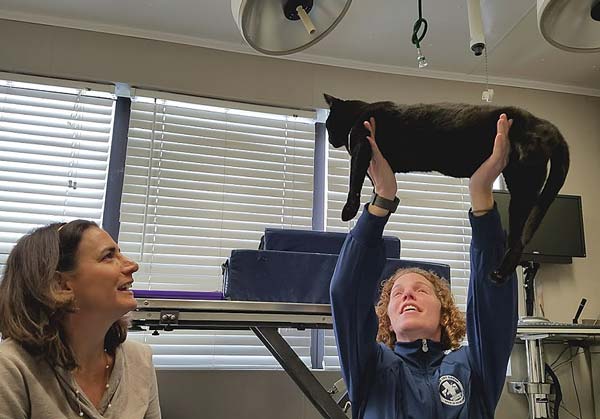 Looks ridiculous, no? But look at that nice, straight, elongated spine! (This stretch works especially well if you sing the opening lines of The Lion King while doing it. Or at least, so I hear.)
As Feta gets stronger and regains more movement, we are hoping to advance to some more challenging exercises, such as an "army crawl," walking (supported) over low cavaletti, and jumping in and out of a box. Swimming would be ideal to help support her weight, relax the muscles, and get her back leg moving, but that may or may not work out. For now, massage, gentle stretches, and encouraging weight-bearing of any kind are our top challenges. We were also sent home with gabapentin to help with her pain.
I am incredibly grateful that Feta Cat has been given this opportunity to heal and recover. After all she's been through, she has remained amazingly kind, patient, and forgiving, and certainly deserves a chance at a happy life. With the help of Liberty Humane Society, Westfield Veterinary Group, and the Tripawds community, we are looking forward to sharing our journey and, hopefully, success!