Tripawds Community member cedric is recipient #34 of the Maggie Moo Fund for Tripawd Rehab. Read on for details about the benefits of canine rehabilitation for Cedric.

See all Tripawds who have received free rehab sessions and read details about how you can get reimbursed for a certified rehabilitation evaluation thanks to your support.
Free Canine Rehab for Cedric
I met my lovely Tripod, Cedric, about 1 year ago. Cedric lost his front right leg about 5 years ago. He was run over by a car and his leg was smashed so he had a full amputation. His owners also lost their house in the same period of time and gave Cedric away to to Gloria, who is a 79 year old lady that has a lot of health issues.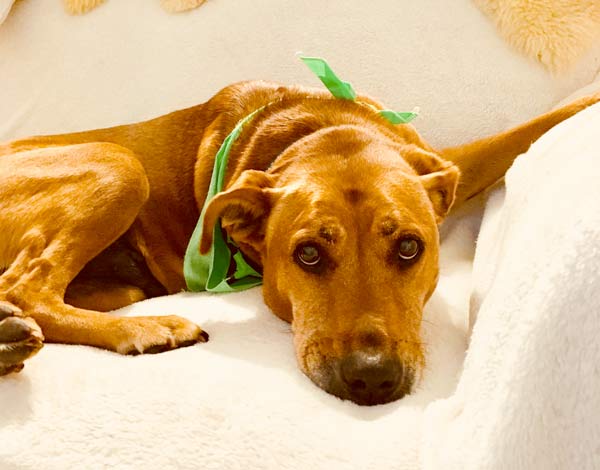 I clean houses and that lady, Gloria, got my number with one of her friends who was a client of mine. I decided to help her and Cedric as well. Just recently I decided to move in with her so I could be more involved with Cedric and better help him. Last week he had his initial appointment for evaluation at A Well Adjusted Pet in Pacifica, CA. Cedric is approximately 8 years old. He is a Rhodesian Ridgeback. Dr. Llana, who assisted him, found out that he has a chronic yeast infection on his skin, severe arthritis and a lot of inflammation on his elbow, back legs and back.
He walked on his 3 legs for 5 years without any support or pain medication. I know that it wasn't easy for him and every single day of my life I wished I had met him earlier. Now, he walks side ways and its been a bit hard to make him walk on the mobility quad cart. She performed shock wave therapy on him.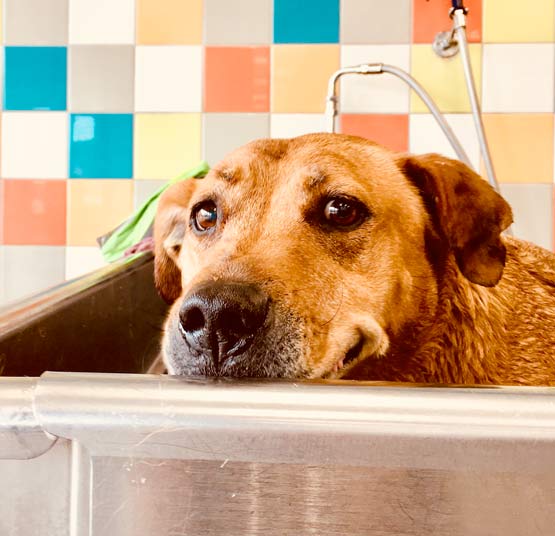 She told me about some exercises I could perform on him like stretching his legs and massaging him to relax his muscles. She also recommended placing him on a ball to straighten his body in the right position every day. She also recommended assisted swimming every week to strengthen his muscles. I have been doing all of that. He is on pain medication, antibiotics, arthritis medication, itching medication and on a yeast infection medication. His mood had improved as he is not itching anymore and not in pain anymore.
He looks happier and healthier already. We also ordered him a mobility cart and we are in the process of introducing him to it. I had learned that Tripawds needs a lot of care, not just food, water and flea medication. I m relying on my work and help from friends to keep up with his treatment. I m so glad Dr. Llana informed me about Tripawds. I'm also happy to had found this great clinic. Thank you for being there to support us!!!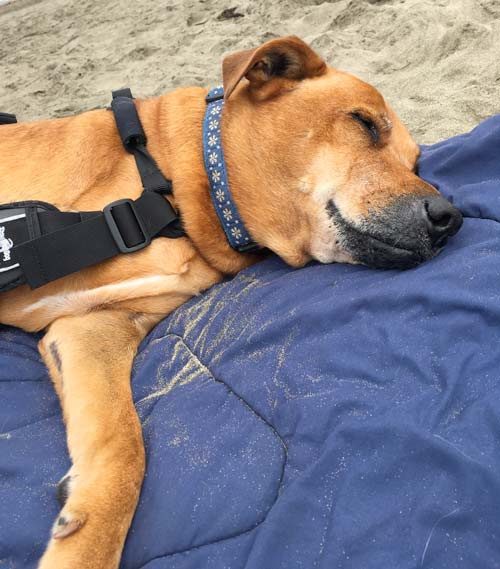 Today, Cedric was in the water for the first time and he enjoyed it. I also took him to see the ocean and by his excitement I don't believe he has ever being in a beach before. I m honored to be in his life and happy to help him on the path for a more comfortable life. Cedric is adorable and love making new friends. I look forward to introduce him to other Tripawds and have him knowing that he is not alone in his condition.
~ Jordana (aka: cedric)