Gear Fund Harness #4: Mary and Smiley
The fourth Ruffwear Web Master harness donated by the Tripawds Gear Fund went to  Mary (aka: smileysmom) for her three legged dog Smiley.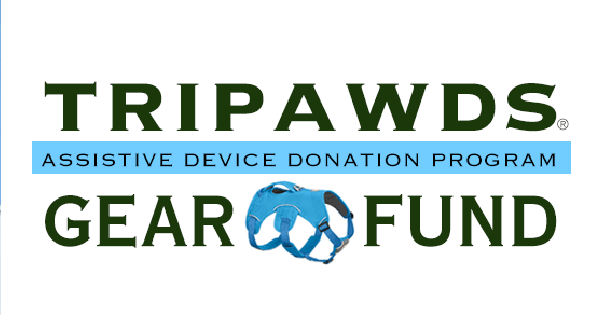 Learn more to see if you qualify for a free harness, or Support the Tripawds Foundation to help more Tripawds and their people!
Free Web Master will Help Smiley
My 12-year-old dog Smiley was diagnosed with a Mast Cell Tumor (MCT) in early march of this year.  After three months of chemotherapy my vet said it wasn't working and I had to make a decision on how to move forward.  Her MCT was located under her left front leg and chest area.  After a lot of crying and trying to do what was right for her she had her leg amputated on May 11th. She spent the night at the clinic and came home the next day. I live 2 hours from the clinic so it was a long drive with a lot of anticipation.  She spent the next week trying to learn how to hop around and I was not sure I had made the right decision.  But Smiley proved to me she was determined this wasn't slowing her down.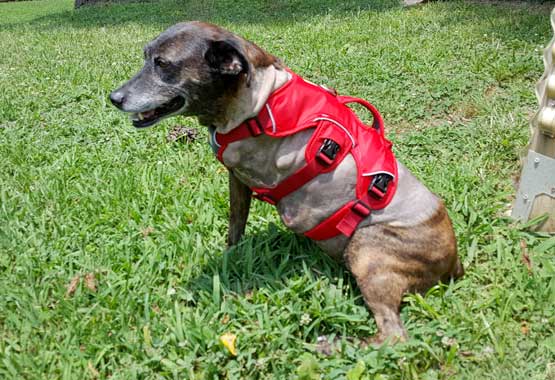 We went back for her one-month evaluation and the vet said everything looked good except for one small MCT had popped up on her left back leg.  We are treating the MCT and crossing our paws.  Smiley is taking everything in stride.  She is back to herself running around with her other pack buddies.
I look forward to using her new Ruffwear Web Master harness to help me get her in the car for her checkups.  I am so thankful for the Tripawds Foundation.  When I started this journey I was afraid and uneducated about the Tripawd dogs.  I have learned a lot about them now and am going to let Smiley just be herself.
~Mary, aka: smileysmom