Bidding Now Open for Tripawds 2018 Fundraising Auction
Bids are now being accepted for this beautiful pair of matching patchwork quilts handmade with love for you and your pet!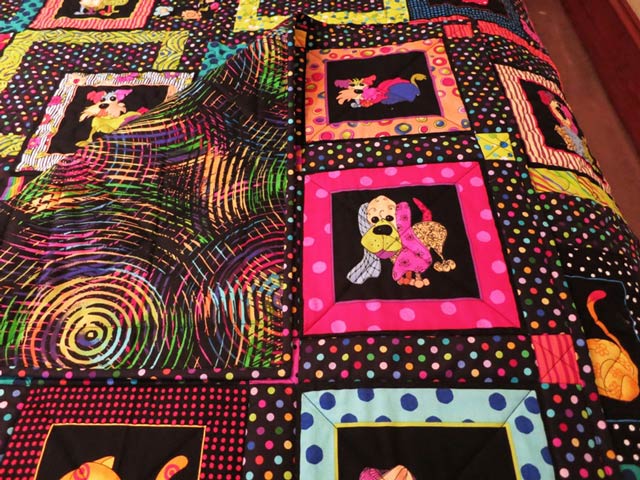 Get complete details, more photos and place your secure bids on eBay at: https://tri.pet/2018auction
Act Now: Bidding is only open for 7 days.
2018 Auction Ends In:
[wpdevart_countdown text_for_day="Days" text_for_hour="Hours" text_for_minut="Minutes" text_for_second="Seconds" countdown_end_type="date" end_date="08-10-2018 05:55″ start_time="1537396850″ end_time="0,0,0″ action_end_time="show_text" content_position="center" top_ditance="10″ bottom_distance="10″ ]Auction has ended. Support Tripawds Here![/wpdevart_countdown]
2018 Tripawds Fundraising Auction Details
Auction Opens: 12:00 a.m. Monday, October 1, 2018 (MST)
Auction Closes: Midnight on Sunday, October 7, 2018 (MST)
Auctioneer: Live eBay Auction Listing
Minimum Bid: $150
This set of two matching handmade patchwork quilts for you and your dog or cat is handmade with love by a long time Tripawds community member and supporter!
Both quilts feature colorful three legged dog and cat-themed patterns. The back is a colorful print pattern. Use the small quilt for your dog or cat, a throw to keep your feet warm, or display it as a wall hanging.

Thank you for your support!
Please Share This Link: https://tri.pet/2018auction