The Tripawds Foundation ASAP grant #17 goes to Tripawds member skydancer3183 to help pay for Eve's amputation surgery. Read on for her story, and learn more about the Tripawds Amputation Surgery Assistance Program to see if you qualify.

This grant is made possible by the charitable contributions of Greyhounds Rock Fredericksburg and Tripawds fans like you. Thank you for your support!
Support the ASAP Fund to Help More Tripawds!
All About Eve
Eve is a very active pup. We call her a pup, even though she had just turned one when the incident occurred. It was a nightmare. Hearing the car and running thinking it was a child who got hurt and finding our pup. The rush to the local emergency vet center where she was treated for shock and blood loss. Then the x-rays and finding no bones broken, but all the tendons and ligaments were sheared off in her right back leg, it was devastating. Then hearing the best thing for her was to lose the leg. We agreed and the next day, less than 48 hours after the incident she was down a leg. I cried so hard when I went to get her on Friday, because she wasn't eating for them and she was clearly depressed every time we would visit and leave her there.
She napped on me on her ride home and then curled up against me and napped for an hour before I woke her to get her to go out to the bathroom and see if she could eat for me. She went to the bathroom right away so I grabbed her new treats and gave her one. Then I sat by her food bowl and she ate almost the whole thing for me. She went straight to the water bowl and downed a bunch of it then headed for her crate for a nap. The kids cried when they saw her missing a leg and she wasn't sure if it was okay. The kids, Alex 15, Lucian 9, and Mercy 6 were scared they would hurt her. Mercy was terrified by the wound site. I explained that if they could handle petting her and loving her, she would know it was okay. That their attitude would affect how she dealt with her missing leg. They started petting her and getting love and kisses back.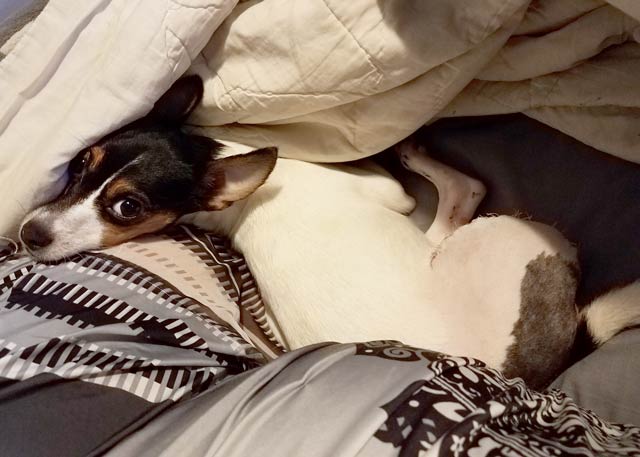 Over the next 2 weeks we faced several challenges giving meds on a schedule, pain, and activity. Then, she started having pain bursts even with her meds and a call to the vet told us it was likely nerve pain and she needed to take Gabapentin for it for a bit. We got it and she takes her pill in a treat so it is easy. Then two days after she started on the meds, she wanted to jump off stuff. That told me she was improving, but we still had a week left with stitches to get through. I kept the doors closed to rooms she could jump on stuff in and that helped. Then 4 days before her stitches were due out she brought me her toy and growled at me. She was ready to play. So carefully we all played with her for a few minutes. The next day she brought us her rope tug and was shaking it at us tail wagging. We again played gently and worked with it to help her learn how to balance her tugging on three legs. She has quickly improved.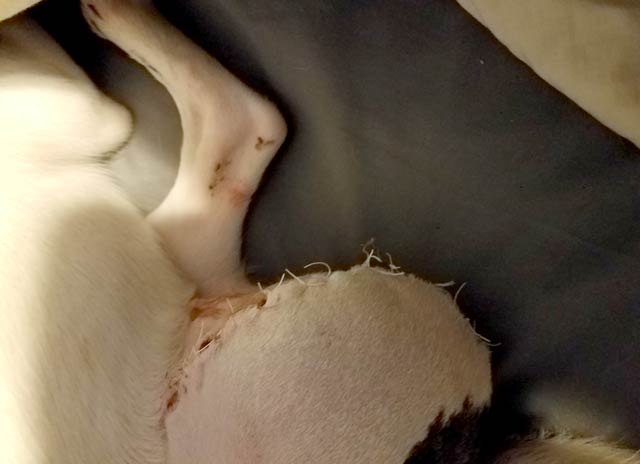 Yesterday was the 2-week post op visit and she had her stitches removed. She was so happy when she came home. She still needs to take the Gabapentin for another week then wean off and see if she needs it anymore. However, we are now running through the yard, trying to play with the cat, eating like normal, regained our weight, and learning to play fetch again. There are sad times, like when we see her turn her head to scratch her right ear/neck/head area and the nub is kicking, but to no effect and she seems so miserable that I have grown my nails out to scratch for her. I know I am not as good as she would be, but I try and I get a kiss and hug from her each time. It is a learning curve I know, but with all this love we can conquer any challenge.
~ Christina and Eve (aka: skydancer3183)