Tripawds Community member acewillie is recipient #45 of the Maggie Moo Fund for Tripawd Rehab. Read on for details about the benefits of canine rehabilitation for Ace.

See all Tripawds who have received free rehab sessions and read details about how you can get reimbursed for a certified rehabilitation evaluation thanks to your support.
NOTE: This program may be cut without your support! Please read about the 2018 Tripawds Summer Fundraiser for details.
Free Canine Rehab Evaluation for Ace
I adopted Ace (or Acey), a dachshund/papillon mix, when he was just a pup in 2005 from a private owner. He is now in his thirteenth year and has been a tripawd, missing his front left leg, since he was two years old due to an automobile accident. Ace has been a VERY active three legged dog. He loves to play fetch with tennis balls, go on hikes and walks, swim, play in the leaves in the Fall and the snow in Winter.
About 4 months ago I began to notice a change in his activity. He would voluntarily stop playing ball, take breaks during walks, wait for me to pick him up to go up or down stairs and seemed to be making a bit of a groaning noise when I would pick him up. I took him to his veterinarian and after a physical exam was told that he was most likely experiencing some arthritis due to his age and suggested x-rays to help diagnose any other issues. The x-rays somewhat supported the arthritis diagnosis but were surprisingly good for a three legged dog. I did not just want Ace to be placed on meds so It was after this visit I decided to take Ace to see Dr. Ann Taylor, DVM, CAC, CCRT at Another Way Veterinary Rehabilitation and Chiropractic Care in Davenport, IA.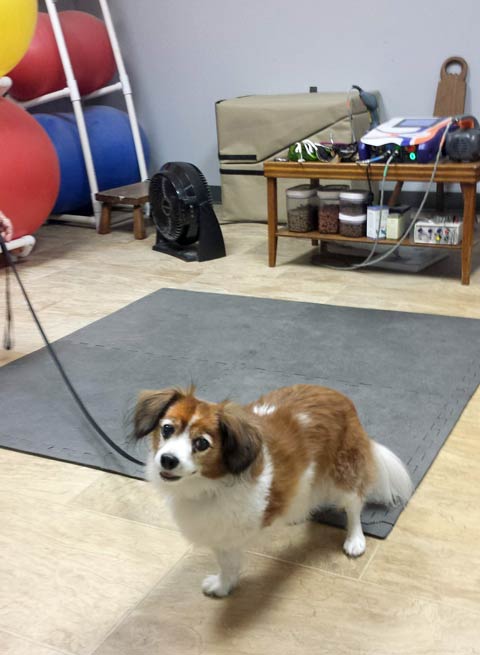 On our first visit, Dr. Taylor spent a good deal of time talking with me about what I was observing at home with his gait, activity level, etc. Then, Acey was given a physical exam, muscle and chiropractic therapy along with a therapy laser treatment to help Ace with arthritis and joint pain. She also provided a "Sit to Stand" home exercise as a strength activity for his legs that basically takes Ace from a seated position to a standing position seamlessly instead of "popping up" or jumping up with his front leg. This should also assist with mobility by strengthening his legs. I do this exercise with tiny bits of a treat following his morning breakfast.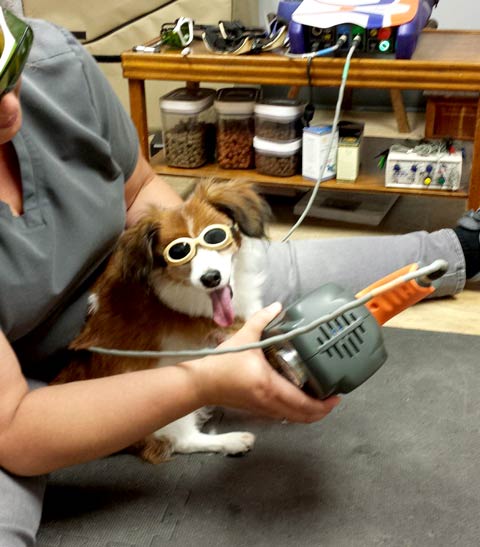 Since his first visit, Ace has had two follow up laser therapy treatments and I just have to say WOWZA!!!! I initially had my doubts but I am having a hard time not telling everyone about his treatment. His walks are more enjoyable for him, I am now having to limit his tennis ball time as opposed to the other way around, I am no longer hearing the groaning noise when I pick him up and he wants to jump up stairs and climb down stairs now (which is a no no) so I have to be sure to prompt him to "wait" to assist him on stairs. He is obviously experiencing less pain and increased mobility. I learned most that rehabilitation therapy works, really really works!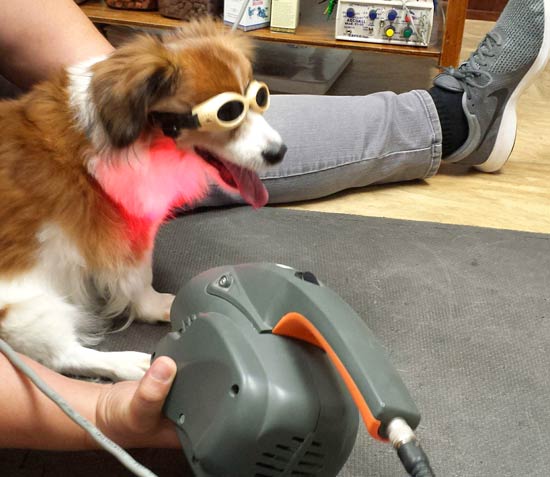 I am so happy to be sharing this experience with Tripawds! It was on my search for an alternative to medication that I found the Tripawds Community online and appreciate all of the information and sharing.  See ya on the site! 🙂
Thank you,
~ Deborah (aka: acewillie)