Tripawds Community member andicantele is recipient #56 of the Maggie Moo Fund for Tripawd Rehab. Read on for details about the benefits of canine rehabilitation for three legged dog Ruger.

See all Tripawds who have received free rehab sessions thanks to your support.
Free Canine Rehab for Tripawd Ruger
Our 7-year-old Rottweiler, Ruger, had his left hind leg amputated on February 21, 2019 after presenting for possible bone cancer following the appearance of limping and pain. A post-amputation biopsy confirmed the diagnosis of osteosarcoma. His surgeon recommended that we join the Tripawds community, which has provided so much support and education as we take this difficult journey with Ruger.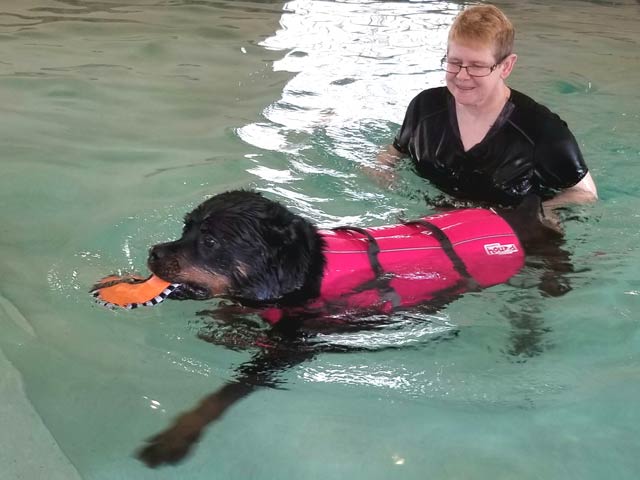 Since Ruger has loved swimming and dock diving his entire life, we felt that hydrotherapy should be part of his road to recovery, and we made an appointment with the Pawz for Wellness clinic in Shelton, Connecticut for a consultation and evaluation. His initial rehab visit was with therapist Linda Burns as soon as his surgeon and his oncologist cleared him to begin therapy. He has since been to several weekly follow-up sessions.
His first visit included an evaluation for his rehabilitation needs and the development of a treatment plan with an emphasis on hydrotherapy. His rehab includes a variety of exercises, from swimming in the pool to build endurance and strength to techniques such as using the underwater pool steps for stretching and resting/recovery during swimming. The exercise benefits him by increasing his core strength, improving his balance, and supporting his overall fitness in a low-resistance, safe form of therapy that does not place excessive stress on his joints.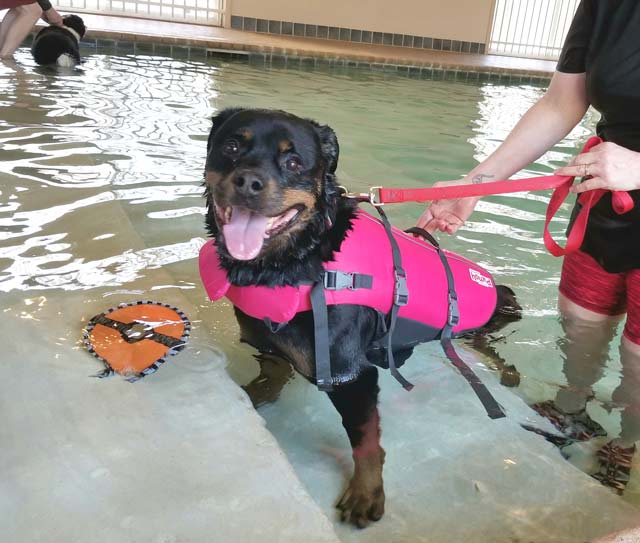 By observing and participating in Ruger's rehab sessions we've learned how important it is for a Tripawd to build core strength, stamina, and flexibility, and how hydrotherapy is such a safe and low-impact method of helping him achieve physical fitness to improve his quality of life. We feel that entrusting Ruger's care to a trained certified animal rehab specialist is one of the best gifts we could give our boy as he faces the challenges of being a Tripawd and fighting cancer.
~ Andi C. & Ruger (aka: andicantele)