Tripawds Community member regansmom is recipient #59 of the Maggie Moo Fund for Tripawd Rehab. Read on for details about the benefits of canine rehabilitation for three legged senior Tripawd dog Regan.

See all Tripawds who have received free rehab sessions thanks to your support.
Rehab Helps Senior Tripawd Regan
My Tripawd's name is Regan. Regan is approximately 14 years old and it is anyone's guess what kind of dog she is. I have heard Husky, Lab, Pit Bull, and a lot of things in between, but she is definitely a mixed mutt of some kind – a beautiful one at that! Everyone always comments on her striking blue eyes. Now everyone always comments on her three legs! She is adopted, but I adopted her with 4 legs. She had a leg amputated last week due to bone cancer in her leg. Due to the cancer, her leg had basically fractured and she was in a significant amount of pain. It was such a difficult decision to make, but thanks to reading the Tripawds website and educating myself on the process and what to expect, it was a little easier to make this choice for Regan.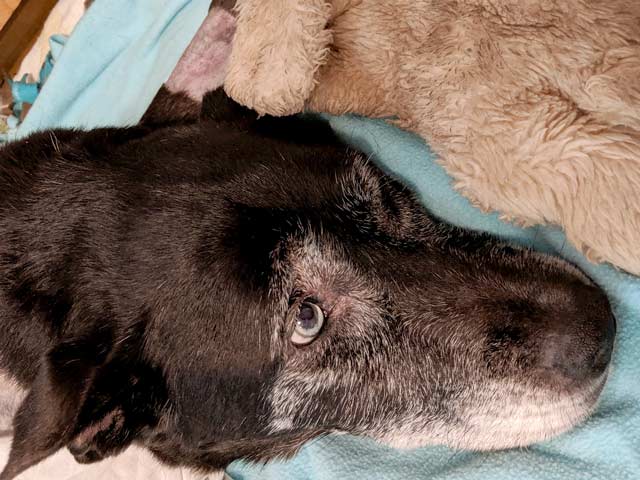 Yesterday we had our PT consultation, the first of several PT appointments. The rehab team taught me how to give Regan massages on her legs and help her do some exercises at home. Specifically we will be doing scapular mobilizations, side sit ups and neck side flexion exercises. Scapular mobilizations will just entail me moving her shoulder blade back and forth and in small circles gently for 1-2 minutes, twice a day. I practiced this with the rehab technician.
For side sit ups, Regan will be laying down and I will lure her head up with a treat to get her to lift her upper body off the floor in a sit up motion. The goal is for her to hold this for 10 seconds, 5 times, 2 times per day. For the neck side flexion exercises, I will use a treat to encourage Regan to bring her head to her shoulder, 5 times, 2 times per day. The goal of these exercises is to build up her strength in her core and remaining limbs, and improve her flexibility.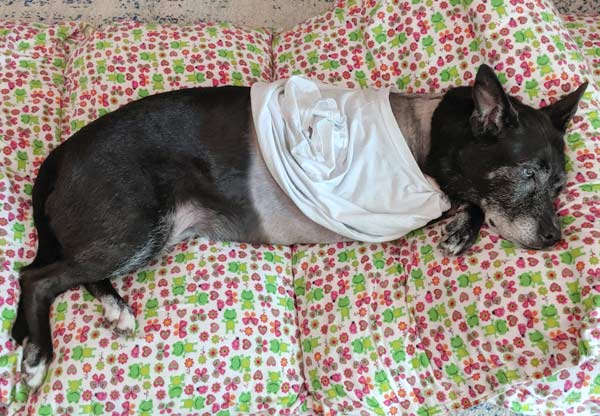 I really enjoyed spending this time with Regan because I think she enjoyed the massage and laser treatment as well. It was great to learn proper ways to massage her muscles to make her feel better and to understand how I can help her healing process.
The biggest thing I learned from the PT consultation is how easy PT can be and how much it could benefit Regan. The exercises do not take a lot of time but could greatly improve her quality of life as a Tripawd. I visited Annie Bartlett with Chesapeake Veterinary Surgical Specialists in Annapolis, MD.
My Tripawds username is regansmom. I found Tripawds through Google searches and really learned so much just reading things on the website about how dogs adjust well to life on three legs. Your website also helped me so much when it came to knowing what to expect after surgery. That would have been a much harder transition without the information or experience of others to guide me. I am so grateful to Tripawds!
~ Tracie & Regan (aka: regansmom)