The Tripawds Foundation ASAP grant #29 goes to Tripawds member melanieolvera1 to help pay for Miss Fuzzy's feline limb amputation surgery. Read on for her story, and learn more about the Tripawds Amputation Surgery Assistance Program to see if you qualify for pet amputation financial assistance.

This grant is made possible by the charitable contributions of Tripawds fans like you. Thank you for your support!
Fuzzy's Feline Limb Amputation Story
Fuzzy came to us as a kitten along with his mother and two siblings, who have all lived happily outdoors their whole lives. He was a wanderer, sometimes staying gone for days at a time, but he always returned to us happy, purring and looking for a scratch under the chin. However, on the third weekend in October of this year, he returned from an adventure, and something was not right. He was limping, and putting no weight on his back left leg. It seemed, much to our horror, that his little foot was broken.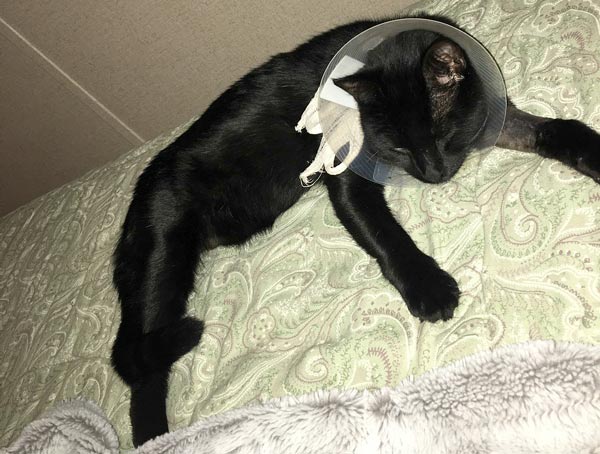 We took him to the vet, thinking that he would need a splint, or maybe a cast. This was not the case. Upon taking an x-ray of his leg, the veterinarian informed us that his bone was shattered, and that the only solution would be to amputate his leg. The worst part about it was, the veterinarian saw a foreign object on the x-ray, which she said was likely a BB bullet. It was hard to imagine that someone would hurt an innocent animal in this way, but my family knew immediately that we could not bear to put Fuzzy down.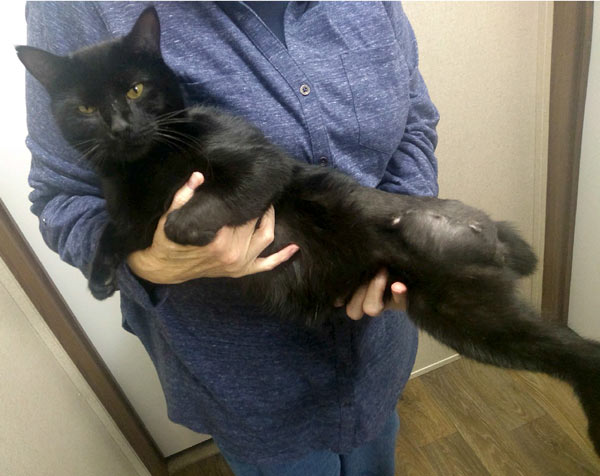 We decided to go ahead with the amputation despite the cost, knowing that he deserved the chance to live a long, happy life. The surgery went very well, and we brought Fuzzy home to recover and adjust to his new life as an indoor kitty, as recommended by the vet. He spent two weeks in recovery, confined to a small bedroom where he could not run or jump. Now, he has had his staples removed, and he seems to be adjusting well to his new three-legged lifestyle. We only pray that he can find the same joy indoors as he once did adventuring outdoors.
~ Melanie & Fuzzy (aka: melanieolvera1)