Tripawds Community member sparkythedog is recipient #69 of the Maggie Moo Fund for Tripawd Rehab. Read on for details about the benefits of free canine rehabilitation for Sparky The Dog, and learn how you can get a free rehab consultation for your dog or cat.

See all Tripawds who have received free rehab sessions thanks to your support.
Free Canine Rehab Consult for Sparky The Dog
Sparky and I went to see the canine rehabilitation specialist, Dr Jesyka Morrison, in Moses Lake, Washington, on December 5. The appointment went really well. Dr Morrison and her assistant, Tori, evaluated Sparky, took many x rays, and did physical therapy with him and gave him a massage. He was there for two hours. I knew we were in the right place because instead of examining him on the cold metal table they spread a soft blanket on the floor and sat with him and were very gentle so Sparky felt safe. Sparky's x rays showed that he has severe arthritis in his spine and elbow. He also has badly strained his left shoulder (where he's missing his leg) because he tenses his shoulder and throws it forward when he walks in an attempt to balance himself. Sparky is 13 years old and has been a Tripawd for 12 years, so he has extensive wear and tear on his muscles and joints.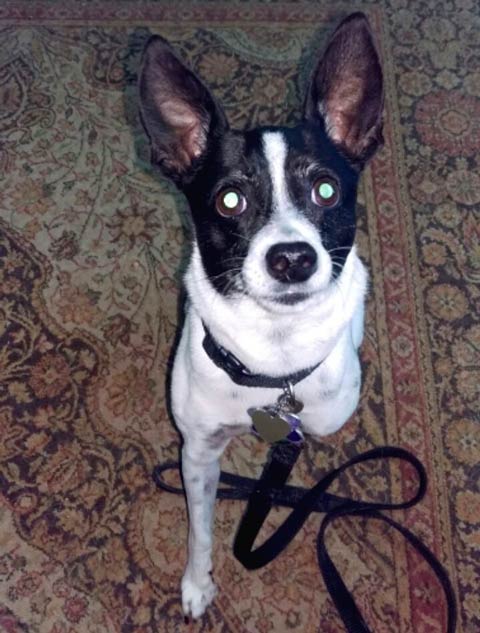 He has a tragic back story: when he was about ten months old, a man threw him against a wall and shattered his leg and it had to be amputated. He went to a rat terrier rescue foster home to recover from his surgery and came to live with me a month later. He was a tiny, terrified, malnourished baby. He grew to be strong and healthy and happy and fat and sassy. We have had a great life together.
Back to our appointment: Tori taught Sparky to belly crawl, which is good to strengthen his muscles, and taught me exercises to increase the range of motion in his shoulder, elbow, hips and quads. Other exercises will strengthen his legs. She taught me how to massage him gently. He has quite a bit of pain, so this will help him to feel more comfortable. We will do the PT and massage every day at home, then go back in a month so Tori can assess his progress. It's a 2 1/2 hour drive to the clinic, so we make a mini vacation and stay the night with friends who live nearby.
A friend told us about Tripawds.com years ago and we are grateful to her for connecting us with this great organization. Sparky has shared his experiences with the community over the years in his blog, SPARKY THE DOG.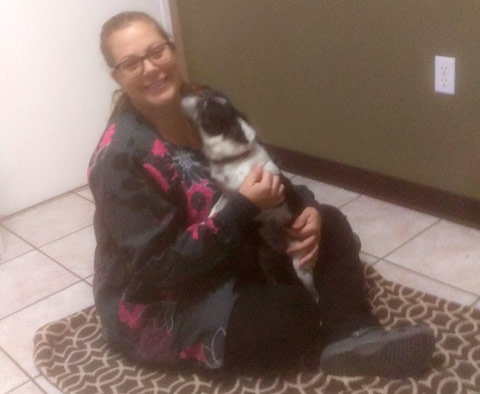 Above you can see a picture of Sparky at Pioneer Veterinary Clinic, sitting on Dr Morrison's lap. The total cost for the assessment, including exam and x rays and physical therapy, was $140.50 and it was worth every penny . I think it will allow Sparky to walk better – he has been having trouble with limping and fatigue for about a year now – and decrease his pain. Thanks to Dr Morrison and Tori for their great care and to Tripawds for the referral.
~ Becky and Sparky (aka: sparkythedog)