Tripawds Community member coopersmom27 is recipient #74 of the Maggie Moo Fund for Tripawd Rehab. Read on for details about the benefits of free canine rehabilitation session for Tripawd Golden Retriever Cooper, and learn how you can get a free cveterinary rehab evaluation for your dog or cat.

See all Tripawds who have received free rehab sessions thanks to your support.
Tripawd Golden Cooper's Canine Rehab Story
A little background information about my dog and I, and the "new normal" we find ourselves in. My name is Marlene, and my husband and I are so fortunate to have had Cooper in our lives since he was a pup. Cooper is a 10 year old Golden Retriever. We've had Golden Retrievers and Golden mixes for 40+ years. Our dogs have come to us in various ways, through adoption, rescue and breeders.
After losing two Golden Retrievers from cancer and Myasthenia Gravis both at very young ages, when we were ready, we searched for the best breeder we could find, health being our top priority. We found Cooper, and he is an amazing dog with the most loving personality imaginable. He loves people more than anything and because of this and his sweet nature he and I began volunteering as a Therapy team. Cooper has visited patients in a local hospital every week for the last 5 years. It was the highlight of his week and I'm sure it was for many of his "patients".
Cooper has always been a very active dog, walking 3 to 4 miles daily. So it came as a shock when he began limping suddenly on his right front leg. After a trip to the vet we heard the devastating news that he had Osteosarcoma and the best option for him to have more time was amputation. We were heartbroken and scared.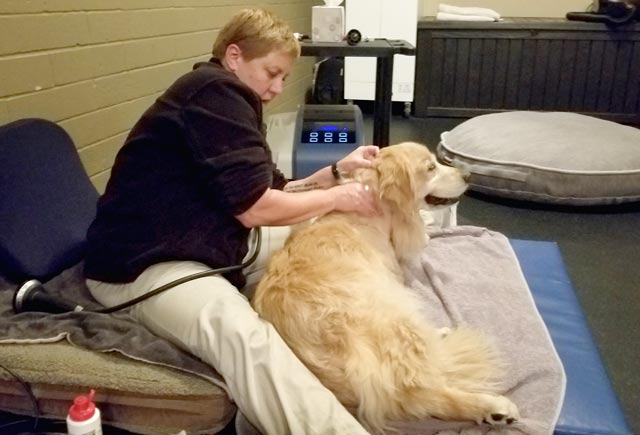 Joining the Tripawds organization was extremely helpful. I wish I could say that my vet told me about it, but I actually just stumbled upon it as I was searching for answers as to whether or not we should consider amputation. Once we accepted that the best option for him was amputation, the Tripawds website led me to consider rehab, which in turn led me to Maja Wichtowski, CCRT RVT at Tsavo's Canine Rehabilitation & Fitness Center located in Del Mar, California.
Our first visit for consultation was just 3 weeks after amputation. Maja examined Tripawd Golden Retriever Cooper and determined that the best course for him was to start out with massage for his sore muscles and exercises to strengthen his muscles. Maja showed me how to massage his forelimb and hind limbs and do para spinal massages for 3 to 5 min daily. Also to stretch all his limbs for 5 reps each limb and hold for 5 seconds.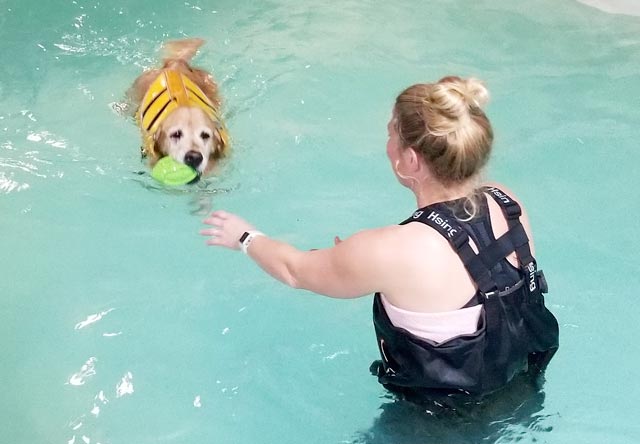 She also advised us to quit walking on cement as much as possible and switch to short walks on grass. We then started weekly swimming in her pool to build up strength in his muscles to make walking easier. I think the one thing we learned is to keep him moving but do it gently and if he has an issue come up, we shouldn't wait to see if it clears up, just get him to rehab so we can help him live pain free and happy.
~ Marlene and Cooper (aka: coopersmom27)