Tribute to Tripawd Saki
Our beloved dog Saki became a tripod on Oct. 30, 2019. She was an 11-year-old Eskie, and a very active and athletic girl. She was still very puppyish in her senior years — she loved to hunt, chase balls, act crazy in the snow, and do zoomies in the house. Last fall she developed a subtle limp that became worse over several weeks. An X-ray showed cancer in her front left leg. When we think back to the months leading up to her diagnosis, my husband and I remember times when Saki jumped up suddenly from a resting position, and it pains us to realize that she was experiencing pain in her leg that we weren't aware of.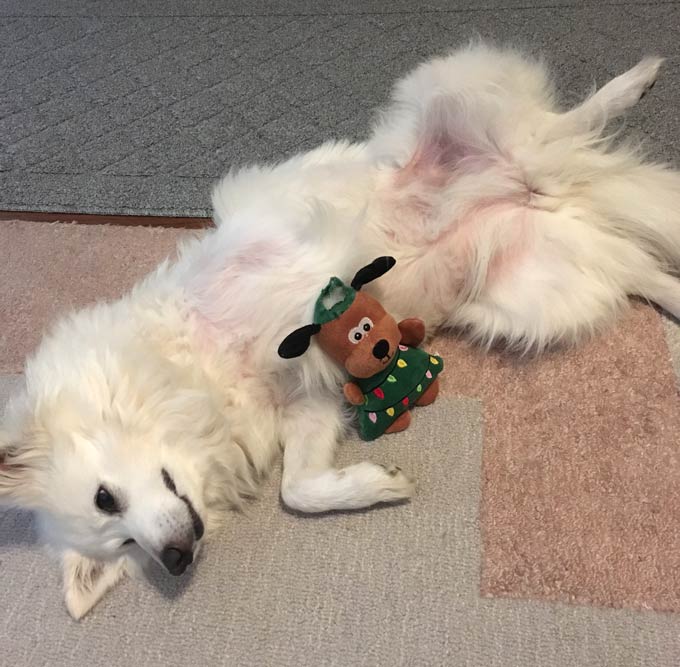 The idea of amputation was very frightening to us. Did we want to put Saki through that at her age? We were convinced by her surgeon and medical staff that it was the right thing to do to prevent a horrible fracture of her leg and to get Saki out of pain. Friends who had gone through this with their dog talked us through the post-surgery recovery, and referred us to tripawds.com. They were right about the intensive care needed at home: balancing the meds, carrying her down the stairs to go out, nighttime restlessness…. My husband slept on the couch for weeks to be near her at night. One mistake we made early on was getting her a cushy bed to recover in – it was too difficult for her to get out of with her remaining front leg. A nice firm mattress was better (with Dad's smelly t-shirts as a pillow).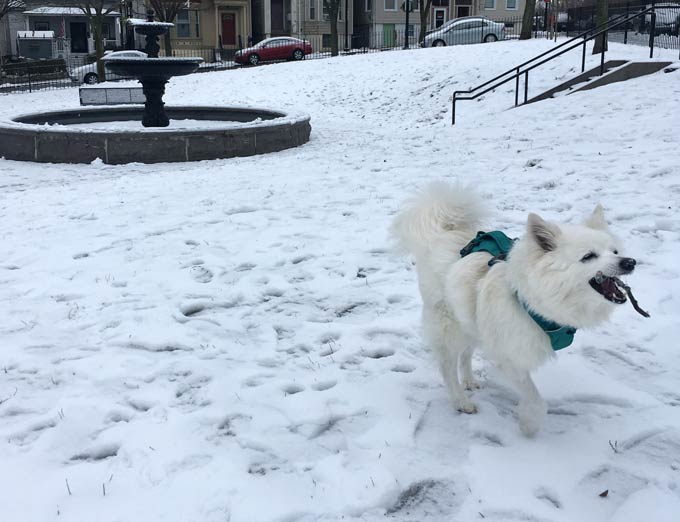 The analysis of Saki's leg revealed that the cancer was a metastasis of a carcinoma elsewhere, and not osteosarcoma. A cyst on her anal gland that we had been monitoring for a couple of years turned out to be the carcinoma. That was distressing, but there was no going back. We were determined to keep our beautiful girl comfortable for as long as possible. We declined more surgeries, chemo and radiation, and received care at the Pain & Palliative Care Clinic at Angell Animal Medical Center in Boston, an excellent vet hospital – probably more advanced than most human hospitals in the world. Saki was in the care of the wonderful Dr. Lisa Moses. Sadly, Saki lived only 3 mos. as a tripawd. She hit a sweet spot for about a month, but then she wouldn't walk very far, cried out when we carried her, and couldn't stretch or roll over anymore. We had to let her go in early February.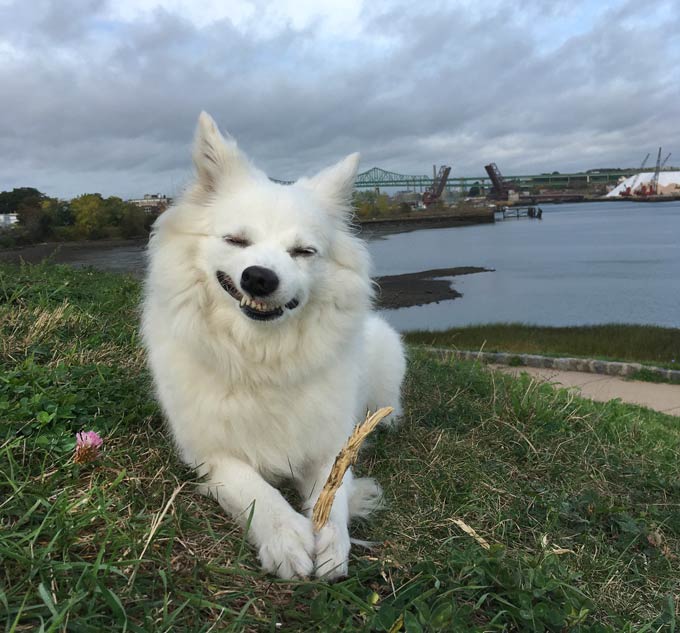 Those initial weeks of loss were so disorienting to us due to the pain and grief of losing a family member who had been at the center of our lives. All loving pet owners go through it, sometimes many times in life. Luckily, we were supported by great neighbors and friends who showed compassion and understanding in many different ways. Saki's story is a story of love and triumph, not tragedy. Through love, trust, and play this resilient girl overcame many social issues due to poor care in her first 3 years of live, and was able to live a life with joy and doggy gusto.
We've captured some of her critter hunting, full-tilt sled chasing, and silly antics in a video we created to honor her.
We miss her terribly, but we carry on her spirit as best we can, hopeful for our next opportunity to give a dog a wonderful life.
~Emily (aka: sakimaki)