Tripawd Corgi Genie Gets 100th Rehab Grant! 💯 🎉
Thanks to the generous donations from supporters like you, Tripawds Community member addyshih received grant #100 from the Maggie Moo Fund for Tripawd Rehab. Read how free rehab helps Tripawd Corgi Genie stay strong, and learn how you can get a free veterinary rehab evaluation for your dog or cat.

Yes! Tri-kitties qualify for free feline rehab too. See all Tripawds who have received free rehab sessions thanks to your support.
We're the proud new parents to Genie the Tripawd Corgi, a three-year-old female Pembroke Welsh Corgi. We adopted Genie last month (March 20201) from South Korea, through Hope for Donghae Paws, an organization that coordinates adoptions in Korea, bringing dogs to permanent forever homes here in the D.C. area.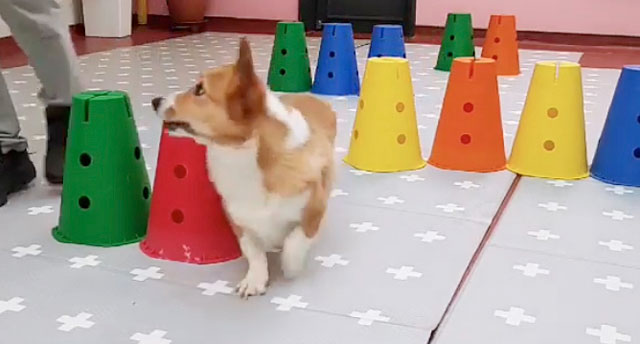 Genie is a right hind leg amputee. At the beginning of 2020, her original owners in South Korea were in a horrible car accident, and Genie was in the car with them. She suffered traumatic damage to both of her hind legs and hip. Due to financial hardship, the original owners were not able to immediately pay for Genie's surgery and medical costs, and thus, surrendered her to a shelter.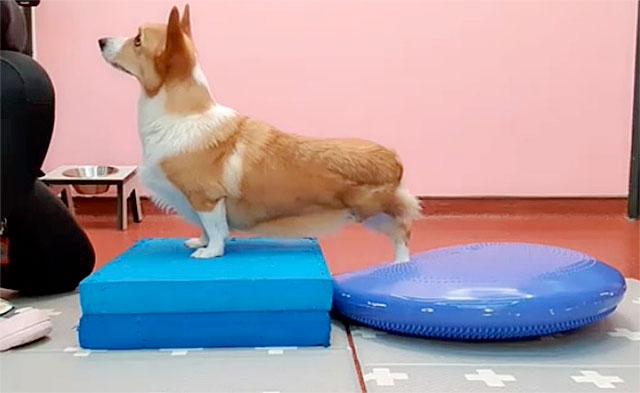 Because Genie did not receive immediate care, both of her hind legs were at risk for amputation. But, due to the kindness of several donors in South Korea, an organization was able to crowdfund over $8,000 USD to pay for an emergency amputation to her right hind leg (which doctors could not salvage). They were fortunately able to treat the injuries to her left hind leg.
Free Canine Rehab Helps Tripawd Corgi Genie
This time, we visited the rehabilitation department of the Friendship Hospital for Animals where she received her initial consultation with Janay Austin-Carlson, LVT, CCRP. During our first one hour visit, Genie received physical manipulation, as well as a laser therapy treatment. Dr. Austin-Carlson said that Genie was in pretty good shape, except for a bit of muscle straining in her hamstring as well as muscular tension behind her shoulder blades.
We were given a list of daily (1-2 times) home exercises, including Passive Range of Motion (PROM) and weight shifting from leg to leg. They also suggested terrain change and walking in a zig-zag pattern on an incline. There are also instructions for massage. A final exercise called "Paws Up" has her stand on her hind leg, putting weight on it while she is offered a treat from above, propping her front limbs on a step. These are all to extend mobility and strengthen her core and hind leg.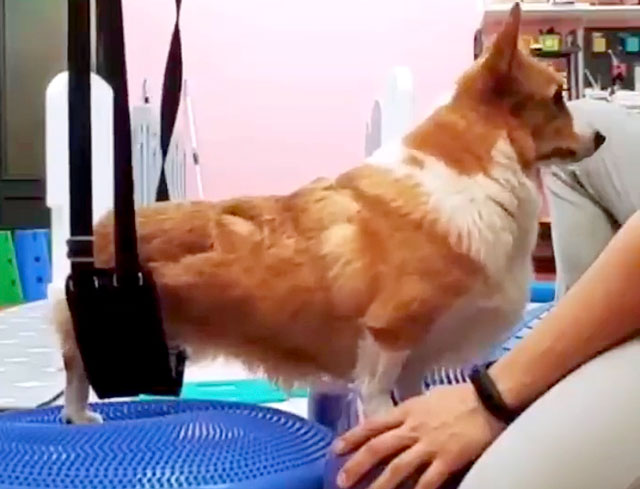 The most important thing that I learned through our consultation was that strengthening does not come from longer walks (which I had initially thought!) but through core strengthening and exercises.
~ Adrienne and Genie (aka: addyshih)