Tripawds Foundation Rehab Grant #125 went to help Tripawd Puppy Chance with reimbursement for his first rehab evaluation. The free canine rehab will help this growing three legged Chocolate Lab stay fit and strong. Read his story, and learn how you can get a free veterinary rehab evaluation for your dog or cat.

Yes! Tri-kitties qualify for free feline rehab too. See all Tripawds who have received free rehab sessions thanks to your support.
Chocolate Lab Puppy Gets a Second Chance at Life
Chance is a chocolate Labrador Retriever. She is 4 months old
When these little pup was 5 weeks old my daughter and I went to choose the one we wanted. These 10 puppies were in a barn and a big animal stall which was filled with sheep's and goats and some of the big animals were tied, some were not. The barn was not heated and had no light. There was also missing many planks on the barn and it looked like it is ready to fall apart.
I was set on getting a puppy. After we choose our chocolate lab puppy we put a purple collar on her. As the owner and I were talking she informed me that one of the Chocolate lab's had a freak accident but then she changed the subject when I asked her what happened.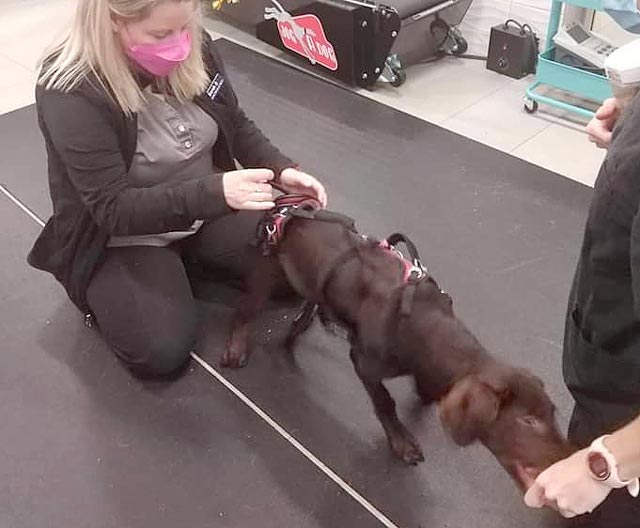 After I got home all I could think of was the chocolate lab. What happened? I sent an email to the owner and asked her if she could tell me exactly what happened. She told me that she had no idea. The puppy was walking, then she stopped, then she was walking again but her back right leg was not bending. She proceeded to tell me that she will have her euthanized. I told her there was no reason as she could live like that and worst case live with a wheelchair. She told me she had no time to take her to the vet and she was not sure she could live in a wheelchair. After talking back and forth she told me that she would have her vet (for big animals) look at her. I continued to ask about this puppy.
Then the owner sent me an email and told me that her vet looked at her (this was over 3 weeks after her injury) and that it looked like she had a spinal injury and that she was getting her euthanized but it did not have to be right away. I told her there was no way she needed to live and that I was coming to pick her and we did that on Easter day.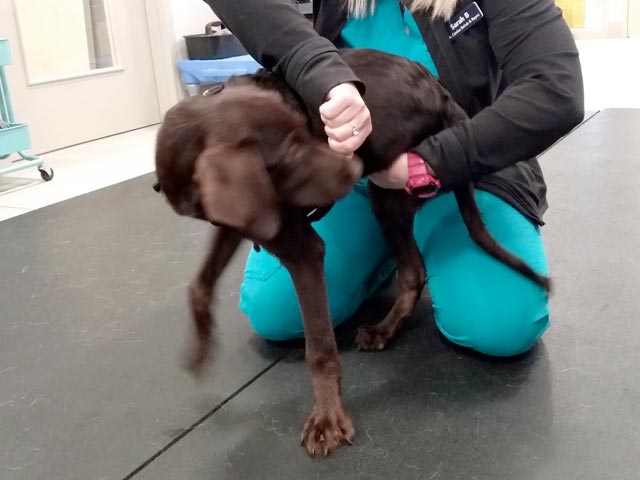 Tripawd Puppy Chance Gets Free Canine Rehab
I contacted my vet, explained my story and the vet was able to squeeze me in for a visit. This chocolate lab puppy I called Chance. The vet carefully examined her and she automatically said her leg was not normal. The vet gave her an exam and she did not look like she was in pain. "Chance" received the vaccines she required, a dewormed and a series of x-rays were done. After the vet examined the x-rays it was discovered that probably a big barn animal would have stepped on her. As she tried to break free and tried to escape, her back right hip was dislocated and as she tried to break herself free, her knee was dislocated as well as her ankle. The vet pinched her toes to see if she had feeling or was in pain and Chance let out a yelp. The vet also mentioned that because of her crooked leg, she had to take the x-rays sideways as the leg would not go straight. As she tried to straighten the leg, Chance let out another yelp which meant she could feel and was in pain.
Imagine over 2 weeks in this condition with no pain medication and no exam from a small animal vet. The vet recommended that she send the x-rays to an orthopedic surgeons to get a second opinion. Three vets/Orthopedic surgeons confirmed that Chances leg needed to be amputated as she was left like that and that is how her leg healed. I discussed this with my family and we have decided that we will do whatever we need to go give her the best care she needs and deserves. Chance was sent home with anti-inflammatory as well as pain medication.
The following week she had her leg amputated. It has now been several weeks and Tripawd puppy Chance got used to not using her leg and her brain forgot she could. We took her to a qualified rehab therapist and she starts water therapy next week.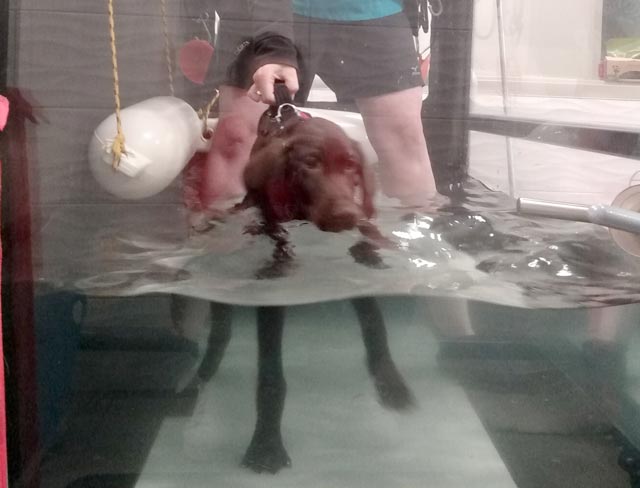 I must admit I was skeptical when I say that Chance was not using her leg in therapy but on the third session I witness a miracle. The experience I learned is how to provide confidence in an animal and to keep at it. The best experience I got is NEVER GIVE UP on your baby as they so need us.
I joined the Tripawds and I put a post asking for tips on how to get my dog to walk and several people sent me the link for this perfect program so I took advance of it as my vet bills were through the roof.
Chance's Canine Rehab Exercise Program
The certified rehabilitation therapist has provided several exercises for Tripawd puppy Chance. The main one is treadmill in the water and this can only be done in clinic. The first time was for 5 minutes, second time for ,7 minutes and the third for 9 minutes.
At home I put Chance bum on my lap and I need to have my daughter call her to come to her with a treat. This makes her use her leg to get up. 1 set . 4 reps twice a day.
Another exercise is to make her stand and I need to have her reach to her treat as I bring it towards her bum from the right side then I repeat this for the left side. 1 set 4 times each side and hold 5 seconds twice a day.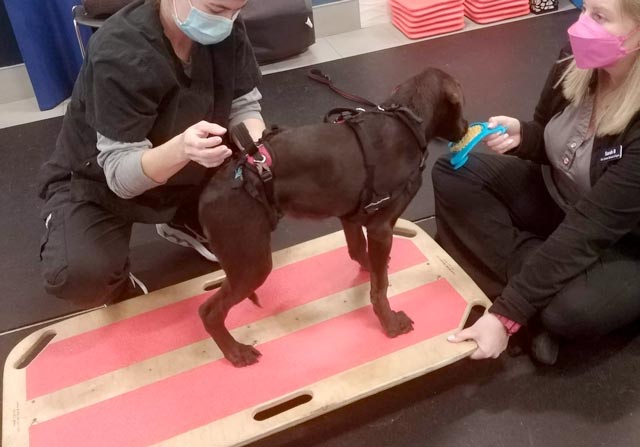 Another exercise is to make her go on a board that looks like a teeter totter as the therapist gently rocks her and the other gives her a treat to eat. This helps her to keep her balance and unfortunately I don't have one and therefore this one is done at the clinic. Time is until she gets tired. She did several minutes and 3 times during session.
These exercise were given to Tripawd puppy Chance because since she had her leg amputated 2 months ago. She refuses to use her leg as she was left with an injured leg and she got used to using it like this. We need to strengthen her muscles as well as her core to keep her balanced on one leg and to give her back confidence in walking. Chance has now started using her leg a little and to see her use the leg is like a child getting up on Christmas day to see all the presents under the tree.
~ Joanne and Tripawd Puppy Chance (aka: chancesandfaith1)

At Home Rear Limb Tripawd Rehab Program