It's time! The 2022 Tripawds Virtual Race registration is open. Come join the fun as Tripawds Take Manhattan on a virtual race course through New York City.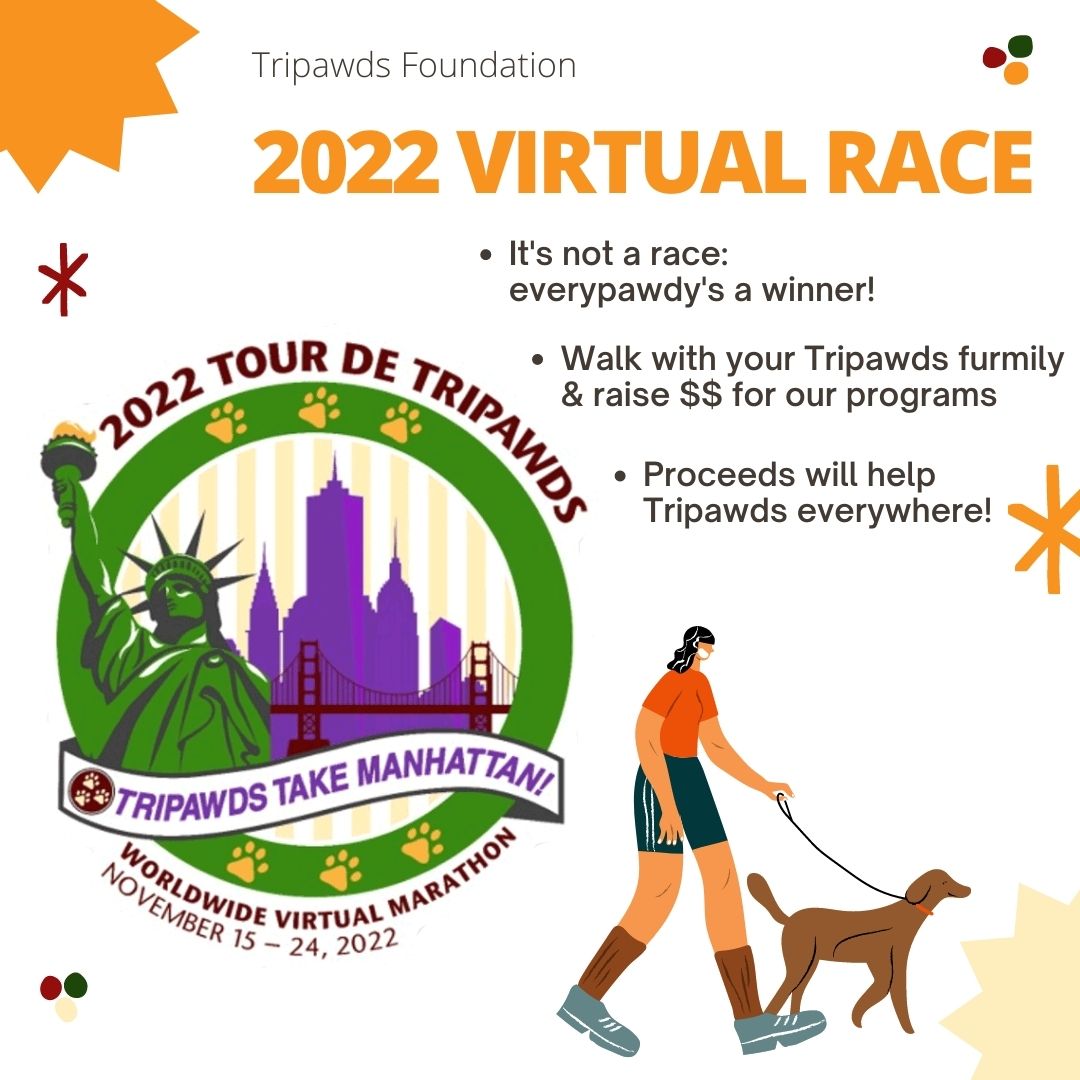 You don't want to miss the fun. No need to literally race or walk either, there's something for everyone in this event! Here's how you can help Tripawds Foundation cover the cost of programs for amputee dogs and cats.
Join the 2022 Tripawds Virtual Race Through New York City
This year's course follows the same course as the legendary New York Marathon. Get to know the Big Apple, and virtually race with Tripawds community members from around the world as you take on New York City together!
It costs just $20 to enter, and $10 of your race fee goes to Tripawds Foundation.
100% of any donation above your entry fee goes to the Foundation too.
All racers can create their own Tripawds FUNdraising team to raise even more donations.
The race starts on Tuesday, November 15 and runs through Thursday, November 24 at midnight.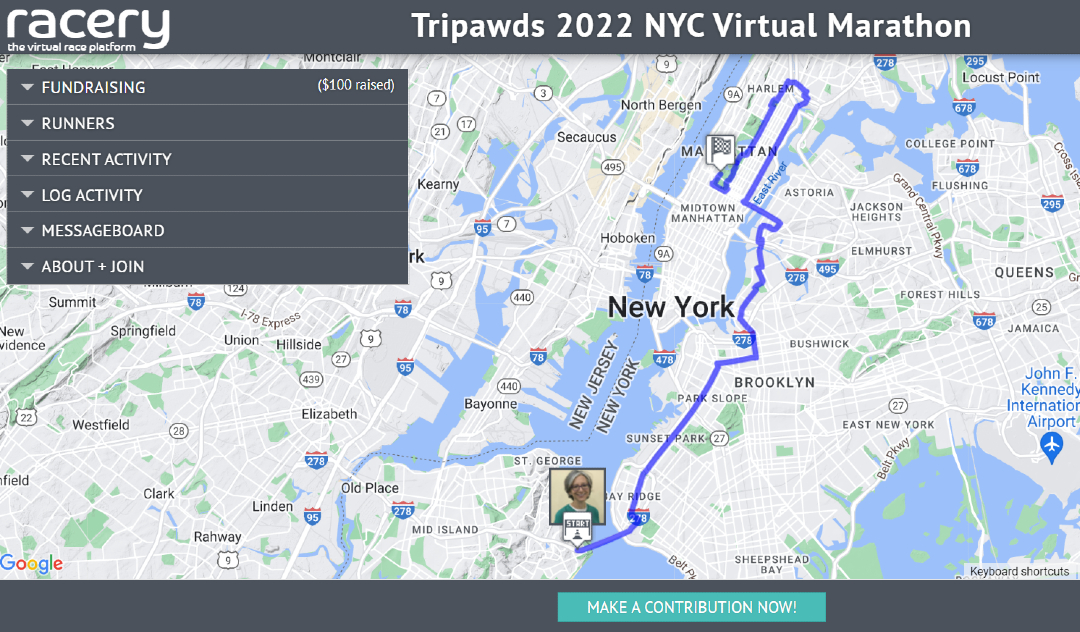 This big fundraiser keeps Tripawds Foundation programs going strong, please join the team today.
You don't need to be a runner, or even a walker to be on the team. All you need to do is move your booty. Many types of activities count. The Racery App converts activity time to miles on the race course. So Dance! Walk! Swim!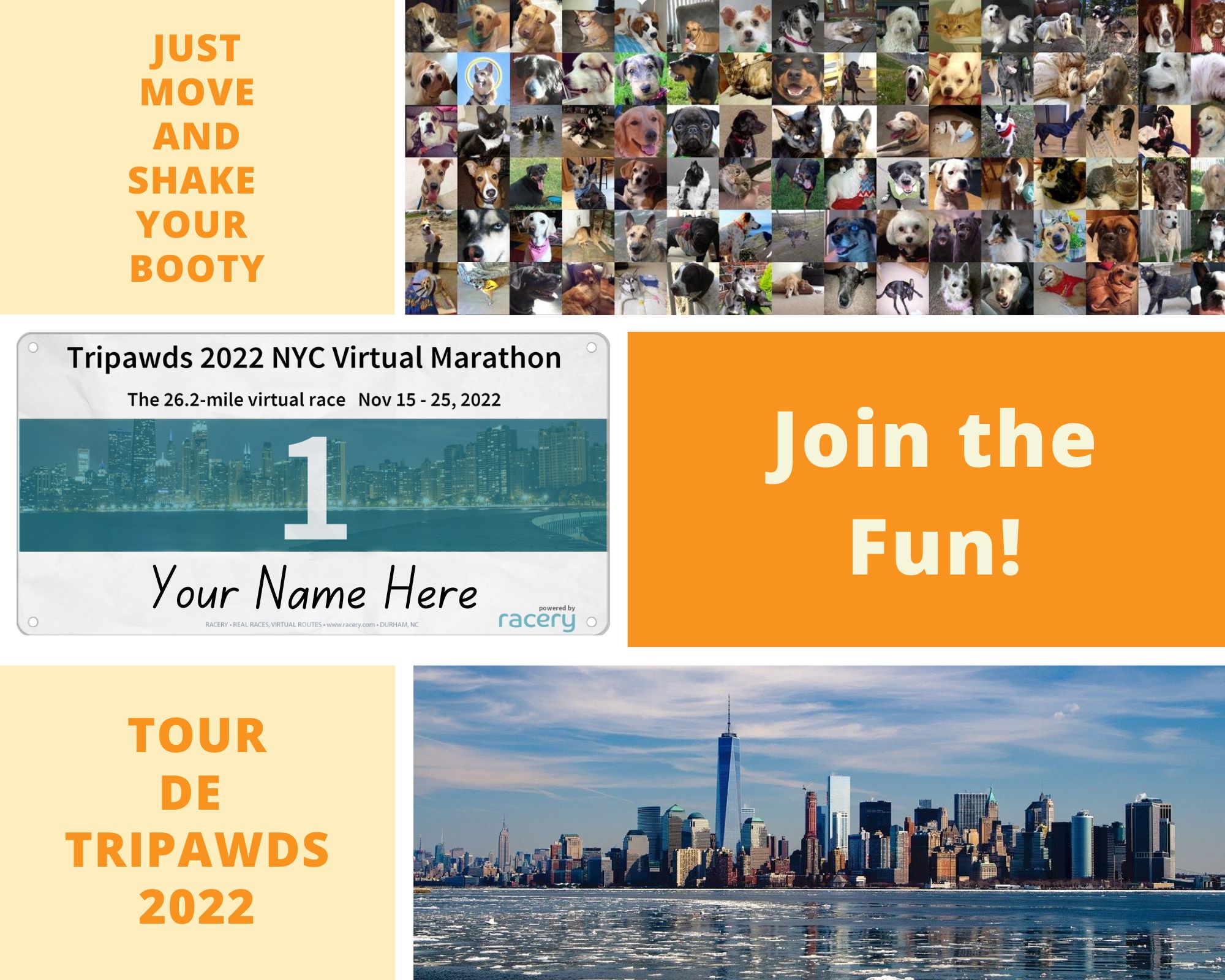 Most kinds of physical activity count for this marathon.
You log your activity on the Racery app or website.
Minutes spent moving convert to miles that can add up to a marathon distance (26.2 miles or 42.16 kilometers) over twelve days.
You don't want to miss this great way to help Tripawds everywhere. Follow the link to hop on the team:
The 2022 Tour de Tripawds Virtual Race
Sunday, November 14 — Thursday. November 24
REGISTER HERE
Order your official Team Tripawds Race Gear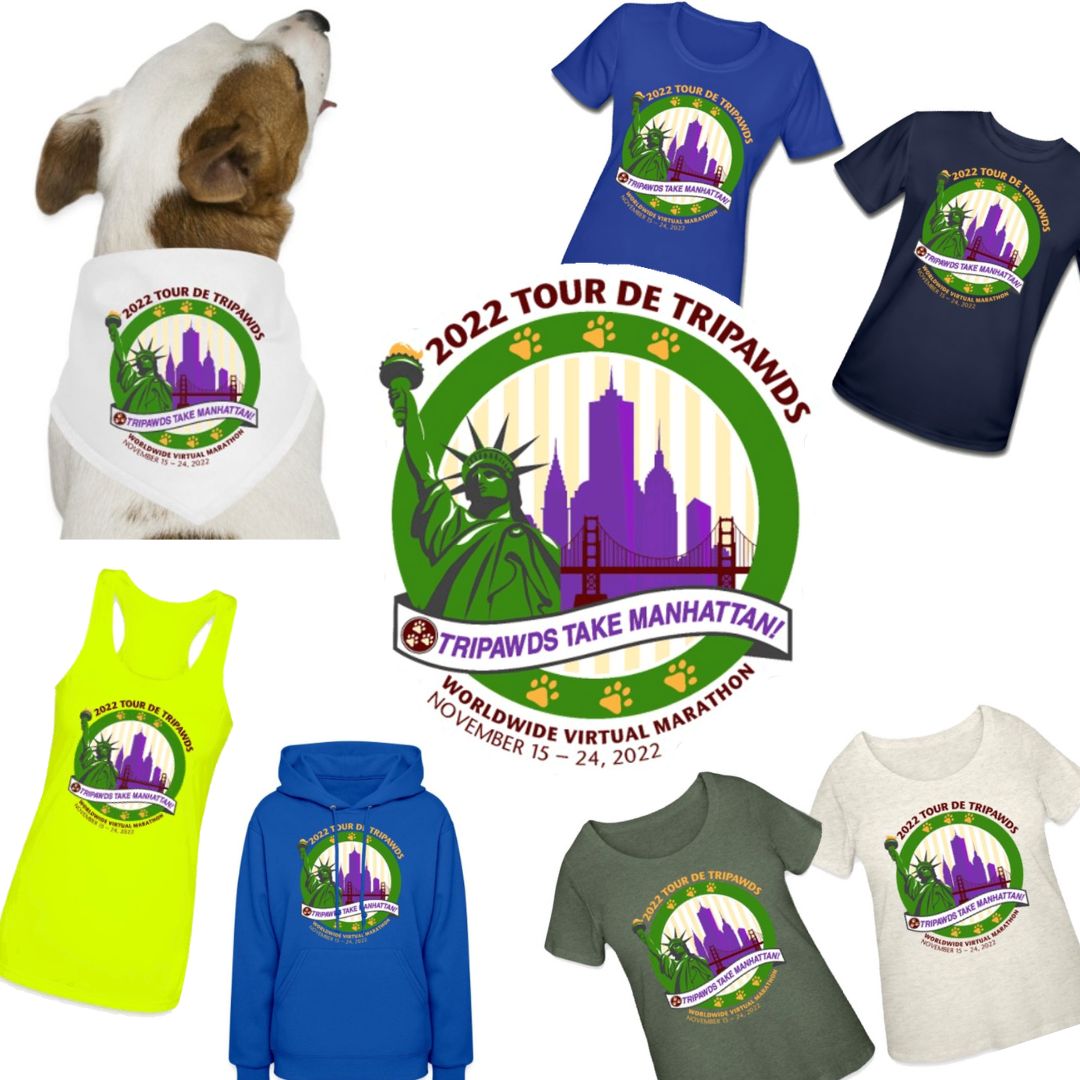 You still have time to order 2022 Tour de Tripawds gear for people and pets. But hurry: we are getting closer to race day so order now. This year's merch includes more styles and colors than ever.
Moisture wicking performance race shirts in a variety of light and dark colors.
Men's sleeveless shirts and women's racerback Ts, cozy cotton t-shirts and comfy hoodies.
2022 Team Tripawds dog bandannas, stickers, and more!
All gear has the 2022 Tour de Tripawds emblem on the front.
3-paws up to Racery for generously donating their services to our special event
Our virtual trip to New York is an important fundraiser for Tripawds Foundation programs. Please join Team Tripawds and make it our best race yet. Watch this space for more details as we get closer to the starting line on November 15.