Great news everypawdy! You can get a free Ruffwear harness just for registering and racing in the 2022 Tour de Tripawds! It starts this Tuesday November 15. Join us!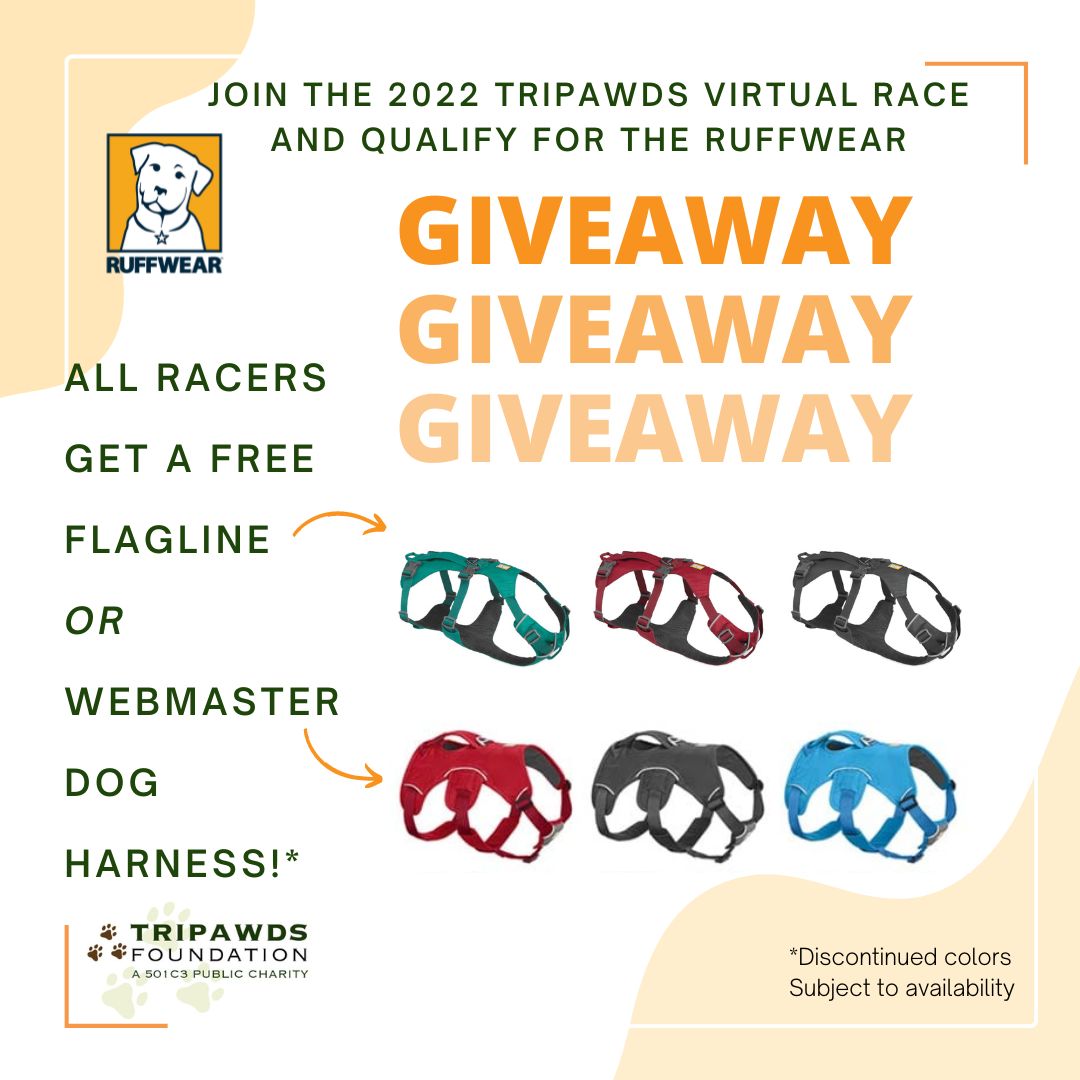 Please join us to help pay for amputee dog and cat medical needs, with programs brought to you by the Tripawds Foundation.
All Tour de Tripawds Racers Get a Free Ruffwear Harness!
Ruffwear is generously donating a free Flagline or Webmaster harness to all registered racers of the 2022 Tripawds Virtual Race. The harnesses will be in discontinued colors, but feature the same pawesome and functional design of the best harness for three-legged dogs.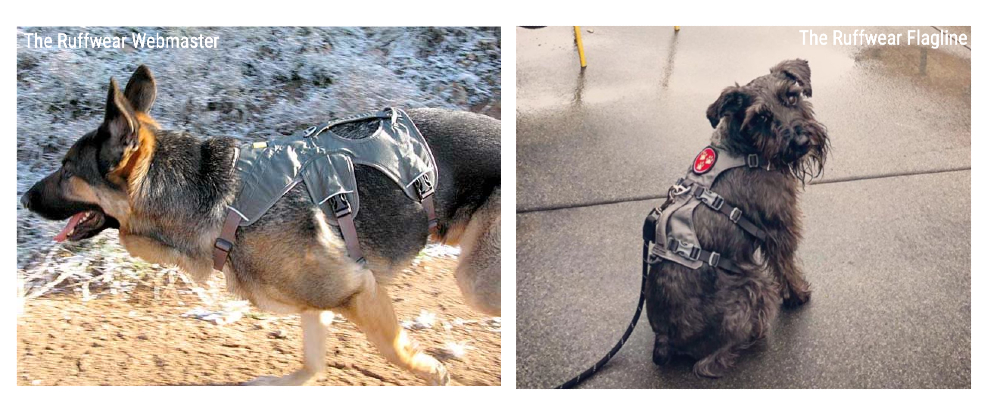 All you need to do is sign up at the link below, and race with us! The cost is $20 and half of all registration fees go directly to Tripawds Foundation. And 100% of any extra donations go directly to the foundation too!
You'll participate through the Racery App for iPhone or Android phones. After the race ends on November 24, we'll send you a form to fill out so you can get your free Ruffwear harness. What a deal!
The Tripawds Virtual Race starts this Tuesday, November 15.
We are so thankful for the generosity of Ruffwear, and all our amazing Tripawds supporters joining us so far. Will you be our next team member? Sign up, and join the fun.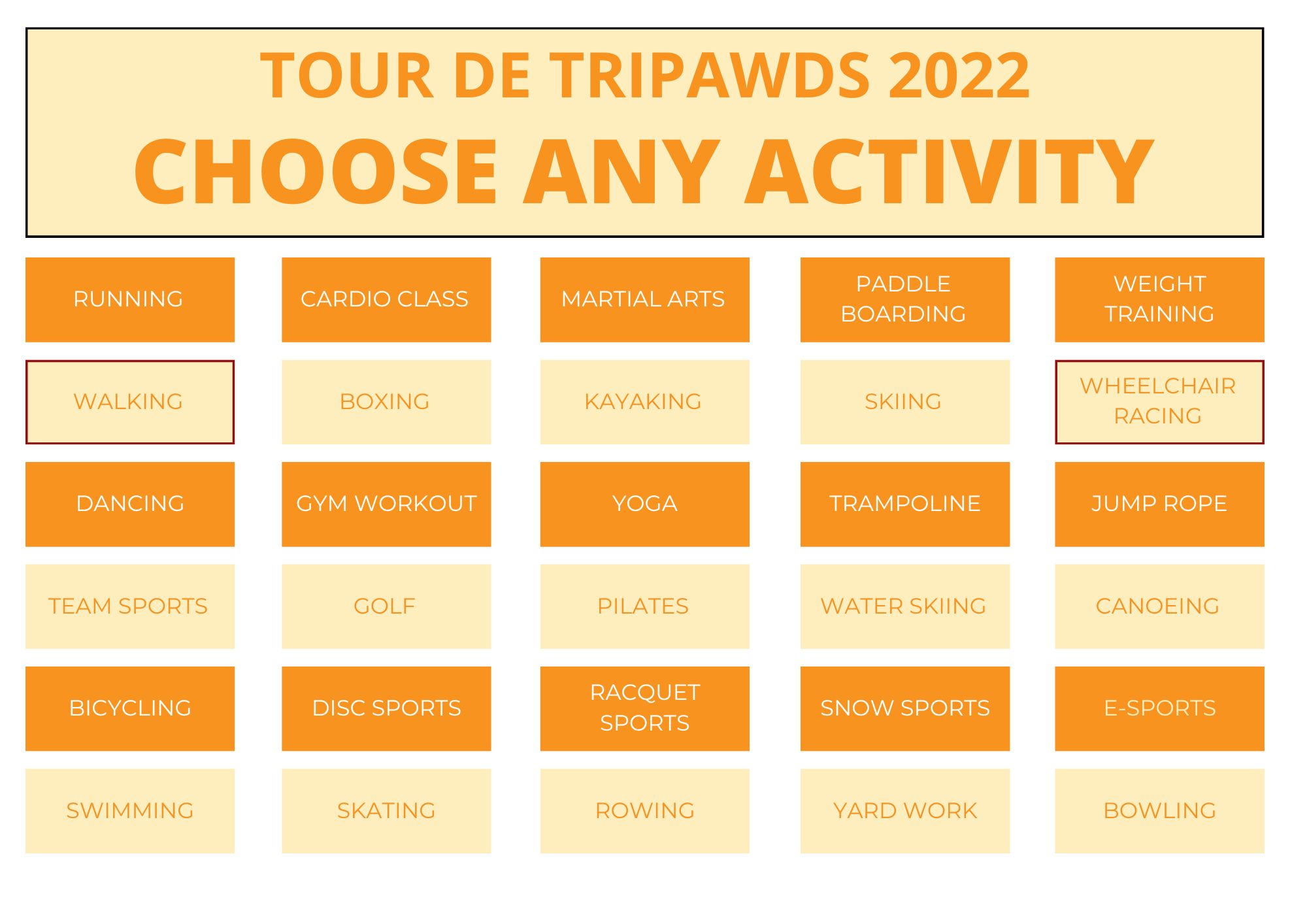 Remember, you don't have to run to participate. Walk, dance, hop, hoop . . . many activities convert to "miles" that move you around the race route.
This event is also made possible with help from Racery Virtual Races.
Once again, the very generous company donated their virtual race technology to make the Tripawds fundraiser happen in 2022.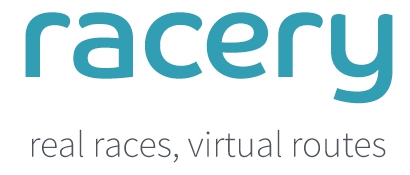 If you already joined the Tripawds race to support programs that help our amputee heroes, thank you!
The 2022 Tour de Tripawds Virtual Race happens
Tuesday, November 15 — Thursday. November 24
REGISTER HERE
And if you haven't signed up, now's the time. Tuesday is just a few days away.
Not into Virtual Races? Just Donate to Tripawds Instead!
And if you can't be part of the daily fun during Tour de Tripawds, no worries! We still love you! You can always donate to Tour de Tripawds. 100 percent of all donations go to Tripawds Foundation programs like the Tripawds Amputation Surgery Assistance Program, the Maggie Moo Fund for Rehabilitation Therapy Reimbursement, and others!
We are counting on you to make this our best virtual race ever! Thanks to Ruffwear and everyone who is making life better for our 3-legged heroes.