Front leg Tripawd Golden Ellie benefits from free canine rehab therapy thanks to Tripawds Foundation Rehab Grant #143. The free evaluation and rehab exercises help Ellieget strong and stay fit. Read her story, and learn how you can get a free veterinary rehab evaluation for your dog or cat.

Yes! Tri-kitties qualify for free feline rehab too. See all Tripawds who have received free rehab sessions thanks to your support.
My Ellie is a 4 year-old front leg Tripawd Golden Retriever who was diagnosed with osteosarcoma in the Fall of 2022. I've had Ellie since she was a puppy and she's been my adventure buddy. She joined me hiking and backpacking around the Midwest. And she loved swimming in Michigan's various lakes- overall a very active dog. Midway through the summer of 2022 I noticed persistent limping which led us to our oncologist who provided the diagnosis. Amputation was recommended, followed by chemotherapy. And they recommended that I check out Tripawds.com.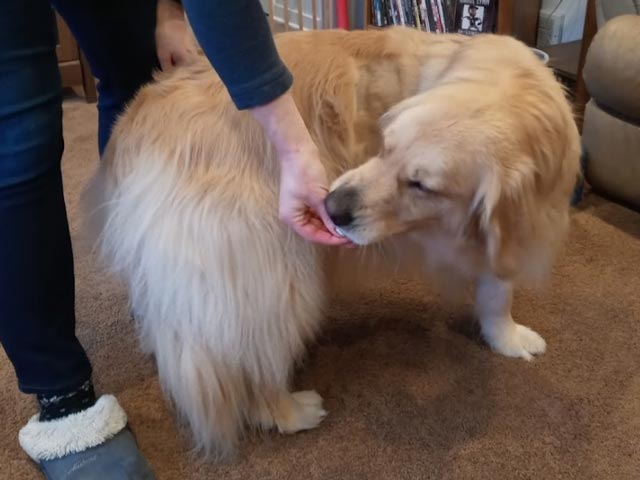 Front Leg Tripawd Golden Ellie's Story
I really struggled with the decision to amputate because I feared it would take away a lot of the activities Ellie and I have enjoyed together. After getting info and support from Tripawds, I came to realize Ellie and I were already losing our "normal" way of life. Amputation would actually improve her quality of life (and hopefully extend it). Tripawds also suggested physical therapy. Our surgeon also recommended this as a way to get back to some of our old activities. Also, it would help with weight loss (Ellie gained a lot of weight prior to surgery).
Ellie's first PT appointment was ~5 weeks after surgery and ~3 weeks after her first chemo session. We'd been starting to go on short walks (~10 minutes) but I hadn't been doing anything else at home. First, we saw the rehab vet, Dr. Paplawsky, who asked about our goals and took initial mobility and muscle mass measurements. He sent me home with 3 home exercises to start with: Sit to Stand, Biscuit to Shoulders and Rhythmic Stabilization. They explained to goal of these exercises are to get Ellie to shift her weight and strengthen different muscles, especially her core. Ellie is VERY food motivated so the first two have been easy to learn. Rhythmic stabilization has been a little more difficult as she really wants to sit down after about 15 seconds.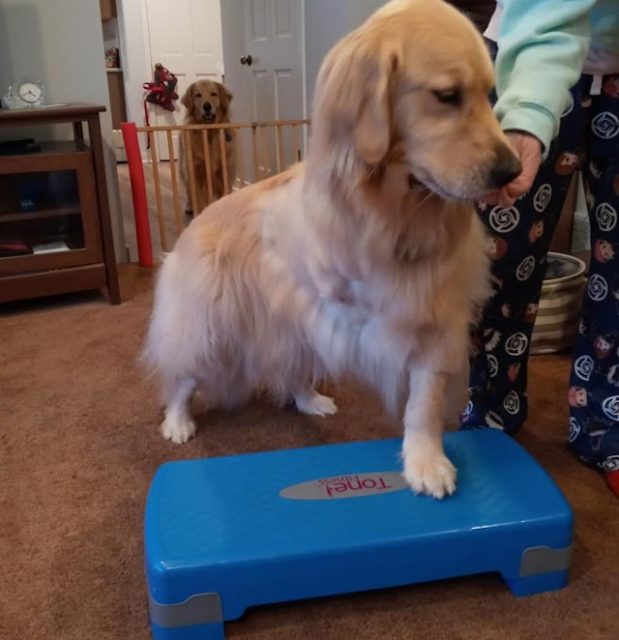 Ellie's Rehab Therapy Session
The day after her consolation with the vet, Ellie had her first hour long session with the physical therapist, Emily. I was not allowed in the session, as owners can be distracting. However, I got to meet with Emily and ask all my questions afterward. Ellie used the water treadmill. She LOVES swimming, but Michigan lakes are too cold this time of year. So I'm sure she loved the indoor pool. The PT also did a lot of stretching and massage to make sure Ellie's muscles around her shoulders don't shorten up and get tight as she learns to move around with her new setup.
I was told to continue the exercises given by the vet. As well as continuing walks, and that we would get more to work on in coming weeks. She's had several appointments since the initial one. They added a step up exercise, and walk in a figure eight to our at-home to do list. Emily is really happy with Ellie's strength and progress. And Ellie is very excited to get back to walks and any opportunity for treats!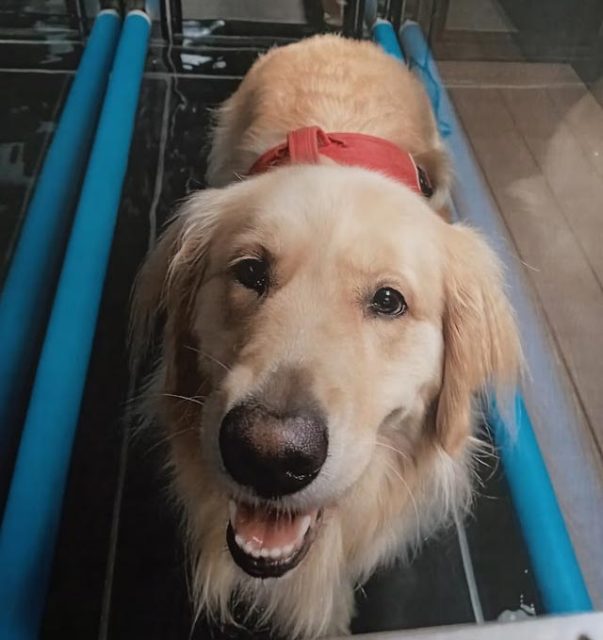 Summary
I was really impressed by the care and passion of all the staff at the Cascade Rehab Center. Everyone was extremely kind and made a point to ensure both Ellie and I were comfortable through the process. They took time to answer all my questions. And they really explained the mechanics of how the exercises worked to strengthen Ellie. I'm excited to continue our at home work and plan on returning to the PT for their recommended 6 weeks program. Thank you for the opportunity to try out therapy with "no-risk". I'm not sure I would have done it otherwise with all the other vet bills. But I see how Ellie is benefiting from it!
~ Holly and Ellie (aka: hollyv)
Ellie's Story: 4 year-old Golden with osteosarcoma