Tripawd puppy Flip Flop benefits from canine rehab therapy thanks to Tripawds Foundation Rehab Grant #165. The free consultation and at-home rehab exercises help her regain strength and stay strong to love life on three legs. Read her story, and learn how you can get a free veterinary rehab evaluation for your dog or cat.

Yes! Tri-kitties qualify for free feline rehab too. See all Tripawds who have received free rehab sessions thanks to your support.
Meet Tripawd Puppy Flip Flop
Sarah and Trevor here. Our Tripawd puppy's name is Flip Flop. She is a 10 month old golden retriever/chow chow mix! We rescued Flip Flop (Flop is her nickname) as a Tripawd, after she had been hit by a car and rescued in Texas. We don't know much about her past but we are very grateful to Hearts and Bones Rescue for bringing her into our lives! We adopted Flop in June in Brooklyn NY, and we fell in love as soon as we saw her.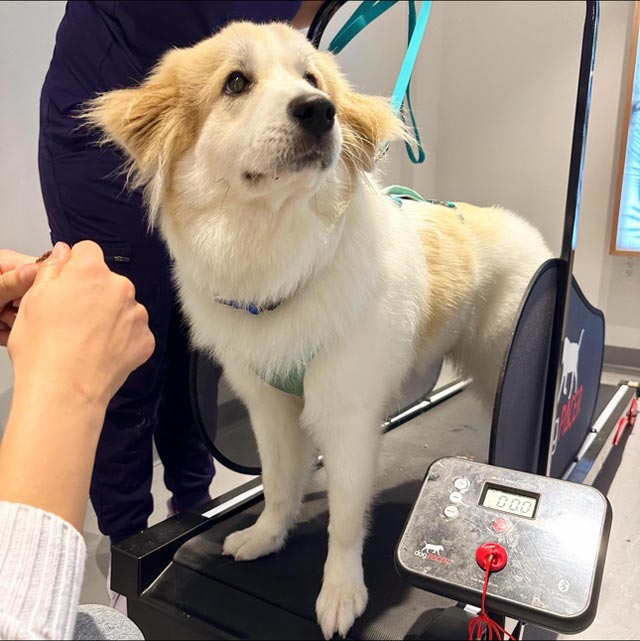 When we took Flop to the physical therapist, we were given many exercises that are already helping her strength and mobility. Attached is the chart of exercises she does weekly in PT, and we practice with her throughout the week as well. The most challenging ones for her are balancing her rear leg on an unstable surface like a half yoga ball and stretching her front legs forward. Frequency varies, we are trying to do 2-3 exercises with her daily, and when she goes to PT weekly she does all of the exercises as well as the treadmill and laser therapy. Our PT just got a water treadmill, we can't wait to try it next week!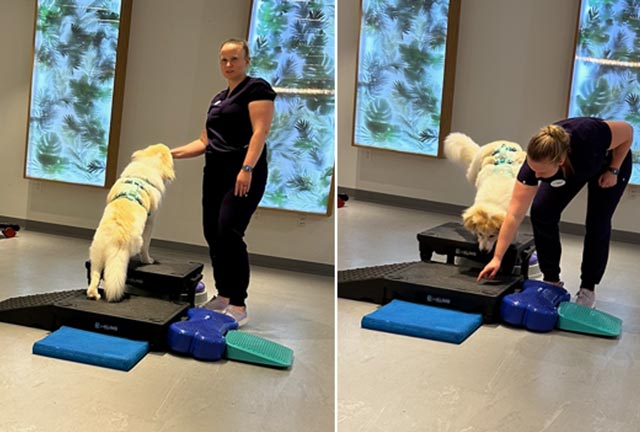 The reason we were given these specific exercises for our Tripawd puppy Flop is because she is holding a lot of tension in her sole back leg, and needs to stretch it out and learn to utilize other muscles. We are strengthening her core muscles as well as training her back not to dip when she walks, as she was arching her back when walking. Laser therapy has helped a lot with this and her back is less sensitive to touch. 
The link to our physical therapy office is sagevetcenter.com/rehab-therapy/ and the doctor we see is Dr. Katie Murphy.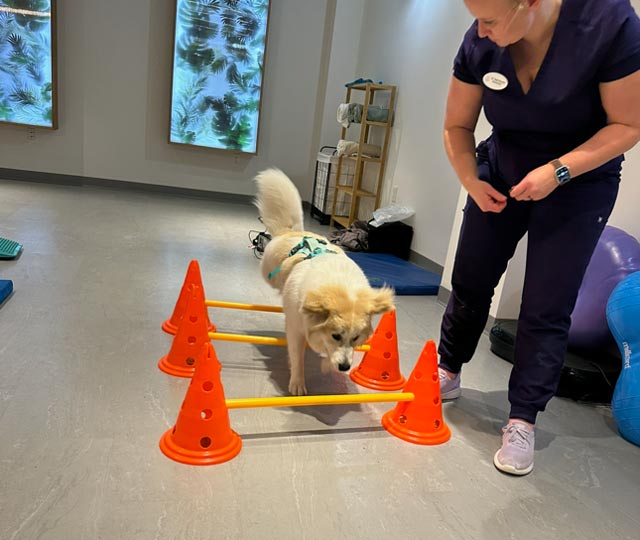 I heard about Tripawds by doing extensive research on how to make our girl's life a little easier and more comfy! We loved your harness recommendation you have on the site and always come back to reference your advice. 
~ Sarah, Trevor & Flip Flop
At Home Rear Limb Tripawd Rehab Program