Mini Goldendoodle Tripawd Telli benefits from canine rehab therapy thanks to Tripawds Foundation Rehab Grant #169. The free consultation and at-home rehab exercises help Tilly regain strength and stay strong to love life on three legs. Read her story, and learn how you can get a free veterinary rehab evaluation for your dog or cat.

Yes! Tri-kitties qualify for free feline rehab too. See all Tripawds who have received free rehab sessions thanks to your support.
Meet Mini Goldendoodle Tripawd Telli
Cavatelli "Telli" is a 1 year old mini goldendoodle Tripawd with a right front limb amputation. She is a rescue and we were told she is an amputee due to previous trauma which could not be resolved with fixing her leg. We adopted her January 2023 at Logan's Heroes Animal Rescue in East Greenville, PA. We love her so much!!!
We appreciate greatly this opportunity for Telli to participate in animal PT early on in life to set her up for success. Myself and my husband are an OT and PT and we know the true value of this!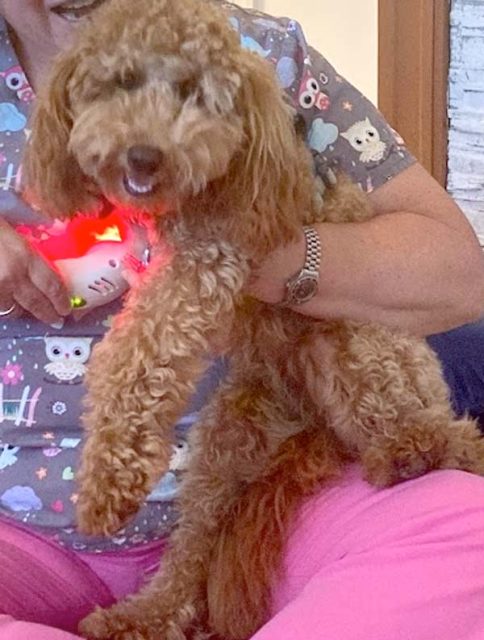 Things we learned from her initial PT evaluation:
ANATOMY:
She actually has a small piece of her humerus left! We thought this was just scapula.
She has a flexible C shaped scoliosis
Core strength is very good, but she is constantly flexing abdominal muscles which impacts her spine, making it more rounded in lumbar region
Has seroma at amputation site (we have been working with vet on this)
Her hips appear to be within normal limits- wanted to get them checked because she sits off balance
STRETCHING:
Done daily to increase ROM, prevent contractures, and promote success with future prosthetic use
– scapular mobilizations, shoulder extension, spinal stretches
ENVIRONMENTAL MODIFICATIONS:
provide ramps to decrease jumping
increase height of food bowl
provide "parking spot" about 8 in off the ground (thick pillow) for elongating spine at rest for stretch
MODALITIES:
Cold laser for seroma, which was the most effective treatment so far in reducing size
Further Recommendations:
Use toenail grips to increase friction on hardwood floors
– Explore use of prosthetic, provided companies for us to look into
We loved this experience for Telli and learned a lot. I think it is truly valuable to do this now versus wait for secondary issues to happen later.
Rehab Therapist: Dr. Sue Davis, Animal PT based in Red Bank, NJ
We HIGHLY recommend her. We love Dr. Sue and Telli does too!!
We learned about Tripawds through Google searching when we were deciding to adopt a Tripawd. We also purchased some of your literature about raising a Tripawd.
Telli participating in cold laser for her Seroma. She loves it!
~ Chelsea & Telli
At Home Front Limb Tripawd Rehab Program