The Tripawds community could never have grown to be such the valuable resource it has become without the generous support of members over the years. From the simple blog we started in 2006 to share Jerry's story, Tripawds is now:
A network of more than 900 member sites,
More than 10,ooo discussion forum topics,
A live chat room, and
A vast library of information about life on three legs.
All of this is available at no cost to anyone coping with a cancer diagnosis and/or amputation for their dogs—and a growing number of cats.
As the community has grown, so have the expenses, and so has our desire to do much more for those facing amputation for their furry family members.
With 7,000+ members and more joining every day, and a mission to help them all by providing an educational forum now—and funding future assistance programs in the future—the maintenance costs alone have become a roadblock to reaching our goals.
That is why we are honored and pleased to announce that official 501c3 status has been granted to the brand new Tripawds Foundation!
Why Create a Tripawds Foundation?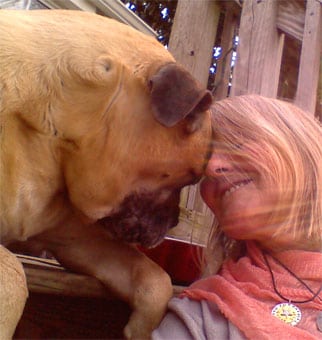 The creation of a nonprofit arm to the Tripawds community was the next natural step to keep Jerry's Legacy alive.
Numerous people turn to Tripawds every day for information and support. We simply must keep the website online, and continue to offer free blogs and forums for them to share their stories and learn from others who understand what they are going through.
In addition, we have always wanted to provide additional support to those in need of financial assistance for veterinary care, rehab services, or assistive devices. And, on many occasions over the years, we have had to turn down generous contribution offers from individuals and corporations because we were unable to offer receipts applicable for deduction under section 170 of the U.S Tax Code.
Starting now, everyone's charitable contributions to Tripawds Foundation are tax deductible!
Please consider helping Tripawds in our mission:
The Tripawds Foundation serves as an educational and support forum, providing resources for individuals and organizations seeking information related to animal amputation and related health conditions.
How to Support Your Tripawds Community
Yes, this is your community. That is why we created the Foundation, and this new website, with various ways for you to receive a tax deduction for your charitable contribution. We have provided considerable initial funding, and are turning to you for help in growing our reserves to keep Tripawds online and fund future projects.
Donate any amount easily!
Subscribe for recurring contributions.
Receive honors for your gifts.
How to Give
Get to Know the Tripawds Foundation
Browse this site for more details about the Foundation and watch for updates in the Foundation blog. Learn about all current projects and make a gift today to add your three legged hero to the Honor Roll.
With your help we can grow this Foundation to continue helping Tripawds everywhere!
Thank you for your support.