Many thanks to all the generous donors, volunteers, and winners who participated in the first Tripawds Foundation Online Charity Auction!
2016 Tripawds Online Auction Winning Bids
More than $2,000 was raised during the one-week online auction, thanks to Tripawds members bidding on 32 items during this inaugural fundraising auction. Proceeds from the auction will help keep the free Tripawds Community online and help fund Tripawds Foundation assistance programs.
The most popular item was the beautiful pair of matching quilts (for pets and people) handmade by long-time Tripawds supporter Kathi (murphsmom). The quilts sold for a final bid of $555, receiving the most bids and raising more money than any other single auction item.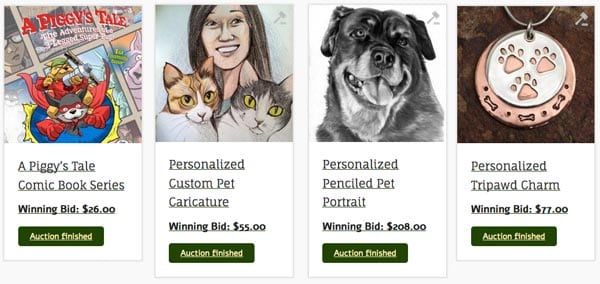 Other popular handmade items included colorful beaded jewelry, a personalized charm from the Tripawds Etsy Store, and two original pet portrait drawings that sold for more than $250.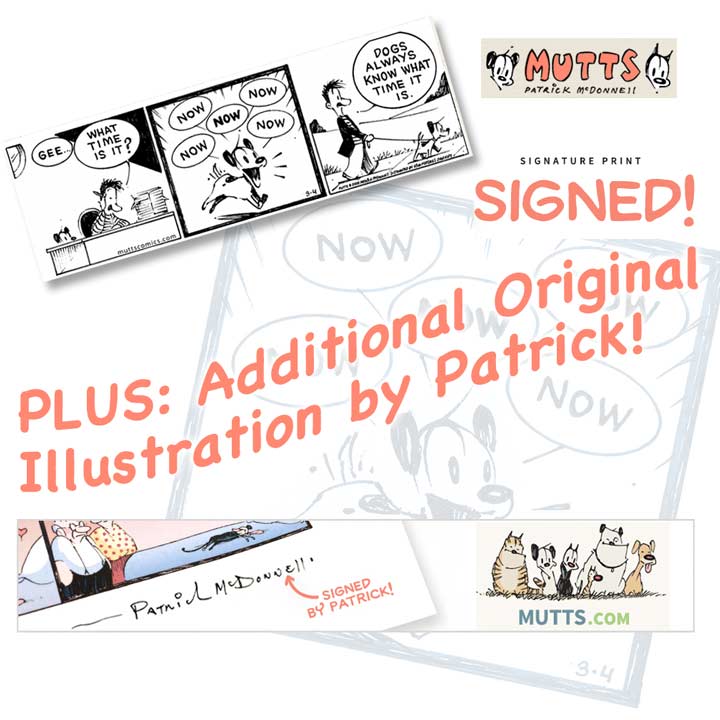 Another popular item was the MUTTS Signature Print with Surprise drawing by MUTTS Creator, Patrick McDonnell. The classic NOW! strip is well known throughout the Tripawds community, and this signed reproduction suitable for framing earned the Tripawds Foundation $215. Speaking of comics, the first four issues of A Piggy's Tale was another popular auction item.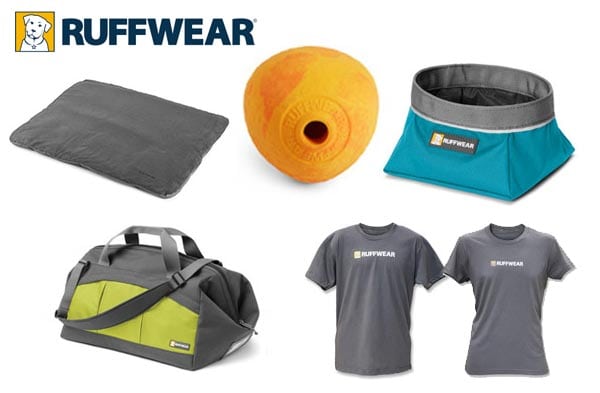 This pawesome package of Ruffwear Performance Dog Gear earned a winning bid of $181, saving the winner nearly $50 off the retail value. Plenty of other deals were had with one winner getting a $100 gift certificate or K9Medicinals.com for only $51 and TruDog Premium Dog Food Bundle worth more than $300. The Pet Parlour Package of salon quality grooming products from John Paul Pet sold for just $53, about fifty percent off the retail value. Winning bidders also saved on healthy supplements from Only Natural Pet, and much more!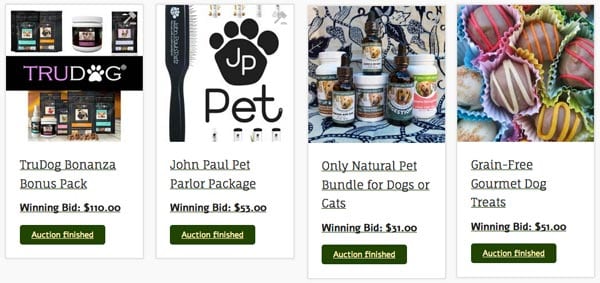 Auction Feedback Wanted
Did you participate in the auction? Did you win any items? Was it fun? Would you do it again? Logistically, and financially, we consider the Tripawds Foundation's first fundraiser auction successful. We plan to do it again next Fall, and may even hold a mini-auction in the Spring, depending upon your feedback. Please leave a comment below with your thoughts.
Did you miss the auction? No worries! You can support the Tripawds Foundation anytime with a charitable contribution of any size. Various rewards are available for your gifts, and you can feel good knowing that you are helping amputee pets and their people everywhere. Stay tuned for an important announcement coming soon about how the Tripawds Foundation will be putting these funds to use, to do just that!