Tripawds Community member  mleahy40 is recipient #14 of the Maggie Moo Fund for Tripawd Rehab. Read on for details about how Brigus benefited from his free evaluation at Cedarview Animal Hospital* in Ottawa, Ontario.

See all Tripawds who have received free rehab sessions thanks to your support.
Free Rehab Evaluation for Brigus
Our big boy became part of our family, at 12 weeks old, in April 2009. We named him Brigus, after a small town in Newfoundland, Canada. Brigus is a Bernese Mountain Dog and has been part of our growing family for 7+ years now, his 2 human sisters adore him!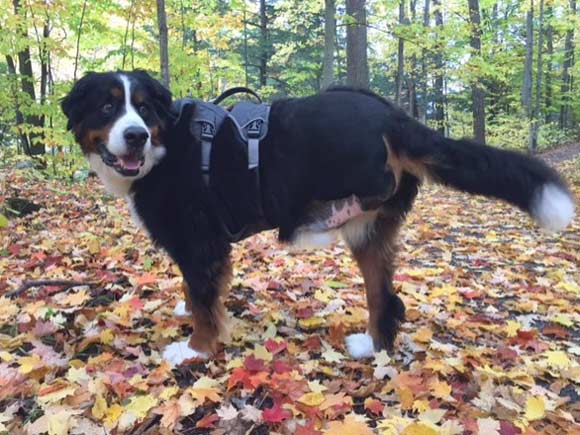 On Sept 16th, 2016 our lives changed as Brigus was diagnosed with a left hind leg osteosarcoma. Shortly after the diagnosis we were fortunate enough to meet with a surgical oncologist who offered surgery – left hip disarticulation. Brigus underwent surgery on Sept 27th, 2016 and stayed in hospital for 3 nights. Both of us are health professionals and knew the importance of proper rehab to ensure a good quality of life moving forward. We looked into canine rehabilitation prior to surgery and rehabilitation began Oct 11th, 2016.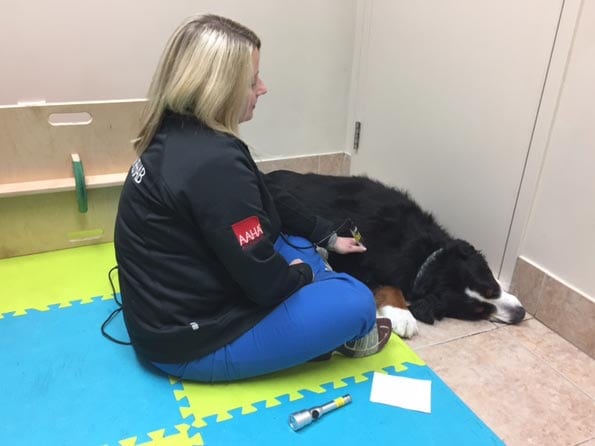 His first rehab session consisted of muscle stimulation for strengthening of his remaining hind leg, Range Of Motion (ROM) exercises, Cavaletti poles (6 inches) and walking on the aqua treadmill. The home exercise program consisted of:
1. 'Cookies at the hips' to work on spine ROM and balance and weight shifting while standing.
2. 'Cookies between the front paws' again to work on spine ROM and balance (shifting weight to the hind leg)
3. Sitting high 5's to shift weight between front paws and sitting balance.
*All exercises are to be done at home 2x daily, 3-5 repetitions.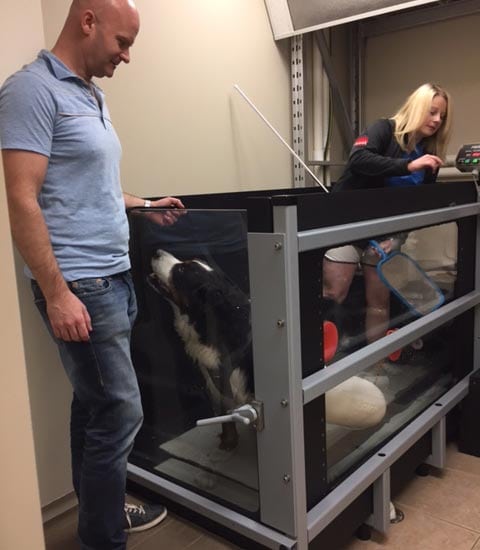 The importance of rehab is very clear to us, the principles that apply post-op in humans are transferable to our pets as well (restoring ROM, improving function, regaining strength, improving balance and proprioception – the list of benefits are numerous!).
The biggest take home message from this experience is that dogs are extremely resilient and courageous. Brigus handled this surgery with 'will and determination, and grace too'.
~ The Leahys