Today (October 2, 2016) is the 2nd anniversary that my beloved Bailey Girl received her wings. I want to honor her my making the donation I made to Tripawds for all they have done for me and my sweet Angel Bailey.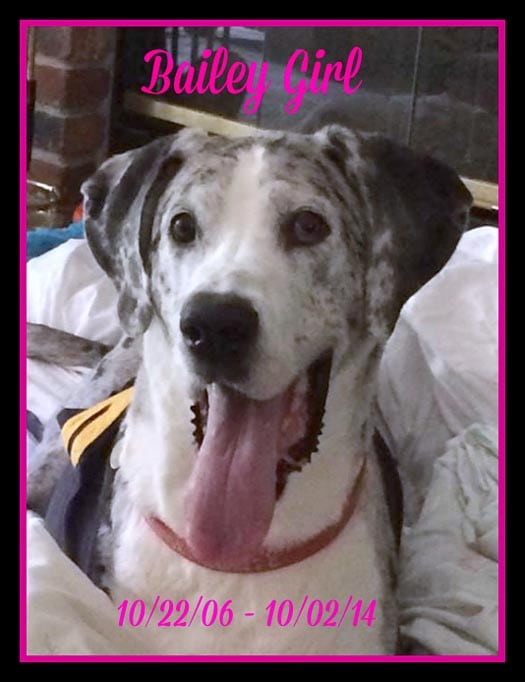 To say I don't look back would be a lie because I do that often and wonder why especially when she was so strong and there are so many success stories. The only thing I know is without Tripawds and the family I gained it would have been really hard to carry on. I know I did not have a choice in helping Bailey with the amputation the other choice was not even taken into consideration. But WE did this FOR HER NOT TO HER.
I know in my heart it was the right decision. Baileys journey was a very bumpy one and we had lots of hurdles to manage and we tried and she tried and always seemed to pull through. With the help of my friends on Tripawds WE managed our sleepless nights and confusion on medications etc. Today is a sad day and my my heart is broken and there's not a day that goes by that I don't think about our journey and the what ifs and her pain at the end. I failed her at the end I broke my promise at the end but I pray she knows I did everything possible that I could do. Bailey Girl had a lot of supporters on here and I gained a family that I never had. I am so grateful that we were brought together and I am blessed to have such great people in my life that understand my love for my Angel Bailey Girl. So here's to TRIPAWDS for getting me through this and helping my Angel Bailey Girl.
Happy 2nd Anniversary in Heaven Bailey Girl I miss you so much and I will love you forever you have my heart sweet girl. Your Angel will always shine bright for you. Mama misses you and I wish I could have done more for you. I'm sorry Bailey Girl.