First Tripawds Foundation Auction Starts Saturday
Mark your calendars! The first-ever Tripawds Charity Auction starts this Saturday, October 15, 2016.
More than 30 incredible items are now listed on the Tripawds Auction Page. Thirty two to be precise. 🙂
Many, many thanks to all our donors and volunteers who have helped make this possible! Read on for details and leave a comment with any questions or join this discussion about the auction in the forums.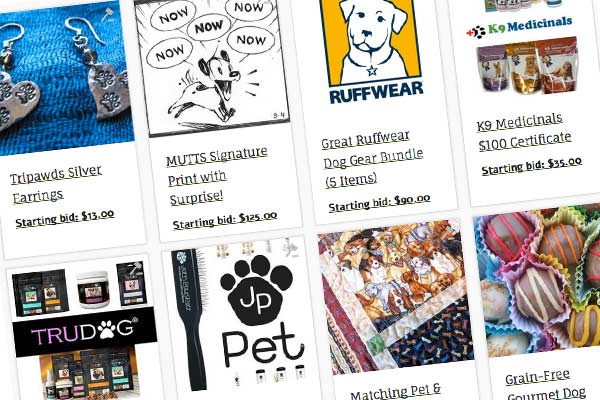 Tripawds Auction: What You Need To Know
Bidding on all auction items will go live at 6:00 a.m. (PDT) Saturday, October 15, 2016. At that time, logged-in users will be able to add favorite items to their Watchlist or start placing bids.
The auction ends one week later, promptly at 6:00 p.m. Saturday, October 22. Any user with the highest bid on an item at that time will "win" the auction and be notified with payment instructions.
Proxy bidding will be used so all you have to do is enter your maximum bid! Items range from beautiful handmade quilts, original artwork, classic comics, helpful gear and healthy supplements to premium pet food, grooming products, gourmet treats, cat toys, dog gifts and more!
All proceeds help keep the free Tripawds Community online and help fund Tripawds Foundation assistance programs.

Why do I need to register?
Users must register to place bids on items so they can be notified about auction activity and access their Watchlist. Participants will be notified by email when they have been out-bid on an item and if they have won when the auction ends.
Check to see if you are registered by visiting Your Auction Account Page now. Existing Tripawds members can use their current log-in credentials.
What is Proxy Bidding?
The Tripawds Online Auction system will place incremental bids on your behalf so you do not have to place a higher bid every time somebody else bids on your item. Bid increments differ depending upon product value. Simply enter your highest desired bid amount for any item. Your bid will automatically increase every time another bid is placed on the same item.
Your bid will never exceed the maximum amount you entered. You may even win an item without it ever reaching that amount. If someone else does place a higher bid, you will be notified by email with the option to increase your bid. Or, you can check Your Auction Activity at any time.
What is a Watchlist?
If you are interested in an item, but not sure you want to place a bid yet, click the "Add To Watchlist" link. You can then track activity on that item from Your Auctions Watchlist.
What if I win an item?
Winners will be notified via email immediately upon close of the auction. The message will include a link to pay for your item securely using PayPal. NOTE: No PayPal account is required. Select "Pay using your credit or debit card" upon checkout if desired. Payment by check will be accepted, however, please note that no items will ship until payment is received.
Can I "gift" my items?
Sure! If you wish to have us send your winning item to another Tripawds member, just give us their mailing address. If you do not know the address, just give us their username and we will get it from them. Please be sure to indicate if you wish to remain anonymous!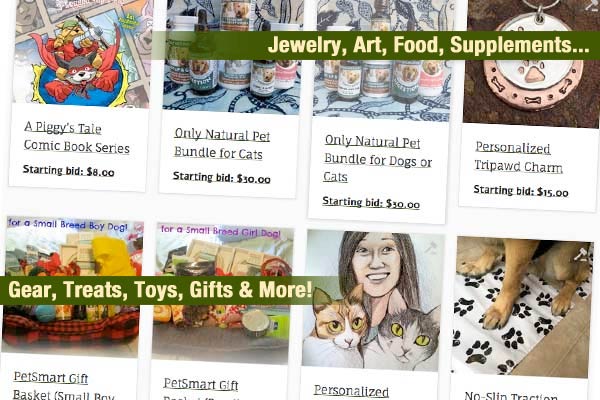 Did we miss anything?
If you have any questions, or encounter any issues during the auction, please contact us directly and we'll be happy to help!
Thank you for your support!