Thanks to the support of members like you for the 2017 Tripawds Rescue Fund, made possible by Karbach Brewing, we are happy to announce another sheltered three legged dog has found his furever home! Meet Henry…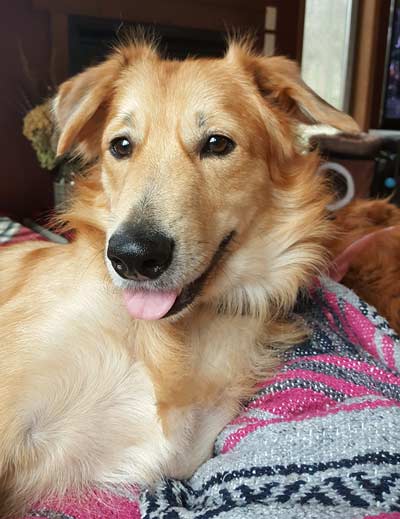 My husband, Kevin, and I have a 3 year old Golden Retriever named Bailey. She is an absolute doll. We take her everywhere with us: swimming, boating, hiking, camping, and the list goes on. For 2 years, we have gone off and on about whether or not to get a fur-sibling for Bailey. A few months ago, we decided it was finally time. We were hoping to find a Golden Retriever mix, so the new fur baby would be similar to her size and temperament. After months of searching, one morning an adorable 35 pound Golden Retriever mix was posted and available for adoption. Everything about him was perfect, except one thing that slightly scared us: he was a recent amputee. We weren't sure how a tripawd would fit into our active lifestyle, but our hearts told us we needed to meet him. My husband's family has participated in many rescue programs and has helped special needs animals. His aunt has had several tripawd cats, but neither of us had any experience with a tripawd dog. The second we met Henry (previously Hunter), we fell in love. He was living with 3 other dogs, 2 of which were 80 pounds. He had been a tripawd for only 2 months, yet he was wrestling and playing tug-of-war with the big dogs. We knew right then and there that this spunky guy was the perfect fit.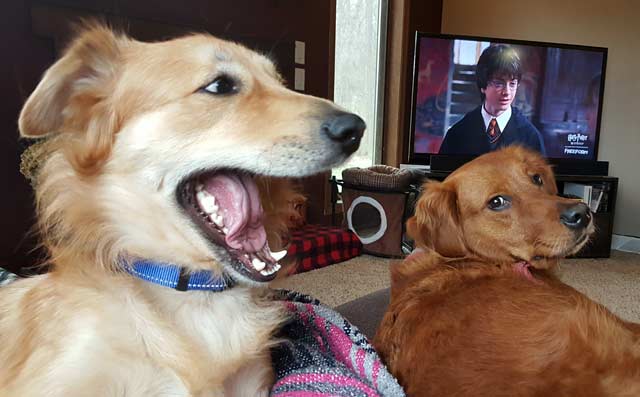 Henry had been at a high-kill shelter in Texas. Although he is young, he was pushed to the front of the kill line because he had a broken front leg, his other front leg was severely wounded to the bone, and half of his tail had also been cut off. A rescuer down in Texas contacted Last Paw Rescue to see if they would be willing to take Henry in. His leg needed to be amputated, as it had been caught in a trap and broke. Someone attempted to pin the broken leg, and it healed broken with the bone side-by-side. The nerves throughout his leg were dying and an infection was spreading. In only 4 hours, Last Paw Rescue was able to raise the funding needed for the amputation.
Henry came to us only 3 days ago. When the rescuer brought him to our house (we have 3 wooded acres), the first thing he did was take off running! She told us that this was the first time she had ever seen him run like that. He also couldn't go down the stairs. After a day and a half of helping show him how to get down the stairs, he is already navigating them like a champ. I ordered him some FitPAWS products, and I can't wait to help get him strong and healthy. His spirit and energy levels are high, and I know with the right training and guidance, that he will be ready to explore the wilderness with us next summer.
Although Henry has only been in our lives for a few days, I know he has changed them for the better. Our perception of "special needs" has changed tremendously! Despite everything Henry has been through, he is determined, loving, and excited about each and every day. He is on his way back to being a normal dog, and being able to do all things his 4 legged sister can do.
I would highly encourage anyone that is thinking about adopting a tripawd to do so. Although the pets in our life teach us some valuable life lessons, I think those that are living life on 3 legs have even more things to teach us. I know we can't wait to see all of the things Henry has in store for us!
The 2017 Tripawds Rescue Fund is made possible by Karbach Brewing. To keep this fund and other projects going please cinsider a charitable contribution to Help Tripawds Everywhere!